Steve Ballmer is as well known for his infelicitous public remarks as he is for running Microsoft (NASDAQ:MSFT) for more than a decade.
A dubious distinction, to be sure. The range of his proclamations is certainly broad: the alleged Mark Lucovsky incident, when he purportedly punctuated a threat to "bury" Google's (NASDAQ:GOOG) Eric Schmidt by throwing a chair, confounding media statements ("The thing that is Vista is on its track") and comments about successful competitors, including a throw-away about consumers "paying $500 more" just for an Apple logo.
But if being well-spoken and empathetic was a measure of successful executives, we'd have a very different cadre of folks floating to the top of the business world. Instead, we get individuals who title their autobiographical ruminations "Only the Paranoid Survive." Investors, analysts and consumers don't expect CEOs to serve the same function as a stuffed animal, so Mr. Ballmer's declarations-- which some have described as belligerent-- are not the 'thing that causes worry,' to paraphrase the man. The rub lies in what he does rather than what he says.
Under Steve Ballmer, a world-class company with enviable financials and largely inexpungable moat has been relegated to "dead money" by popular investor sentiment. As always, the chart tells the story: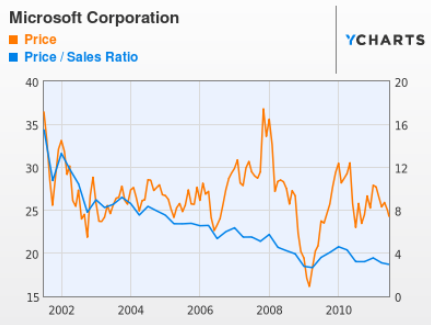 The stock has been treading water for a decade. The market has shown it's willing to pay less and less for the revenue, present and future, that Microsoft generates. If we didn't know better and the chart didn't have a Microsoft Corporation header, one might speculate this is a business stuck in a slow but inexorable decline, with eroding metrics.
Except...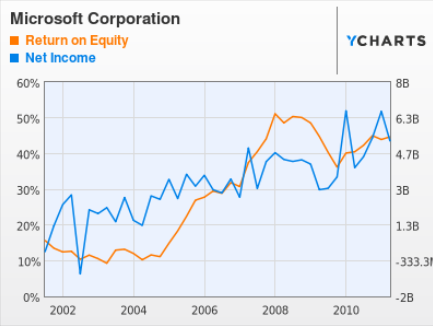 Except not.
There's no shortage of commentary on how undervalued the company is, both historically as well compared to its large cap peers-- yet another financial drill-down is not necessary. Smart money certainly sees an opportunity, but there's disenchantment brewing. David Einhorn, star hedge fund manager of recent fame for having predicted Lehman Brothers' collapse, recently came out swinging:
Speaking at the annual Ira Sohn Investment Research Conference in New York on Wednesday, Einhorn said it was time for Ballmer--who succeeded co-founder Bill Gates in 2000---to step aside and "give someone else a chance."

"His continued presence is the biggest overhang on Microsoft's stock," he said.
And therein lies Microsoft's most pressing problem: the widespread perception-- both from the insider crowd as well as retail investors-- that at the very top, there's a lack of vision compounded by uneven temperament.
While it may not be fair to claim that Steve Ballmer is single-handedly sinking Microsoft, one notes the stock posted gains on a down day when Einhorn made his comments and has shown similar momentum after a widely-read blog reported a rumor that he may be looking to exit gracefully once Windows8 launches.
To insist that at least Steve Ballmer isn't John Chambers is rather damning faint praise indeed, but such is the defense presented on his behalf. It seems those helming well-established Silicon Valley behemoths like Microsoft and Cisco (NASDAQ:CSCO) ought to be best at knowing when and how to say no-- no to copycat efforts, to DOA products and questionable acquisitions.
Microsoft's portfolio of products is very strong, and Windows8 is shaping up to be groundbreaking in ways which may leapfrog Apple's (NASDAQ:AAPL) stranglehold, perceived or otherwise, on interface innovations. Kinect sales have set records, Office365 is showing that Microsoft is looking to leap into the cloud, and Windows7 Phone-- while still struggling-- has the potential to mature into a formidable competitor to iOS and Android.
With its depressed valuation metrics, the company has the fundamentals necessary for a strong rally but needs a catalyst. Mr. Ballmer should be making plans to step down graciously and allow investors, analysts and consumers to like Microsoft again.
Disclosure: I am long MSFT.