Safe Bulkers (NYSE:SB) is a dry-bulk shipping company headquartered in Greece. It has been profiled in a couple of bullish Seeking Alpha articles (see for example, here), to be read against an increasing number of articles and comments sagely advising caution before investing in any company in the shipping sector because of market and governance issues. The stock has been falling in line with the BDI and as the symbol has apparently been popping up in high dividend screens, more recent articles focus on its stable and supposedly secure dividend of 60c annualized.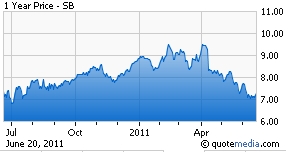 I have blogged on Safe Bulkers' ability to keep costs down, at least compared to similarly sized and smaller dry bulk shippers. This article focuses on a recent SB financing deal as further indication of the company's ability to strike intelligent and shareholder-friendly deals.
On May 31, 2011 SB announced a $122.4 million financing for its three Japanese 95,000 dwt, Post-Panamax class newbuild vessels. One of them, Venus Heritage, is already in the water and the remaining two vessels are expected to be delivered in 2011 and 2012, respectively.
SB did not disclose the exact terms of the loans other than saying that they are to be repaid over 12 years from drawdown and that the financial terms, in line with OECD-approved export schemes, are very competitive. Half of the loan is provided by Japan Bank for International Cooperation, the Japanese import-export bank, and half by Citibank Japan. Nippon Export and Investment Insurance, the official export credit agency of Japan, insured Citibank for its portion of the loan. We will probably have to wait until next year's 20-F to learn more but a ball-park estimate of a 4% fixed interest rate is possible, extrapolating from current rates (.pdf) for OECD-supported export credits and adding some basis points for the cost of credit insurance and commissions. Typically, such loans are repaid in equal installments over their duration.
What is really interesting, however, is that the $122.4 loan amount is in essence 80% of the cost of the new buildings ($153 million, of which in fact a 1% commission goes back to SB – from the 2009 and 2010 SB 20-Fs). In addition, while it is difficult to find an exact valuation, the current market value of these three vessels could be in aggregate around $10 million less, based on recent resales of Japanese-built Kamsarmax vessels – and the market is still falling. This is therefore an extraordinarily good deal: it is very unlikely, or rather impossible, that any private bank at this stage of the shipping cycle would provide effectively 85% (or more) of the market value of the vessels on a 12-year loan at such fixed rate. And that with no long term charters as additional security, at least not yet.
SB's press release does not mention whether the financing is an "up to" amount, but OECD-approved credits are expressly based on contract values not market values and 80% is the usual amount. The difference therefore that this deal makes is that the company is able to release equity of anywhere up to $30 million, which might have otherwise been paid to top up a commercial loan: the difference between this deal and, say a 70% financing on a market value of $140 million. $30 million is a Chinese Panamax – or money to repay back other debt or pay the dividend.
In general, SB has a relatively high ($486 million at April 8, 2011), but also relative cheap overall debt. Its weighted average interest rate for FY2010 was 1.394%, indicating very low average margins over LIBOR. The average swapped fixed rate was around 3.5%. The interest costs will fall further at the end of 2011, as SB has already fixed forward some swaps that expire at that time with new ones at lower rates. This compared to, for example, Genco Shipping's (NYSE:GNK) 4.64% 2010 effective rate (plus around 10% for its notes) or Navios Holding's (NYSE:NM) 2009 mortgage bonds at almost 9%.
SB is not under the radar. Together with Navios, the company is equal to third in market capitalization behind Navios Maritime Partners (NYSE:NMM) (which is not an actual company but a finance vehicle) and Diana Shipping (NYSE:DSX) in the dry bulk universe. Riding on good long-term charters, perhaps unfortunately SB is committed to paying a dividend while still growing its fleet, which has resulted in a couple of secondary offerings. But as the example above shows, management appear committed to keeping value within the company instead of handing it out to themselves or to bankers.
Disclosure: I am long SB.