On May 30, I released an article on Seeking Alpha in which I warned investors that some of the BlackRock (NYSE:BLK) option-income funds may be vulnerable to a dividend cut based on their high dividend to Net Asset Value (NAV) percentages, some approaching 13%.
Two days later, on June 1, BlackRock announced quarterly dividend declarations which included dividend cuts for 3 of the 5 funds I had listed, the BlackRock Enhanced Capital and Income fund (NYSE:CII), the BlackRock EcoSolutions Investment fund (NYSE:BQR) and the BlackRock Enhanced Equity Dividend Trust (NYSE:BDJ). Since the declaration date, all three of the funds have gotten hit hard. In fact, the hardest hit fund has been BQR, which I specifically called out in another article on Seeking Alpha just a month prior.
My intention is not to give myself a pat on the back but to point out how due diligence can reveal red flags among these funds and one of the most important is a high dividend to NAV ratio. The reason is because a fund's dividend is derived from the NAV and thus, the NAV yield is the true yield the fund is paying even if an investor receives the market price yield. Too high an NAV yield and the fund may be subject to a dividend cut if its income strategy can't support it.
This was a reason cited by Merrill Lynch when they initiated coverage of a popular bond fund, the PIMCO High Income fund (NYSE:PHK) at an underperform rating on June 3. Even though PHK's market price yield seemed fairly reasonable at 10%, its premium market price of around 50% masked its NAV yield, which was a whopping 15.6%. Even a leveraged high-yield bond fund would have a difficult time maintaining that yield!
Dividend cuts are one of the few news events that can have a large impact on CEF market prices because most investors buy CEFs for their high dividend yields. Fund sponsors, however, can have different reasons for a dividend cut and not all of them are necessarily negative. In the case of the BlackRock Enhanced Capital and Income fund (CII), I believe the cut had less to do with the need to pump up NAV performance and more to do with simply reducing the NAV yield to a more manageable level and more in line with most other domestic (non-global) option-income funds.
CII's NAV yield before the cut was about 12.8% and now it is a much more manageable 10.1%. That may not seem like a lot but for a $619 million fund, but the net reduction in dividend payments is about $22 million per year.
For the past two years, CII had traded at mostly premium valuations due to its exceptionally large dividend and superior NAV performance for an option-income fund. CII has always had one of the highest average premium/discount percentages of all the BlackRock option-income funds. The following graph shows this premium/discount over the past year, in which it rarely strayed from a premium valuation.
click to enlarge images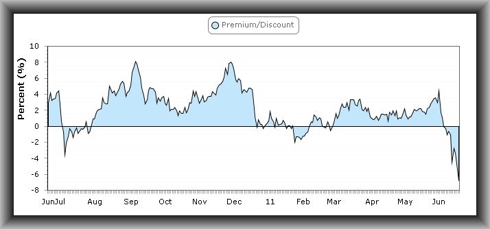 Click to enlarge
All of that changed on June 1 when the dividend was cut from $0.485 to $0.36 per share and investors exited the fund en masse. This is shown in the far right portion of the graph when CII's valuation went from a roughly 4% premium price to its current -6.7% discount. CII's market price drop was even more dramatic as it suffered 11 down days out of 13 and is now essentially at a 52-week spike low.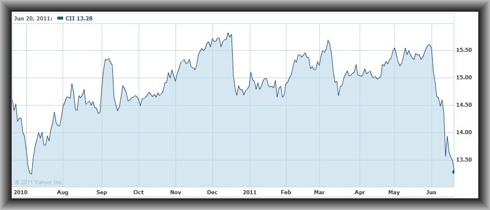 Click to enlarge
Dividend cuts are never a positive for a fund in the short run but ironically, this is the time you want to be buying CII for the following reasons:
a) NAV yield goes from 12.8% to 10.1%. Much more manageable and takes away any threat of another cut.
b) 4% premium goes to a -6.7% discount. Lowest valuation level for CII in 2-years for a fund with excellent historical NAV performance which should get even better now with the lower dividend.
c) Because of the fund's discount, the market price yield to investors is a still robust 10.8%, a windfall over the fund's NAV yield but lower than the 12.4% yield before the dividend cut.
d) Option-income funds NAVs can outperform the broader market during flat to range bound market periods. CII's option strategy includes selling individual stock options on about 54% of its portfolio, leaving the rest of its large cap portfolio to rise and fall along with the market. CII only includes about 50 domestic stock positions in its portfolio and its top 5 sectors and top 5 holdings are shown below.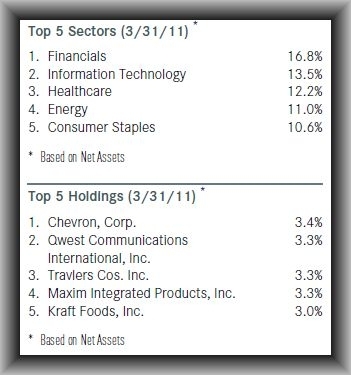 After being negative on the BlackRock funds going into the dividend declaration because of their premium valuations and high dividend to NAV ratios, I am now long CII. In my opinion, the fund now reflects even stronger fundamentals than before the dividend cut and I believe the outlook is even better. Investors' over-reaction to the dividend cut has created an excellent opportunity to invest in one of BlackRock's best funds at one of its lowest valuations in years.
Disclosure: I am long CII.