As investors have turned to mortgage REITs to generate yield in a low interest rate environment, investors should understand how securities in this asset class have performed during different interest rate cycles. While the general trend in rates has been lower since inception for most of these REITs, managers have experienced periods of rising rates which have impacted price, book value and dividend yield.
The three charts below (adjusted share price, dividend yield, and price-to-book value) for MFA Financial (NYSE:MFA) will help investors analyze the company's performance over different interest rate environments. We recently completed a similar comparison for Annaly Capital (NYSE:NLY) (see Analyzing Annaly Capital Through Different Interest Rate Cycles).
Over a 14-year tenure, MFA's management team has delivered shareholders strong returns, outpacing the S&P 500 (click to enlarge images):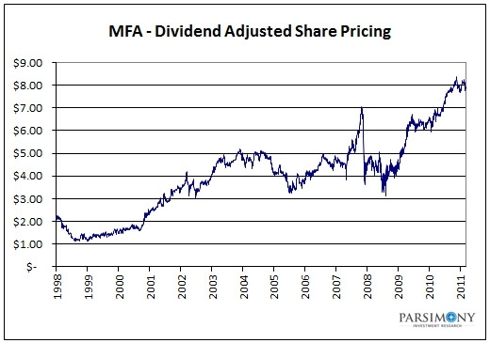 MFA has had an average dividend yield of 10.8% since 1998. Despite troughing around 2.5% in 2006-07, the dividend adjusted share growth was very strong.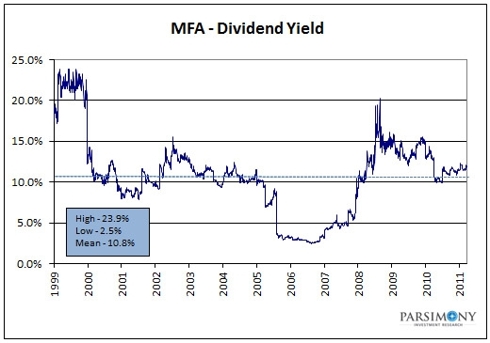 MFA is currently trading around its historical price-to-book value of 0.96x.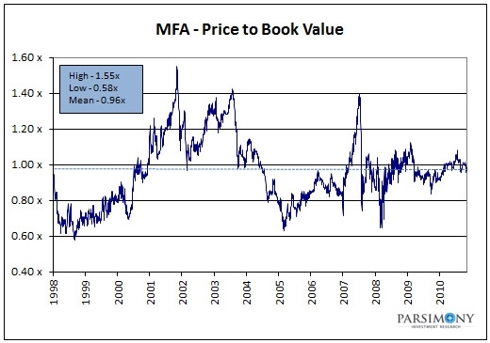 MFA and NLY remain our two main REIT holdings due to their strong management teams. However, we also have a small position in American Capital Agency Corp. (NASDAQ:AGNC).
We continue to believe that the best strategy for investing in this space is to own a portfolio of mortgage REITs to diversify your risk. That said, the following REITs are currently on our watchlist and we are following them very closely: Chimera Investment Corp. (NYSE:CIM), Anworth Mortgage Asset Corp. (NYSE:ANH), Hatteras Financial Corp. (NYSE:HTS), and Capstead Mortgage Corp (NYSE:CMO).