The catalyst for the great recession was a crisis in the U.S. housing market. I contend we are still dealing with the after-effects of this macro-economic colossal debacle today, amongst a plethora of superfluous worldwide complications heaping atop one another faster than you can say "nightmare scenario." Fortunately, if you have kept some powder dry, this is an ideal time to pick up some great companies for a bargain price.
The Oracle of Omaha, Warren Buffett, stated on CNBC's Squawk Box in 2008:
I think you're seeing the ripples go out from what's started as a crisis in home lending and the fact that we had a housing boom fueled by a lot of lending by people who didn't know what they were lending on. And that's caused enormous problems in the financial markets as people have started looking at these instruments which they thought were triple-A and they're finding out they're about triple-F and those problems have a way of spreading, and that caused the banks to want to start deleveraging in a big way. And when banks start deleveraging, that sends ripples out. So there's consequences to every pebble that's dropped in the ocean and we had a pretty big pebble dropped in.
I surmise we are still feeling the ripple effect from that pebble, along with a multitude of new ripples caused by recent events. The following is a list of the unlucky 13 would-be disparaging factors regarding the current performance of the market in the near-term.
The 13 potential detractors are the possible unending U.S. debt limit political face-off; the end of the Federal Reserve's QE2 stimulus in June; the burgeoning Middle East revolutionary crisis; the Japanese cataclysm; the contagious European debt domino; the growing gargantuan U.S. budget deficit; the sluggish U.S. economy; rapidly rising inflation; coming global central bank interest rate hikes; the deluging global energy dilemma; the stifling proposed austerity measures; the precarious potential earnings disappointments; and, to top it off, the "sell in May and go away" phenomenon.
Much has been written describing most of these issues with the exception of the "sell in May and go away" so-called myth. Let me enlighten you: It's no myth, it's a proven fact. The market's seasonality -- the established predisposition to create a majority of gains from November to May and experience the greatest amount of losses in the contrasting period -- is well documented. A study by the Massey University - Department of Economics and Finance, Albany and New Zealand Institute of Advanced Study entitled "The Halloween Indicator, 'Sell in May and Go Away': Another Puzzle" stated:
We document the existence of a strong seasonal effect in stock returns based on the popular market saying Sell in May and go away, also known as the Halloween indicator. According to these words of market wisdom, stock market returns should be higher in the November-April period than those in the May-October period. Surprisingly, we find this inherited wisdom to be true in 36 of the 37 developed and emerging markets studied in our sample. The Sell in May effect tends to be particularly strong in European countries and is robust over time. Sample evidence, for instance, shows that in the UK the effect has been noticeable since 1694. While we have examined a number of possible explanations, none of these appears to convincingly explain the puzzle.
I accurately predicted this precipitous drop in an article I wrote mid-May here. I believe we are nearing the end of the correction and it's time to start nibbling at the amazing buying opportunities created. I have chosen four diversified companies to highlight in this article. Many stocks look really cheap and have dropped over 10%.
Take Apple (AAPL) for instance, which just broke below its 200-day moving average and is currently trading at $316. This could be the cheapest growth stock available today, with a PEG ratio of 0.62 and forward P/E of 11. Apple has a devoted following and, with the advent of the iCloud service, should remain well positioned at the forefront of technological innovation.
Another stock that looks vastly oversold is MEMC (WFR). Goldman Sachs upgraded the stock to neutral from sell. Stifel Nicolaus previously lowered its rating on WFR, stating the solar market was "rapidly deteriorating." Goldman Sachs proposes there may have been some value created in the stock with the recent underperformance. Goldman stated:
While margin pressure in the solar materials business could weigh on MEMC stock, expected cost savings, possible gains in semiconductor materials and growth in downstream solar market are potential sources of upside.
This buttresses my thesis regarding WFR in an article I wrote a few months back regarding the company. You can read it here.
Ford (F) and Alcoa (AA) are buying opportunities as well. Both are down significantly since the start of the June swoon. Ford has dropped from $15.10 on May 19 to $12.96 today, a drop of 14%. Joe Terranova stated his strategy over the next four weeks is, "Each Tuesday buy a quarter position in Ford." The car industry seems to be entering a secular bull market with the ongoing growth in emerging markets. As the Chinese and Indian middle classes grow and the U.S. economy improves, so will Ford's bottom line when they start buying even more cars.
As far as Alcoa is concerned, with a PEG Ratio of 0.59 and a forward P/E ratio of 9.72, I see it as a screaming buy. The PEG ratio is a broadly-used indicator of a stock's prospective worth. It is preferred by numerous analysts over the price/earnings ratio because it also accounts for growth. Similar to the P/E ratio, a lower PEG means that the stock is more undervalued. Many financiers use 1 as the cut-off point for PEG ratios. A PEG of 1 or less is believed to be favorable. As Warren Buffett would say, "Price is what you pay, value is what you get." I am employing Terranova's methodology for Ford to Alcoa as well. Ford and Alcoa are global players in their respective markets and have vast emerging market exposure which will propel them to greater revenues and profits. Please review brief summaries and the charts with key statistics regarding these four buying opportunities.
Apple Inc., together with subsidiaries, designs, manufactures and markets personal computers, mobile communication and media devices, and portable digital music players, as well as sells related software, services, peripherals, networking solutions and third-party digital content and applications worldwide.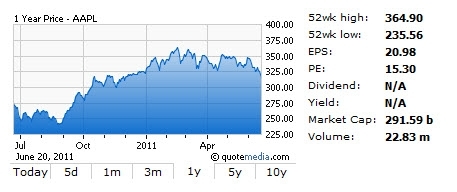 MEMC Electronic Materials, Inc. engages in the development, manufacture, and sale of silicon wafers for the semiconductor industry worldwide.

Ford Motor Company designs, develops, manufactures, and services cars and trucks worldwide. It operates in two sectors, Automotive and Financial Services.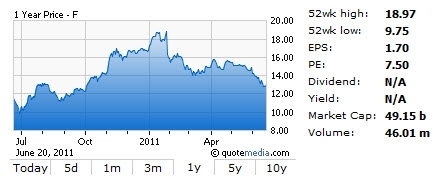 Alcoa, Inc. engages in the production and management of aluminum, fabricated aluminum, and alumina. The company operates in four segments: Alumina, Primary Metals, Flat-Rolled Products, and Engineered Products and Solutions.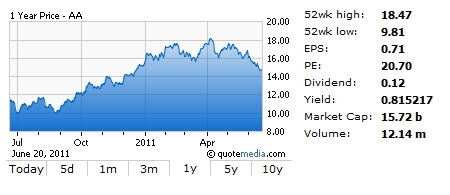 Information was gathered from CNBC, Yahoo Finance and respective company websites.
Based on the current market conditions, I would suggest scaling in to any position to reduce risk. I believe all these stocks are currently undervalued and provide significant opportunities for long term investors. Please use this information as a starting point for your own due diligence.