After reading an analysis that advised that I do not buy Dex One (NYSE: DEXO), I decided to ignore the warning and put in buy orders. So far, so good. That said, confirming my own bias is not a value-add. Now that I think the bottom is in and I have had my fill of lower prices, I figured I'd toss my idea out to the wolves.
In the last 48 hours, Dex One inked a deal with Google (NASDAQ:GOOG). Frankly, I don't think that this is a big deal at all, but what it does mean is that the bottom is in for Dex One. The stock has been beaten down for months now:
(Click chart to enlarge)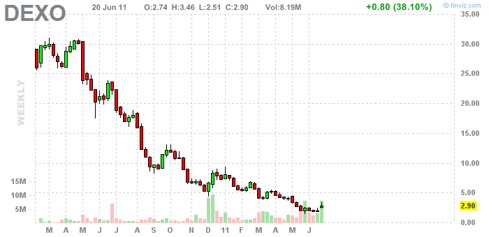 Click to enlarge
Google is another company that I love. I think that it is better than Apple (NASDAQ:AAPL), Research in Motion (RIMM), Microsoft (NASDAQ:MSFT), Baidu (NASDAQ:BIDU), YOKU, and more in terms of a good long term investment. Sure, maybe Apple takes the iPAD cake, but Google took the cake-store. This is why the Dex One deal is so vital. Google consultants are going to get the opportunity to help Dex gain a competitive edge. Dex has access to small businesses all over the country, which was attractive to Google. A match made in heaven.

Looking at the numbers, the market cap is $150M for a business that is generating more than $500M of pre-tax unlevered FCF. John Paulson has taken a beating owning DEXO from much, much higher prices. I think that below $5, funds were pulling into liquidation station, and before that, funds that used to own the debt that was restructured into equity were liquidating. I think this google deal is the final train leaving liquidation station and that we can finally rise from the ashes at this point. My friend Mike confirmed my suspicions that the fair market value of DEXO long-term debt is $1.9B vs. the carrying value of $2.4B. See 35 on page 14 of the 10-Q for details. This means it can repay the debt quicker as it buys it back in the secondary market.

Someone decided to make a hate-page for its competitor SuperMedia (NYSE:SPMD). SPMD has a tangible book value of -$139/share. That is just ugly as it will take 18 years at the current quarterly earnings rate to get the TBV to zero! This is just one reason that I like Dexo far more than SuperMedia (a competitor).

Disclosure: I am long DEXO.