The National Association of Realtors reported that existing home sales fell 3.8 percent in May to an annual rate of 4.81 million units and home values continue to decline on a year-over-year basis, the median price down 4.6 percent from a year ago to $166,500.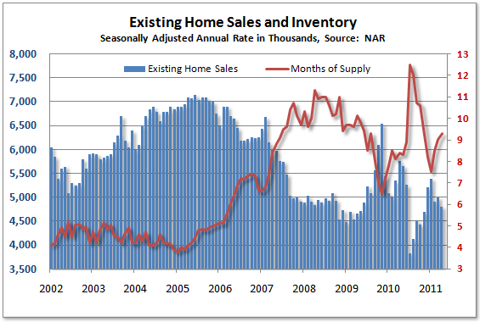 Distressed home sales accounted for 31 percent of all sales in May, down from 37 percent in April, and all cash transactions dropped from 31 percent to 30 percent as more traditional homebuyers entered the market in the spring, the beginning of the seasonally strong mid-year months for property sales.
The months of supply metric rose from 9.0 months to 9.3 months in what many see as further confirmation of the ongoing "double-dip" in housing, but NAR chief economist Lawrence Yun remains optimistic, noting that temporary factors are now holding back the market. "Spiking gasoline prices along with widespread severe weather hurt house shopping in April, leading to soft figures for actual closings in May," he said. "The pace of sales activity in the second half of the year is expected to be stronger than the first half, and will be much stronger than the second half of last year."
Yes, we're starting to hear a lot about a "second half recovery", that is, after the first half of 2011 has proved to be such a disappointment.