The Altria Group (NYSE:MO) is engaged in the manufacture and sale of cigarettes, certain smokeless products and wine within the United States. MO has a number of entities, namely Philip Morris USA, U.S. Smokeless Tobacco Company and Philip Morris Capital Corporation. In addition, the company held a 27.3% stake in the second-largest brewer SABMiller (OTCPK:SBMRY). The company made a spin-off of Kraft Foods (KFT) in 2007 and Philip Morris International (NYSE:PM) a year later (2008). Finally, it acquired UST in 2009, the leading producer of smokeless tobacco products in the USA. With an estimated U.S. domestic market share of roughly 50 percent, Altria is the biggest player within the tobacco industry.
As of Q1 2011, the company operates five segments: Cigarettes (89 percent of sales and 85 percent of profits), Smokeless Products (7 percent of sales and 12 percent of profits), Cigars (2 percent of sales and 1 percent of profits), Wine (2 percent of sales and 1 percent of profits) and finally Financial Services (0 percent of sales and 1 percent of profits). The company is an entirely U.S.-based business with no sales abroad.
CEO and Chairman of the Board Michael E. Szymanczyk joined the company in 1990 and was appointed to that position in March 2008. Szymanczyk has great consumer products experience in sales and marketing at Procter & Gamble (NYSE:PG) and Kraft. Click here for more information on the management team.
As I write the dividend Yield is 5.61%, the Payout ratio is 78%, the five year dividend Growth rate is 9.7%, the market cap is 56.73 Billion dollars and the cash and short term investments is 3.43 billion. The company has a long term debt of 12.19 billion, accounted long term investments (SAB Miller) of 10.13 billion, the cash flow from operations is 2.76 billion and it has a capex of only 0.17 billion.
For the time being the 27.3 percent stake in SAB Miller has a market worth of $9.6 billion. See the chart below for what I conclude will be the continued growth potential of Altria - (click to enlarge).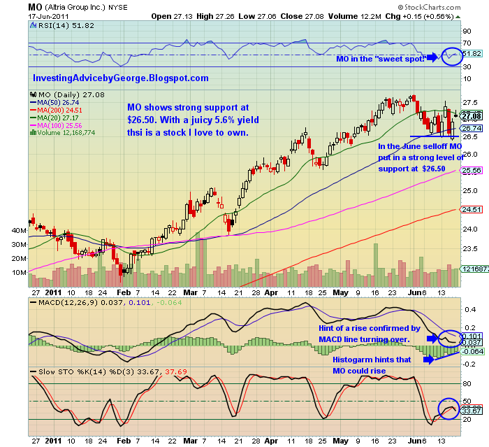 All pricing measures increased over the past 10 years. Price to earnings ratio rose in total by 19%, price to book ratio by 106 % and price to cash flow ratio by 78%. The price to sales ratio realized the biggest increase with a total growth of 142% for the past decade. The spin-off had different effects on the valuation figures of Altria. In total, they slowed the long-term increase in Altria's pricing ratios.
Over the past 10 years, sales of Altria decreased by 69%. This is reasonable because this development was due to the spin-off by Altria into Altria, Kraft Foods and Philip Morris International. The main reason for the separation was the growing influence of investors who thought that the whole diversified group would suffer under the legal and regulatory environment, which affected only the US smoking business. I conclude that the spin-off by Altria separated the risks of litigation and increased the valuation of Philip Morris International and food giant Kraft Foods. Since the spin off, sales of Altria increased 30 percent.
MO has paid dividends since 1928. The company raised dividends for 4 consecutive years due to the spin-off.
Due to Altria's huge market share, there are only three additional players in the U.S. market, Reynolds America (NYSE:RAI), Lorillard (NYSE:LO), and the Vector Group (NYSE:VGR). Here are some fundamentals:
The domestic tobacco market is a decreasing market. Volumes go down by 3% yearly on average. Higher taxes and bigger restrictions by the FDA have accelerated this to above 5% in 2010. Additional regulations are forthcoming, and the industry still has a lot of court cases outstanding against it. Within the first quarter, volume of Marlboro, the biggest brand of the company, decreased by 5.7%. In total the whole group volume decreased by 6.4% and led to a loss in market share of 1.2%. Nearly the same development was recognized for the smokeless segment. The whole segment volume decreased 1.2% and lost 0.6% in retail share.
How can Altria fight against this? There might be three ways: price increasing, gaining market share in the premium segment and finally growth through acquisitions.
Price increases outpaced volume declines over the past 40 years. Cigarettes make customers addictive. They are willing to pay almost whatever it takes to buy a pack. An increase in market share seems to be hard due to the fact that the market has strong entry barriers and a huge consumer loyalty. Given the astounding regulation and scrutiny around the industry, it is almost inconceivable that new competition would enter the market. This is the reason why almost three companies dominate the whole industry.
An acquisition strategy is therefore impossible for a company with such a big market share. The only way to grow via takeovers is to hunt in segments in which the company is not dominant. Possible is growth through acquisitions in auxiliary businesses and particularly within the smokeless tobacco segment. Copenhagen, Altria's smokeless brand, has a market share of 26 percent. Together with Skoal, the second biggest smokeless brand of Altria, they have a retail share of 48 percent.
Maybe they could be interested in Imperial Tobacco (ITYBY.PK) or British American Tobacco (NYSEMKT:BTI). If the company sells its stake in SAB Miller (OTCPK:SBMRF) it could make a bid for BAT and finance this transaction partly with a sale of BAT's stake in Reynolds American. Also possible is a growth strategy into the wine and spirit market. CFO Dave Beran said in an interview in 2010 to Reuters that it made sense to keep the business (SAB Miller and Ste. Michelle Wine Estates) because "it is a strong asset to have on the balance sheet because it helps to reduce Altria's borrowing costs and it also contributes earnings."
The smoking and smokeless business is a wonderful business. The low need of capital allows it to pass almost every taken penny to investors. Altria is a robust company that is deeply rooted within the US economy. The company is also interesting due to its $10 billion stake in SAB Miller and its financial possibilities to reorganize the business model. The SAB Miller stake is a non-core asset which represents roughly 17 percent of Altria's market capitalization.
The second point about why MO is interesting is the possibility for the company to reorganize itself. MO has a big capability from the financial site to buy some companies from other industries or geographic areas in order to escape from the ongoing volume declines.
According Reuters, 13 analysts covered MO and submitted a hold rating with a mean target price of $27.67 as of June 7, 2011. This value represents an upside of 2.09% compared with the close end price of June 7, 2011.
In conclusion, I see tobacco consumption as a personal choice. Given that tobacco contributes billions of tax dollars into the government's coffers, it will remain a core holding in my portfolio.

Disclosure: I am long MO.