Over the last six months, no sector investment racked up more gains than healthcare. The iShares Health Care Providers Fund (NYSEARCA:IHF) amassed 21.5%. Rydex Equal Weight Health (NYSEARCA:RYH) proffered 14.6%. And SPDR S&P Biotech (NYSEARCA:XBI) promised 12.7%, even as the broader S&P 500 SPDR Trust (NYSEARCA:SPY) chimed in with a less sonic 4.7%.
Some Health Care ETFs look even better over 1 year. For example, PowerShares Small Cap Health Care (NASDAQ:PSCH) had accumulated $210M in assets under management as well as 37.0% year-over year. That nearly doubled the performance of the year-over-year results for PowerShares NASDAQ 100 (NASDAQ:QQQ).
Yet the rules of attraction may be changing. On 6/21/11, institutional investors dumped $46 million of PSCH on 20x the average trading volume. 20x! The trading wiped out 1/5 of the fund's net assets in a single day.
The activity may simply be a conscientious effort to take profits. After all, the $46 million is small enough to represent a single money manager unloading a position with limited liquidity.
On the other hand, there are a number of less glamorous reasons for caution on health care. Here are 3:
Fundamental Valuation. If you ran a Morningstar price-fair value screen one year ago, healthcare was the singular sensation. Indeed, no other broad sector commanded the infrequent tag of "undervalued."
However, the forward P/Es and trailing P/Es on many Healthcare ETFs are not appreciably better than the market at large. In fact, when one recognizes the slower growth in anticipated earnings for the segment, many other industries offer greater bargains. (Think tech!)
Contrary Indications. When certain products come to market, the event often spells the end of a particular wave of enthusiasm. So when Direxion, one of the kings of leveraged and inverse ETFs, introduced Daily Healthcare Bull 3x Shares (NYSEARCA:CURE) and Daily Healthcare Bear 3x Shares (NYSEARCA:SICK) less than 1 week ago, I took notice. CURE endeavors to deliver results that correspond to 3x the daily change in the Healthcare Select Sector Index, whereas SICK intends to provide -3x exposure to the same benchmark.
When other writers, advisers and bloggers all begin touting the virtues of a particular segment, I also take notice. Just before the weekend on 6/17/11, Don Dion talked about "Getting Ready For The Rebound In Healthcare." Again, when something has been working remarkably well for 6-12 months, and the advice during a bearish correction is to seize upon the same/similar investments rather than new sector leadership, you may want question the popular wisdom.
Political Uncertainty Over? Many will recall that the uncertainty over health care legislation dogged most Health Care ETFs throughout 2010. In fact, SPDR Select Health Care (NYSEARCA:XLV) was the weakest of the 10 major segments last year, with a paltry 1% gain.
Granted, XLV may be the year-to-date leader in 2011. Yet, isn't Obamacare still being challenged in the courts? What if the economy doesn't recover from its soft patch quickly? And what if Republicans appear poised to win the White House in 2012… won't there be efforts to "roll back" some of the new reform law?
Obviously, nobody doubts the demand for healthcare by the aging population in the U.S. That said, political headwinds could seriously change the prospects for an increasingly regulated, lower earnings segment of the economy.
(Click chart to expand)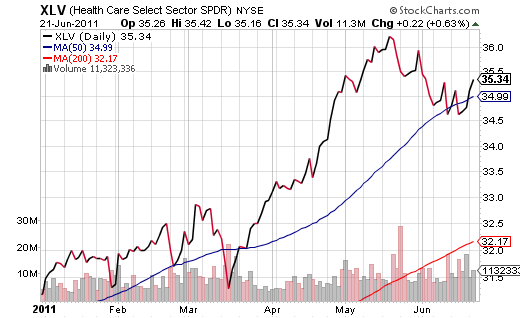 Disclosure: Gary Gordon, MS, CFP is the president of Pacific Park Financial, Inc., a Registered Investment Adviser with the SEC. Gary Gordon, Pacific Park Financial, Inc, and/or its clients may hold positions in the ETFs, mutual funds, and/or any investment asset mentioned above. The commentary does not constitute individualized investment advice. The opinions offered herein are not personalized recommendations to buy, sell or hold securities. At times, issuers of exchange-traded products compensate Pacific Park Financial, Inc. or its subsidiaries for advertising at the ETF Expert web site. ETF Expert content is created independently of any advertising relationships.