I was screening high growth stocks on Barchart to see which were having recent momentum, and Casey General Stores (NASDAQ:CASY) was near the top of the list. The stock made 11 new highs and is up 13.79% in the last month. The stock has two things going: High gas prices and takeover rumors. The recent momentum has been consistent.
Click to enlarge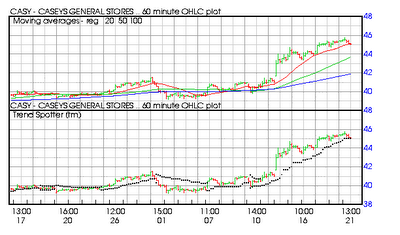 Casey's General Stores operates convenience stores under the name "Casey's General Store" in Midwestern states, primarily Iowa, Missouri and Illinois. The stores carry a broad selection of food (including freshly prepared foods such as pizza, donuts and sandwiches), beverages, tobacco products, health and beauty aids, automotive products and other non-food items. In addition, all stores offer gasoline for sale on a self-service basis. The stores receive 70% of their revenue at the pump.
Factors to consider
Barchart technical indicators
96% Barchart technical buy signal
Trend Spotter buy signal
Above its 20, 50 and 100 day moving averages
11 new highs and up 13.79% in the last month
Relative Strength Index is 73.90% and rising
Trades around 45.11 with a 50 day moving average of 40.15
Wall Street brokerage analysts have released two strong buy and five hold recommendations for this issue.
Sales are expected to increase by 29.20% this year and only .90% next year - since 70% of the stores' revenue is at the pump this is largely due to gas prices high this year and expected to flatten next year.
Earnings projections are for double digit increases of 16.20% this year, another 19.90% next year and continue at the rates of 10.43% annually for the next five years.
General Investor Sentiment
On Motley Fool the 162 readers sharing an opinion are 91% positive.
CAPS members voted 106 to 14 that the stock will beat the market.
The more experienced All Stars are more positive with a 41 to 1 vote.
Summary: Casey General Stores is making money on its own but some of the price momentum is due to takeover rumors. If you think there is money in selling gas, beer, tobacco and impulse snacks this is the stock for you.
Disclosure: I have no positions in any stocks mentioned, and no plans to initiate any positions within the next 72 hours.