A spot relationship between the prices of corn and wheat that has only happened twice in almost three decades may provide speculators with a long-short profit. Corn closed Friday at $7.08, twenty-eight cents above the closing price for wheat. This is unusual because wheat's use as a primary ingredient in food products has historically given it a premium of $1 to $2 per bushel over corn, which is used widely as feedstock and in ethanol. The reversal of this relationship has only happened previously in 1996 and 1984, and has quickly returned to the norm.
The premium in the price of corn, or discount in wheat's spot, is not without cause. Government mandates on ethanol production means that 27 percent of corn production is used in ethanol production. This, combined with a burgeoning middle-class throughout the world demanding more meat products causing the demand for corn as feedstock to increase, has caused the price of corn to double from $3.49 in July 2010. Conversely, an increase in th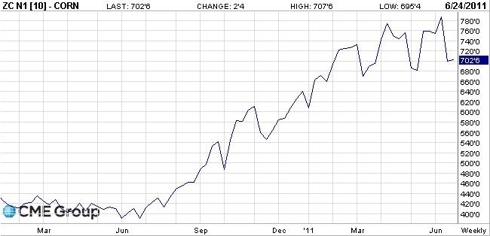 e supply of wheat coming to world markets has caused short-term weakness in prices. A strong harvest has prompted both Russia and India to remove export bans on the grain, and Australia has poured low-quality feedstock wheat onto the market after this year's floods damaged much of its crop.
The price relationship may not return to normal immediately, but there are some near-term factors that will limit corn's appreciation. The Senate, last week, approved a bill to abolish the subsidy to ethanol producers. Though the bill is almost entirely symbolic because tax bills must originate in the House, even supporters of the subsidy have conceded to some changes. Any further talks will bound corn's price movement. Additionally, the premium on corn has increased speculation of a shift to wheat as feedstock. The U.S. Department of Agriculture reported last week in its 10-year projection of supply and utilization that the use of corn for livestock feed will decrease 2.9 percent this year. Drought in Kansas and colder-than-normal conditions in Canada may decrease the supply of wheat even as other parts of the U.S. report favorable crops.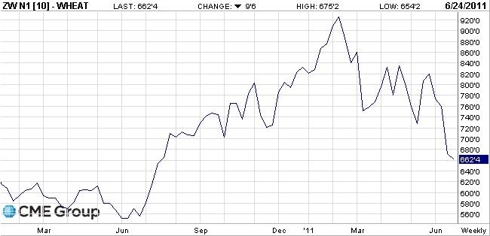 Among the options available to traders is a short position in corn futures and an offsetting position in wheat futures. Corn and wheat futures are available through the CME Group (NASDAQ:CME). The unusual price behavior, combined with the effects of seasonality in the grains, may also create a situation for options traders. Put options in corn and call options in wheat will help to limit the risk that the pricing relationship does not quickly reverse and the trader will not be exposed to margin risk. For those more comfortable with ETFs, Teucrium offers the fund CORN, consisting of futures traded on the CBOT. Though there is no pure play ETF for wheat, the iPath DJ-UBS Grains Total Return Sub-IndexSM ETN (NYSEARCA:JJG) holds a 25% weight in wheat futures. The fund carries a 37% weight in corn, so an one-for-one long/short with CORN will not provide the desired hedge.
The CME Group offers a wheat-corn intercommodity spread option that will follow the spread relationship as well.
Update: Since Friday, the spot price relationship for corn and wheat has reversed. As of 22nd June, corn is trading at 608.025 spot and wheat is trading at 705.5 spot. The futures prices for July contracts is still showing a reversed relationship with corn trading for 704.0 and wheat futures trading at 667.2. Traders may still profit from the reversion of the futures prices, or may watch the spot prices for continued opportunities.
Disclosure: I have no positions in any stocks mentioned, and no plans to initiate any positions within the next 72 hours.