Nintendo (OTCPK:NTDOY) could be regarded as highly as Apple (NASDAQ:AAPL) if it wasn't so cyclical and perhaps if it was not a Japanese company. In fact, as a "value" investor (with a catalyst to realize value a sine qua non), Nintendo's cyclicality represents a great buy/accumulation opportunity ... and being a Japanese company does not mean it is shareholder-unfriendly. And unlike Apple, Nintendo pays a dividend -- a generous one to boot -- is quite transparent about its plans for retained earnings, and has actually bought back some shares (as opposed to Apple's net increase in shares).
[Click to enlarge]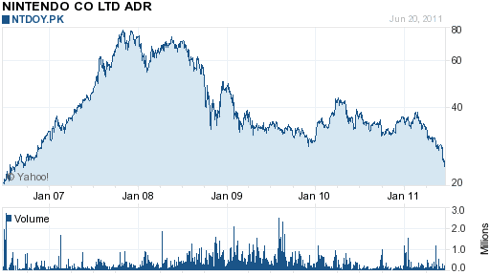 There's a lot to like about Nintendo at its current share price of Y15,570 (ADRs $24.52; keep in mind that 8 ADRs = 1 ordinary share). In short, its cash and short-term investments comprise over half its market capitalization, it carries no debt, and has another $1B or so (~5% of market cap) of assets on its books in the form of buildings, land, and investment securities. On a trailing basis, it looks a bit pricey at about 26 times earnings, but this is at/near a cyclical bottom for its business and reflects an unnecessarily strong yen.
On a forward basis, ahead of its Wii successor launch (Wii U), Nintendo trades at just about 18x earnings. Back out its most liquid assets and it trades at a single-digit multiple. On an operating cash flow basis, it's even cheaper. At least in recent history, it has been rare to be able to buy shares of Nintendo at these multiples.
So what's not to like? If you're a hard core gamer or momentum trader, I'm sure there's plenty. Interestingly, as pertains to the Wii U, it turns out that there's a lot to like about it (particularly the controller); the fact that there appears to already be greater collaboration with outside software developers is a positive development.
Concerns of further discounting to the Wii and DS are not unfounded but certainly feel excessive in light of their time on the market. Despite another decline in annual profits in fiscal 2011 (ended March 2011), Nintendo was still reasonably profitable -- which leads me to the relative strength of the yen against the dollar and euro, two currencies from which Nintendo derives a significant amount of its sales (83% of all sales are in foreign currencies). Both the yen's relative and persistent strength have taken a toll, but on a macro basis it does not seem likely the yen can remain this strong forever. More on the yen later.
The March 11 triple disaster was a big concern for investors -- as is the specter of future earthquakes -- but thus far Nintendo has reported it has not suffered a direct impact in unit production; rather, it is subject to changes in consumption patterns and (worsening) economic conditions (in and outside of Japan).
That Nintendo isn't listed on the NYSE or Nasdaq is unfortunate, as is the case that typically to purchase its ordinary shares one must buy a minimum 100-share round lot that costs approximately $20,000 at current levels. Nintendo is well aware of both matters -- there are pros/cons concerning each. It doesn't help that there's a 1:8 ordinary-to-ADR ratio either. All of this only confuses or adds unnecessary confusion/complication for many investors. Finally, it seems possible that poor due diligence or a lack of understanding of Japan's capital markets could lead some to be caught off-guard by Nintendo's in fact highly transparent dividend policy. Japanese companies typically pay dividends biannually.
In Nintendo's current fiscal year (ending March 2012), it is forecasting a 42% increase in net income on an 8% increase in sales, based on a forecasted yen/dollar rate of 83 and yen/euro rate of 120 (currently they are 80 and 115, respectively). The Wii U, due to be released in 2012, is not a part of its forecasts, and even if it were, it would only factor into fiscal Q4. Giving Nintendo the benefit of the doubt as pertains to its game R&D and launches, and not trying to call the forex market, I feel comfortable with management's track record and expectations.
Nintendo's early collaboration with outside developers on the Wii U and acknowledgement that it underestimated the demand for networking/social gaming with the original Wii are also good signs. There were plenty of skeptics of the Wii prior to its launch. The overwhelming success of the Wii speaks for itself, management's humility aside. Expect a repeat performance by skeptics.
Similarly, it is too easy (and ignorant) to dismiss Nintendo and other Japanese companies as shareholder-unfriendly. If management, the engineers and developers, et al., get the game system/device launches right, shareholders will be rewarded commensurately with both gains in share price and dividends. (Current yield is 2.9%; more important will be the dividend increases, which are hinged to performance.) If the Wii U has anywhere near the success of the original Wii, the upside from current cyclically depressed levels will be substantial.
In closing, it's anyone's guess what the yen will do and how much discounting of game systems there will be. As attractive as Nintendo's valuation is, I would not be surprised to see its stock trade lower near-term, especially as the last analysts feel obligated to make their (belated) downgrades. Nevertheless, I'm fairly convinced history will rhyme for Nintendo, and accordingly, believe this is a buying opportunity (buy-and-hold and/or accumulate).
Whether I make an overture to management remains to be seen. What I think will hold me back for now is the cyclicality of its business and stock price. Remember, while this is not the cheapest stock in a universe of cheap stocks, we are talking about a longstanding, highly successful franchise that can be purchased in increments at attractive prices. Consider even a portion of the cash as a margin of safety (again, Nintendo has no debt, and cost of debt capital itself is dirt cheap in Japan), and it should be clear the price paid for implied and/or potential growth is minimal. In a quieter environment (weaker yen, no significant natural disaster, more stable domestic economy and political leadership), I think there's obvious merit to question Nintendo's mountain of cash.
Disclosure: I am long OTCPK:NTDOY.