By Brian Sozzi
La-Z-Boy's (NYSE:LZB) 4Q11 financials appeared cushy as they crossed the wires. Even upon an initial run through there were reasons to be encouraged. In what is seasonally La-Z-Boy's strongest three-month period of its fiscal year, operating margins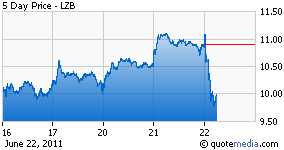 expanded sequentially in two segments (Upholstery and Casegoods) and improved in one (Retail). Moreover, the sequential basis point changes were far superior to historical trends. I attribute the heartier spread to the consolidation of operations for two of La-Z-Boy's brands, the shift to a new cut and sew facility in Mexico, and the reduction of excess supply chain capacity. Gross margin declined by 64 bps year-over-year (y/y) to 31.8%, surpassing the 31.89% consensus, but falling shy of my 32.00% estimate. Despite the impressive cost leverage inherent in the model, the addition of an extra week of sales due to the calendar shift (7% tailwind to top line), and 15 more retail stores that La-Z-Boy took control of from a VIE in the mix, raw material inflation and Upholstery pricing pressure hindered margin performance. In my humble view, this is troublesome as La-Z-Boy enters its seasonally slow summer volume period.
Elsewhere, I continued to be quite pleased by the operating margin trends at the Retail segment, which is resulting from improved sales techniques by associates and more marketing muscle behind better product offerings. La-Z-Boy is seeking to shutter 5-10 stores in FY12, so the leverage point of the Retail segment should continue to trek down. Inventory was controlled below the pace of sales growth (+4.4% versus +9%), and the company is in a strong current asset position.
All of that said, there were negatives in the 8-K that fed my curiosity before diving into the 10-K.
4Q11
$0.05 per share impairment of assets related to retail stores. Considering I have watched a renewed downdraft in the housing market and slowing in the upward trend in the consumer spending recovery, I wonder if sales in the company's Southern California and Florida markets have weakened once again, therefore driving the charges on reduced future cash flow assumptions.
Total sales were predominately by volume fueled, suggesting the pricing environment continues to be very competitive (ultimately showed up in the 4Q11 gross margin).
Traffic to retail stores was basically non-existent. While it's good that conversion was higher, the fact is that to sustain sales growth more people need to walk across the lease line.
10-K
La-Z-Boy operates an import model for its Casegoods segment, and outlined cost inflation in FY12 due to wage pressure in Asia. I wrote on this topic months ago, so send over an email for the assessment. Overall imported products accounted for 12% of the company's sales in FY11.
Backlog total for Casegoods was soft, and there was no tick up in Upholstery growth rate compared to the segment's 4Q11 sales.
Although La-Z-Boy shares are not terribly expensive on a valuation basis relative to other furniture manufacturers, I think the exposure to import inflation via the Casegoods segment's model and outsized sales concentration in Upholstery (where product costs have risen materially), in addition to a competitive pricing environment, are factors that will constrain the stock's multiple near-term.