In the policy statement that accompanied the conclusion of this month's gathering of the Federal Open Market Committee, the Federal Reserve acknowledged a slowdown in U.S. economic growth but kept monetary policy unchanged, confirming that it will maintain a stable balance sheet of almost $3 trillion by re-investing principle payments on both mortgage backed securities and Treasuries.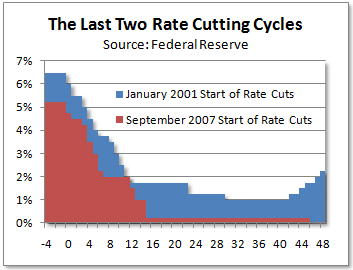 To no one's surprise, Fed Chief Ben Bernanke left short-term interest rates unchanged at the freakishly low rate of between 0 and 0.25%, a level that, as shown to the right, now exceeds the wildest dreams of former Fed Chairman Alan Greenspan from about 10 years ago.
The key interest rate phrase "for an extended period" was also left intact and, given how the U.S. economy has been doing lately, it may be left intact for many years to come, someday, people not even bothering to see if it has changed.
It hasn't changed in over two years ...
The Fed said it will complete its $600 billion money printing, bond buying program this month as scheduled and, for the foreseeable future, reinvest proceeds from maturing securities in order to keep the balance sheet steady.
No new measures to stimulate the economy were announced, but the most significant change to the policy statement was the omission of the phrase "measures of underlying inflation are still subdued," a reference to the rising rate of core inflation last month.
As always, the last two policy statements are shown side-by-side below.
Click to enlarge