Goldman Sachs (NYSE:GS) is a leading global investment banking, securities and investment management firm that provides a wide range of financial services to a substantial and diversified client base that includes corporations, financial institutions, governments and high-net-worth individuals. Almost half of the revenue is coming from outside the US and it provides exposure to China through the ordinary shares investment in ICBC, one of the largest banks in China.
The company consists out of 4 business segments:
Investment banking: This segment serves corporate and government clients around the world. It provides financial advisory services and assists companies to raise capital.

Institutional Client Services: This segment serves clients who come to buy and sell financial products, raise funding and manage risk. The company acts as a market maker and offers market expertise on a global basis. It facilitates client transactions in fixed income, equity, currency and commodity products. In addition, it makes markets in and clears client transactions on major stock, options and futures exchanges worldwide.

Investing and Lending: This segment's activity includes investing and relationship lending across various asset classes, like debt securities and loans, public and private equity securities, and real estate. These activities include investing directly in publicly and privately traded securities and also through certain investment funds.

Investment Management: This segment provides investment and wealth advisory services to help clients preserve and grow their financial assets.
There are a lot of uncertainties surrounding the financial industry. A wave of new legislation is coming and creating questions around future business models and returns financial institutions can make in the post crisis world. Goldman Sachs does a nice job in the last 10-K outlining the different legislation components. Let's take a look at the key items.
The Dodd-Frank act will restrict business activities that bank holding and financial holding companies can engage in. As a financial holding company Goldman Sachs will continue to be able to engage in a broader range of financial activities as long as it meets the eligibility requirements. These activities include underwriting, dealing and making markets in securities, insurance underwriting and making investments in nonfinancial companies. In addition, the company can continue to engage in certain commodities activities in the US so long as the assets held pursuant to these activities do not equal 5% or more of the consolidated assets.
Provisions of the Dodd-Frank Act will prohibit "proprietary trading" (other than for certain risk-mitigation activities) and limit the sponsorship of, and investment in, hedge funds and private equity funds. The extent of the additional limitations will depend on the details of agency rulemaking.
The Dodd-Frank Act will subject Goldman Sachs at a firm wide level to the same leverage and risk-based capital requirements that apply to depository institutions. Another key component is the introduction of a Tier 1 leverage ratio, together with substantial revisions to the computation of risk-weighted assets for credit exposures. This will reduce the leverage (investment) banks can take and most likely will impact future returns. In addition, both the Basel Committee and U.S. banking regulators implementing the Dodd-Frank Act have indicated that they will impose more stringent capital standards on systemically important financial institutions.
The full impact of all legislation is not clear yet. However, it is most likely that the high-risk, high-return days are over. The question is... how much the impact will be? In the previous 10 years Goldman Sachs has grown equity per share with a CAGR of 13.5% and has achieved ROEs of more than 30%.
Graph 1: Book Value per Share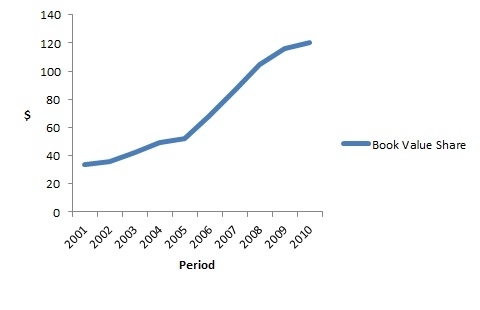 The uncertainties have impacted Goldman's stock price. The company is currently trading close to book value, coming down from a 52-week high of $175. This looks like an attractive entry point into the stock. To get to an estimate on the investment return I'll take the following approach. Let's assume that, going forward, Goldman Sachs will be able to grow book value with a CAGR of 5% (versus the 13.5% of the last 10 years). This would take the book value per share in 2020 to $196.
To estimate earnings per share we will take a conservative ROE of 12%. This takes earnings per share to $23.52 (assuming number of outstanding shares remains equal). A P/E of 15 would take the stock price to $353. The stock price is currently trading in the $135- $140 range. Your investment would compound with a CAGR of 10% over a 10 year period. I consider this a very conservative estimate. Goldman Sachs, as the leading investment bank, should be able to achieve an above-average industry return. In short term, the path of least resistance for financial stocks appears to be down and not up. I will be buying on the dips to add to my existing position. Make sure you do your own analysis before considering a position.
Disclosure: I am long GS.