By Mike Yamamoto
Last week I posted an item about using the ProShares Short High Yield (NYSEARCA:SJB) exchange-traded fund as an indicator for market turns within the S&P 500. Today I am revisiting that indicator as concerns over Greece's debt issues appear to be easing.
A short position that outperforms in junk bonds is a sign of concern in that market, and the SJB had signaled growing indications of such distress from the very start of this month. That is clear on the chart below, which plots the ETF in red and the S&P 500 in green on a percentage returns basis.
The time frame covers the period from the start of June, on an hourly basis, with each divider on the chart below equal to a day. As we can see, the peak in returns for the SJB came on June 16, but it quickly reversed during the day. This spike represents the moment that junk bond prices were seen as having reached a low. The S&P 500 also reversed at the same time after hitting a new low for the month.
Since then, the two price paths are heading toward a possible convergence at the zero line, as we can see on the far right side of the chart. At the height of the SJB and the low of the S&P 500, the percent change for both was more than 4 percent -- a positive return for the SJB and a negative for the S&P 500.
If this convergence takes place and leads to the S&P 500 crossing above the SJB's price path, it would confirm that risk sentiment is back in vogue. A reversal higher in the SJB would signal that risk-aversion has returned, which would not be good news for stocks.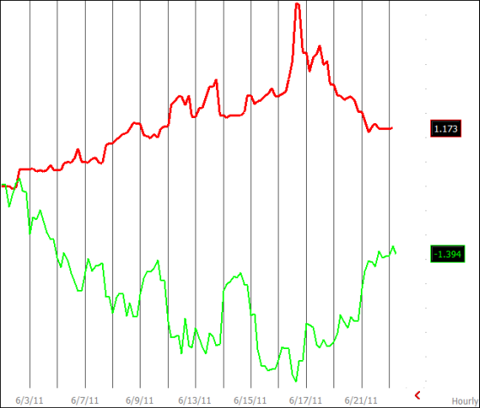 Click to enlarge