In several Seeking Alpha articles - most recently, Note to Apple Fans: Stop About Talking Value - I argue that financial metrics, such as valuation measures, mean little in relation to the prices of certain stocks, both in the short- and long-term. In part one of this series, Story Stocks: Why I'm Bullish on Sirius XM and Tesla, I elaborate on that contention. In this article, I focus on two stocks I take a bearish stance on, detailing why the story matters more than valuation.

Netflix (NASDAQ:NFLX): Yes, you can call NFLX "overvalued" with a P/E ratio upward of 72. You can call it "overvalued" and wax bearishly, but you'd be wrong. I do not think NFLX is necessarily overvalued; I just think the institutions and others propping up the stock either believe or pretend to believe that the company can continue to grow at a brisk pace. That's the story CEO Reed Hastings, CFO David Wells and their team continue to put forth - they'll grow the subscriber base and generate more revenue so they'll have more cash to spend on content. If you go bullish NFLX, you believe in the story (or you're just riding the wave of emotion-
laden momentum), a story that has nothing to do with valuation.

I am bearish because I don't believe the story. It's not that I am uncomfortable with the valuation, in and of itself. It's a number, set for no logical or rational reason, given that the writing on the wall grows in number and get clearer in color by the day. The latest, courtesy of DailyTech first, DigiTimes second and then The Los Angeles Times: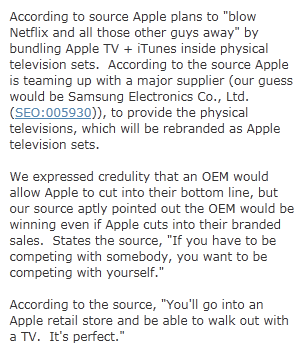 Click to enlarge


Click to enlarge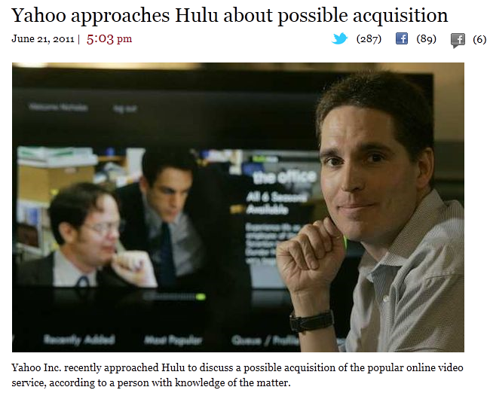 Click to enlarge
Beyond the competitive pressures, rising content costs and the real potential for not only slowing subscriber growth, but a less enthusiastic subscriber base tells me that Netflix's story has already seen its climax. Thinking back to Apple (NASDAQ:AAPL), if it traded at 72X earnings, I would be more likely to buy it. Not because it trades at 72X earnings, but because, in such a situation, it would clearly have investor sentiment and confidence on its side.

Maybe I live in a bizarro world, where I prefer to buy the stocks many by-the-book investors consider "overvalued" and shun the ones they label "undervalued." This does not tell 100% of the story, but I think it accounts for a sizable chunk of it. Maybe, in many cases, P/E ratios tell us more about confidence than actual real-time worth or value.

Research in Motion (RIMM): Having called RIMM out for its incompetence back in late March, I do not need to restate my bear case. I should mention, however, more news that supports my tendency to stay bearish - demand for its Playbook tablet is clearly slowing, according to a report.

Pesky facts about RIMM's imploding business aside, how could I possibly continue to bet against a company with a P/E ratio slightly over 4? For the same reason I would never buy a foreclosure in the soulless suburbs of Las Vegas. The curtain is closing on RIMM. The P/E ratio means nothing to me. All it indicates is an epic failure in process. Conventional wisdom, however, leads many investors to automatically say, "undervalued." P/E ratios often make for more risk when they're low than when they're high.

Like anybody else, I like to talk about when I am right (RIMM) and highlight instances where I believe I will end being right (NFLX). However, I also point out when I stink up the joint. A couple of my misses deserve a mention in relation to this conversation.

Ford (NYSE:F): I have been bullish on F for a while. While not quite RIMM-like, F sports a P/E ratio of just under 8. That's not why I like it. In fact, that acts as a red flag for me. Why do investors have no confidence in F? Do they consider it to be a horribly run business like RIMM with products that are waning in popularity? And, if indeed this is the case, should I make a contrarian play and buy a stock that the Street appears to have left in the ditch?

I have discussed Ford's prospects in other articles, but, for the purposes of this article, it's a simple thesis. RIMM will never be a turnaround story. Co-CEO Jim Balisillie is not bringing his company back from the brink of disaster. Ford, on the other hand, is a turnaround play. I believe in the long-term story. I don't see a company that can fill in the following blank: AAPL is to RIMM as (insert here) is to F. When you consider current market share and product mix and sales projections and future product mix, it becomes clear that Ford can emerge as more of a global leader in the auto industry than it already is today. Two "undervalued" companies, by the book, yet diverging opinions. Maybe it's a bizarre world, but it supports my contention that the story trumps valuation measures.

Open Table (NASDAQ:OPEN): In one of the same articles that I recommended a bearish play on RIMM, I suggested a bullish one on OPEN. Needless to say, the January 2012 $105/$125 bull call spread will likely remain a loser. I made the call on a day when OPEN closed at $104.29. The stock trades at $78.19, as of intraday Friday.

It would have cost about $6.70 to get into that spread back in late March. Today, the same play goes for roughly $2.00. Ouch. At least I used a strategy that provided a bit of a hedge. And, of course, I am an ardent advocate for risk management, so my loss on that trade would have been small. Live to fight another day.

Even after this freefall, OPEN trades with a P/E ratio of approximately 121. I remain long-term bullish. At this stage, I believe the best move is to regroup and dollar-cost-average into the stock or even January 2013 LEAPS options, irrespective of price (particularly on the stock). How can I remain so bullish?

I believe in the story. But, more specifically, have a look at how Open Table describes its business. The model fits well with my desire to invest in companies that synergize and have multiple streams of revenue. Additionally, I think Open Table will grow considerably as it expands internationally, unlike a company like Netflix, which faces high costs of entry in new markets.

Disclosure: I am long F, and may initiate a short position in NFLX, RIMM over the next 72 hours.