Large-cap stocks are starting to move so I screened on Barhchart for S&P 500 stocks with great technical indicators and recent price momentum. Watson Pharmaceuticals (WPI) was right near the top of the list.
Click to enlarge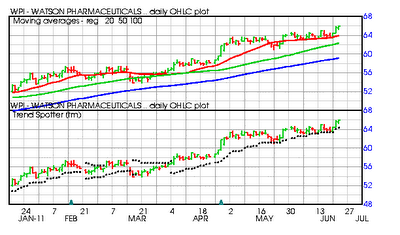 Watson is a pharmaceutical company primarily engaged in the development, production, marketing and distribution of both branded and off-patent pharmaceutical products. The company's branded pharmaceutical business operates primarily in three specialty areas: Dermatology, Women's Health and General Products. The company's products include therapeutic and preventive agents generally sold by prescription or over-the-counter for the treatment of human diseases and disorders.
Factors to consider
Barchart technical indicators
100% Barchart technical buy signal
Trend Spotter buy signal
Above its 20, 50 and 100 day moving averages
10 new highs and up 6.09% in the last month
Relative Strength Index is 65.06% and rising
Trades around 65.95 with a 50 day moving average of 62.98
The company has entered into two new partnerships to distribute generic drugs - one with Johnson & Johnson (NYSE:JNJ) to distribute Concerta and the second with Pfizer (NYSE:PFE) to distribute Lipator.
Wall Street brokerage analysts have released six strong buy, six buy and nine hold recommendations for clients.
Sales are expected to increase by 19.80% this year and another 21.30% next year.
Earnings estimates are even more robust with projected increases of 25.40% this year, 28.90% next year and an annual increase of 12.37% to last for the next five years.
General investor sentiment
The 255 readers of Motley Fool expressing an opinion vote 91% that the stock will beat the market.
CAPS members vote 161 to 19 that the stock will out perform the market.
The more experienced All Stars are more positive with a 71 to 4 vote.
Summary: A lot of the increases in both sales and earnings come from the new distribution contracts that should be good for a few years. Since Watson has already had a price run up, current investors should hold and new investors should expect to only slightly beat the market. Total five year returns at this price will be in the 5%-7% range.
Disclosure: I have no positions in any stocks mentioned, and no plans to initiate any positions within the next 72 hours.