Every once in a while, I receive an e-message that makes me chuckle. Here's one that caused me to snort Tejava tea out of my nose.
"What's a HOLDR? It sounds less like an investment and more like the messed-up character from The Catcher In The Rye."
In truth, the inquirer could readily unlock a suitable answer with a Google search. On the other hand, I often draw inspiration from other people's creativity.
A HOLDR is an industry-specific basket of stocks that trades on an exchange like an individual stock. However, a HOLDR is a static basket that doesn't track a specific index, whereas its ETF cousin is a dynamic basket that tracks an underlying index. (HOLDRs do not rebalance to reflect an index the way an ETF can.)
Typically, indexes have a whole lot of components. Think about popular benchmarks like the S&P 500 or the Russell 2000. It follows that the ETFs tracking indexes tend to represent a larger number of companies than HOLDRs; the latter hold 20 or less.
Due to a limited number of participants, and the market-cap weighting of a HOLDR, you may not have as much diversification; you may have greater "specific-stock" risk. However, that's not always a bad thing for an exchange-traded fund/HOLDR investor.
For instance, Wal-Mart (NYSE:WMT) represents roughly 17% of the Retail HOLDR (NYSEARCA:RTH). Considering the weakness of the consumer in the current economic soft patch, and the aristocratic stability of Wal-Mart's dividend, one might want a more defensive posture with his/her exposure to retail.
In fact, there are at least three good reasons to favor the Retail HOLDR (RTH) over S&P SPDR Retail (NYSEARCA:XRT):
1. Consumer Discretionary/Consumer Staples Allocation. If the domestic economy were appreciably accelerating, one might prefer a larger chunk of discretionary retailers in a mix. However, the chairman of the Federal Reserve, as well as scores of economists, now expect slow-to-moderate GDP growth for 2011 and 2012. That may require a more defensive posture.
The Retail HOLDR (RTH) is comprised of 18 stocks and a 50/50 split between consumer defensive (staples) and consumer discretionary. SPDR S&P Retail (XRT)? Of the 94 some-odd corporations in the S&P Retail Index, 80% are discretionary retailers.
2. Larger Annual Payout, More Frequent Payments. Stock ETFs often distribute income from dividends on a quarterly or semi-annual basis. There are a number that only pass on dividend dollars to their investors annually. The less frequent the distributions, the greater the possibility that an active investor won't "live to tell" about the dollars he/she might have accumulated.
S&P SPDR Retail (XRT) currently yields .088% across the year, delivering payments in four bite-size pieces. One can expect to see the limited .022% payouts in March, June, September and December. In contrast, the Retail HOLDR (RTH) may be offering 2x as much with a projected annual payout of 1.62%.
Granted, the payments come at irregular and somewhat unpredictable times. Yet they come more frequently, and may arrive multiple times per month; they come as each of the 18 stocks in RTH pay their dividends to shareholders.
In essence, when you own an ETF, you own the basket itself ... not the individual companies. When you own a HOLDR, however, you are a shareholder of each individual company in the basket.
3. Short Interest Over Prior Month. When one sees a large increase in a HOLDR's/ETF's short interest, it could be a telling indicator of more pain to come. Short interest in SPDR S&P Retail (XRT) increased 7.4% month-over-month, and it remains one of the most heavily shorted vehicles (by shares) on the NYSE. The 7.4% represents a fairly sizable shift in the number of people who feel XRT will fall further.
In contrast, short interest in the Retail HOLDR (RTH) has declined -13.8%. This doesn't necessarily imply that the world is enamored with Wal-Mart or the other constituents of the RTH basket. It may suggest that you might benefit from a slightly more defensive equity posture. (Note: HOLDRs may only be bought in lots of 100.)
Click to enlarge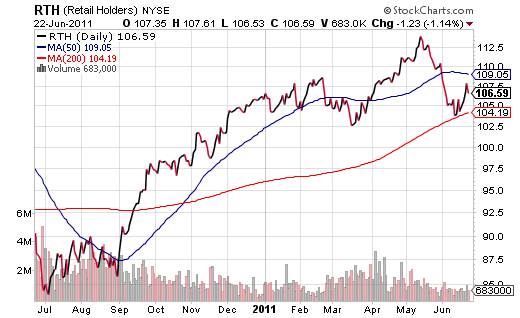 Disclosure: Gary Gordon, MS, CFP is the president of Pacific Park Financial, Inc., a Registered Investment Adviser with the SEC. Gary Gordon, Pacific Park Financial, Inc, and/or its clients may hold positions in the ETFs, mutual funds, and/or any investment asset mentioned above. The commentary does not constitute individualized investment advice. The opinions offered herein are not personalized recommendations to buy, sell or hold securities. At times, issuers of exchange-traded products compensate Pacific Park Financial, Inc. or its subsidiaries for advertising at the ETF Expert web site. ETF Expert content is created independently of any advertising relationships.