The earnings-miss last week by Research In Motion (RIMM) wasn't a surprise, as the company had provided sufficient warning. What did surprise however, were gaffes on execution and the level of shortfalls in unit sales and revenues. However, the relationships within the financial statements clearly indicate that although RIMM is facing significant competitive and operational headwinds, the shares are quite oversold.

First the bad news: For the seven quarters through Q1 2012, we note deteriorating signals in 15 of the 18 line-item categories tracked in our Merriam Report dual cash-flow and accrual model. Specifically, recent quarterly changes were worse than the average change in each category during the entire seven period review.

The Dual Cash-flow Ratio trend is flashing both recent and confirmed bearish signals and we note significant declines in Revenue Metrics and Capital Productivity.
Click to enlarge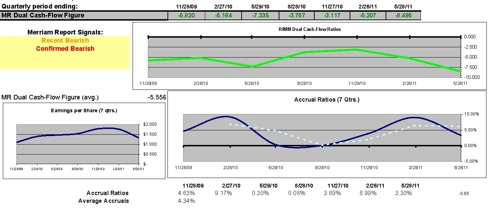 RIMM´s accrual ratio trends have been bearish in recent periods, although the directional trend is heading towards neutral territory-- a "mild" positive in our view.

The good news: The four line-item comparisons showing improvement were:
1) Q1 revenues were better than the average for all seven periods 2) % Change in Accounts Receivable were the lowest in 7 quarters; 3) Q1 Operating Cash-flow was the highest of the previous periods reviewed; 4) OCF as a % of Revenues for Q1 was second highest of the 7 quarters reviewed.

Also, the only revenue metric for RIMM displaying a bullish change in the recent period was in R&D spending (as a % of sales) at 8.6% vs. average 3.44% for all seven quarters. R&D spending is critical to future profits, and whether or not RIMM is successful in translating these investments into earnings is unknown. Yet, the recent increase in R&D allocation tells us RIMM isn´t ignoring their future pipeline. The question is will they be able to regain their footing and rise above the pessimism once again?

We also view the healthy improvement in operating cash-flow as a percent of sales in Q1 as very constructive to overall earnings quality. Yes, sales and earnings declined in Q1 2012, but the earnings are supported more from operational cash flow than from balance sheet generated cash (see below).
Click to enlarge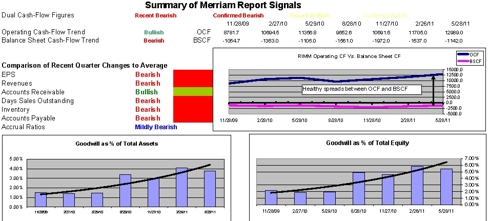 We also note that Goodwill, both as a % of Assets and Equity, remains very low. This indicates a minimal risk (at this time) of potential impairment charges against equity.

RIMM needs to focus on their core strengths: Like Rodney Dangerfield, RIMM is not getting much respect these days and in part for good reason-- delayed product launches, engineering problems, etc.

From Management's Discussion and Analysis of Financial Condition and Results of Operations in their latest 6K filing (page 4):
An important part of RIM's BlackBerry wireless solution is the software that is installed at the corporate or small- and medium-size enterprise server level, and in some cases, on personal computers. Software revenues include fees from: (i) licensing RIM's BlackBerry® Enterprise Server™ ("BES") software; (ii) BlackBerry® Client Access Licenses ("CALs"), which are charged for each subscriber using the BlackBerry service via a BES; (iii) maintenance and upgrades to software; and (iv) technical support.

Revenues are also generated from non-warranty repairs, sales of accessories and non-recurring engineering development contracts ("NRE").

Thus, the enterprise market remains RIMM´s bread and butter. On June 22, Macquarie started coverage of RIMM at outperform with a $40 price target. The firm believes bearish sentiment thus far focuses too much on eroding U.S. market share.

According to Macquarie analysts, North American sales make up less than one quarter of RIMM´s total sales and NA device sales will make up less than 13% of fiscal Q2 revenues. Macquarie opines that the story is really about international markets (which grew 86% last quarter) and that those carriers will have incentive to promote RIMM vs. other smartphones in the future.

The bottom line for any investor who can filter out the noise and ignore the doom and gloom for RIMM (i.e. nails-in-the-coffin rhetoric), we think the stock looks very attractive at these levels.

Summary of Merriam Report Analysis
Rating: UNDERVALUED
Earnings Quality: B-
Estimated Fair Value: $40.35
Current Price to Estimated Fair Value: -27.95%
Our complete report for RIMM can be viewed
here.

Disclosure: I am long RIMM.