I last updated this media giant Gannett Corp. (NYSE: GCI) in January 2010, at which time I suggested taking half profits. The shares were trading at $16.10 at that point, almost double the price at the time of the original recommendation just five months before. It moved a little higher from there, topping out at $18.28 on April 22 of the same year. So far this year, it has been stuck in the $13 to $16 range.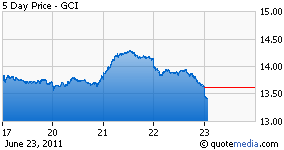 First-quarter results were not impressive. Gannett reported fully diluted earnings per share from continuing operations of $0.37, down from $0.48 in the same period of 2010. Operating revenue was $1.25 billion, down 4% from a year ago due to soft advertising demand, a late Easter (revenue fell into the second quarter this year), and bad weather in the U.S. Northeast.
The share price is still well above the original recommended price but given the weak first quarter and the current market uncertainty I think it would be wise to close out the position while we wait and see how prolonged this sell-off is going to be.
Sell. We have a capital gain of 68% on the remainder of our position. Combined with the gain of 97% on the January 2010 sale, our net return is 82.5%, not including dividends.
Disclosure: I have no positions in any stocks mentioned, and no plans to initiate any positions within the next 72 hours.