2011E
2012E
Share Price

$12.66
Revenue (M, US$)

$630

$705
Fully Diluted Shs (M)
52
Rev Growth y/y
82.1%
11.9%
Market Cap (M, US$)
$658.3
Net Income (M, US$)

$120

$133
Cash (M, US$)
$250.1
EBITDA (M, US$)

$137

$147
Debt (Incl taxes payable)
$98.1
EV/EBITDA
3.7X
3.0X
Net Cash
$152.0
EPS

$2.31

$2.56
Net Cash per share
$2.92
P/E
5.5X
4.9X
Enterprise Value (M, US$)
$506.3
FCF (M, US$)

$89

$121
Ave daily volume (shs)
1.22M
EV/FCF
5.7X
3.7X
FCF Yield (ex-net cash)
17.6%
27.4%
Company – Spreadtrum (NASDAQ:SPRD) is a pure play on China's handset baseband IC market and is a leading supplier in China's home-grown 3G TD-SCDMA IC market and 2G/2.5G chipsets for emerging markets. Spreadtrum is a fabless semiconductor company with the majority of production done at TSMC.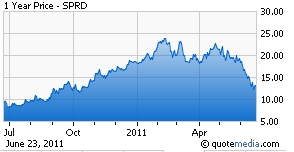 Investment Thesis - Spreadtrum is well-positioned for TD-SCDMA (3G) market share gains in China throughout the remainder of 2011 and 2012 and Spreadtrum should continue to gain share in 2G/2.5G chipset solutions in emerging markets (India, Russia, Latin America, SE Asia). Spreadtrum has recently picked up some key design wins for its TD-SCDMA baseband solution in Tier 1 handsets. Like many Chinese companies, Spreadtrum's share price sold-off sharply in the last 5 weeks. We view the sell-off as unwarranted and believe it provides a very attractive entry point.
China Market Demand - Chinese consumers are upgrading from 2G feature phones to 3G smartphones. Chinese wireless carriers reported a 32% increase (Q/Q) in the number of 3G subscribers to 61.9M in 1Q11 from 47.1M in 4Q10. This transition is still in the early stages, as the 3G subscribers account for only 7.6% of the 886M Chinese wireless subscribers.
TD-SCDMA (3G) in China - Spreadtrum sells TD-SCDMA chips (China Mobile). China Mobile (NYSE:CHL) had 27M 3G subscribers exiting 1Q11. Spreadtrum is the market leader in TD-SCDMA and should have approximately 40% TD-SCDMA market share in 2011. We believe that there will be approximately total 55M TD-SCDMA units sold in 2011 and 90M in 2012. Spreadtrum should have approximately 40% market share in 2011 and 40 – 45% share in 2012.
Pricing is extremely competitive in China and we expect ASPs to continue to decline. ASPs on TD chips are currently approximately $7. Spreadtrum has a cost advantage since it is the only supplier producing chips on 40nm lithography. Other chip suppliers are producing chips using 60nm or 90nm lithography and above. Spreadtrum's smaller die results in an approximate 40% cost advantage, enabling Spreadtrum to sell at a lower ASP and to maintain gross margins at/above 40%. For Spreadtrum, 3G chipsets should increase from 20% of total revenue at the end of 2010 to 40% by the end of 2012.
Spreadtrum is viewed by the Chinese government as a local Chinese company vs. MediaTek which is Taiwanese. Spreadtrum receives R&D grants of a few million US dollars annually from the Chinese government. Spreadtrum is a preferred vendor to promote the TD-SCDMA standard. The Chinese government wants a strong Chinese domestic chipset supplier.
Global 2G/2.5G - Spreadtrum is gaining share with its 2G/2.5G chipset solutions in emerging markets (India, Russia, Latin America, SE Asia). Spreadtrum's emerging market share has climbed from approx 5% in 1Q10 to approx 17% in 1Q11. We believe that share gains will continue, but the pace will moderate for Spreadtrum and will likely stabilize at 25% - 30% share by the end of 2012. Customers are eager to have a strong competitor to MediaTek. Spreadtrum is gaining share by offering more features and faster processors (ARM9) at prices similar to competitors. 2 recent examples…
(1) Spreadtrum launched an ARM9-based 2.5G product (6800) in 1Q11 that is priced closely with MediaTek's ARM7-based product (6253). Spreadtrum's 6800 chip provides rich multi-media, fast WiFi functionality and GPRS/quad-SIM operations.
(2) Spreadtrum launched its new GPRS feature phone solution, 6610/6620, in April 2011. With a better cost structure, these two products are the advanced version of Spreadtrum's Triple-SIM solution 6600L and will compete closely with MediaTek's newly launched chipset, 6252.
Low-end Android Smart Phones – Android phones should offer a significant growth opportunity for Spreadtrum in 2012. The Android smart phone market has been slow to take off in China due to the relatively high price point of the handsets (RMB $1000). Costs are declining and low-end Android smart phones should be offered below RMB $800 in coming months.
International sales will account for approximately 30% of Spreadtrum's revenue in 2011 and 40% in 2012.
Investor Concerns
1) Inventory - Spreadtrum reported robust 1Q11 earnings, beating both revenue and EPS estimates and raising guidance for 2Q11. However, the company's policy on inventory reporting created confusion and concern with investors. Spreadtrum's inventory rose from $37M in 1Q10 to $198M in 1Q11. Much of the increase in this inventory is due to Spreadtrum's international growth and conservative accounting. Many new customers and international customers are hesitant to use chips from a new supplier due to quality concerns. As a customer acquisition strategy, Spreadtrum allows customers 90 days from receipt of its chips to return the chips to Spreadtrum for a refund.
When Spreadtrum receives an order from an international customer, Spreadtrum receives a partial payment upfront. This payment is reflected on the balance sheet as "Advances from Customers." Spreadtrum uses its working capital to build the product for this customer and ships the product to the customer. The shipped product is reflected in inventory. The cost associated with this inventory is reflected as a "Deferred Cost" subset of its inventory balance.
Given that the customer has up to 90 days to provide Spreadtrum with written acceptance of the chips, Spreadtrum does not book any revenue related to these shipments until Spreadtrum receives written customer acceptance. Hence, these shipped products remain in inventory until written customer acceptance. Upon receipt of customer acceptance, Spreadtrum recognizes the revenue and cost related to the shipments on the income statement and there is a corresponding decrease in its "Advances from Customers" line item and "Inventory" line item on its balance sheet.
Design House Inventory – In order to ensure that there was not excess inventory at Spreadtrum's end customers (design houses), we conducted a recent round of checks at the design houses in China. Typically, design houses hold very low levels of inventory (low number of days). Our checks found that the design houses currently have approximately 2 - 3 days of Spreadtrum chip inventory.
2) MobilePeak acquisition – On June 9, 2011 Spreadtrum announced that it acquired 48.44% of MobilePeak. MobilePeak specializes in the design of highly integrated WCDMA/HSPA+ chipsets. Spreadtrum spent $32.6M for 48.44% of the company and will purchase the remainder during 3Q11. This acquisition should enable Spreadtrum to broaden its chipset portfolio to include HSPA+ longer term. Management indicated it should ship dual-mode TD-SCDMA/TD-HSPA and WCDMA/HSPA+ chipsets by 1Q12.
Acquisition due diligence on MobilePeak began in January 2011 and the companies jointly spent the last 90 days on the post-merger integration plan and the product roadmap. Hence, when Spreadtrum gave its 2Q11 guidance in May 2011, the financial impact of the anticipated acquisition was already reflected in its 2Q11 guidance. As a result, Spreadtrum reaffirmed its 2Q11 guidance on the June 12, 2011 conference call to discuss the acquisition.
3) Softness in May 2011 chip sales – MediaTek's recent report reflected softness in May chip sales. We believe that much of the softness in MediaTek's report was due to MediaTek share loss and mis-executing on the rollout of its 6252 chip. In fact, several design houses in China have switched from MediaTek's 6252 to Spreadtrum's 6610/6620 due to technical issues in the 6252.
4) Government crackdowns on white labeled phones in India and China – Revenue impact to Spreadtrum will be negligible (less than $1M) in 2Q11 and other regions of the emerging markets are exceeding expectations. This is another reason Spreadtrum was able to reaffirm 2Q11 revenue guidance of $152M - $158M on June 13, 2011.
We believe that the sharp sell-off in Spreadtrum's shares from $19 at the beginning of June 2011 to $12.66 on June 20 is partially being driven by investors broadly exiting positions in Chinese companies due to concerns about frauds. In times of undifferentiated selling, the share price of some good companies has been severely impacted too.
Valuation – At $12.66, Spreadtrum shares are trading at 3.0x 2012 EV/EBITDA. Spreadtrum has a high conversion ratio into FCF and should generate $89M in FCF in 2011 and $121M of FCF in 2012. At the current price, Spreadtrum is trading at a 17.6% 2011 FCF yield (ex-net cash at end 1Q11) and a 27.4% 2012 FCF yield (ex-net cash at end 2011). In response to the recent steep decline in the share price and the expected high FCF generation in coming quarters, the company announced a $100M share buyback on June 17, 2011.
We expect Spreadtrum to report 2Q11 revenues near the top end of the company's $152M - $158M guidance and give 3Q11 guidance that is no less than current consensus estimates of $164M.
Given Spreadtrum's growth and margin profile, we conservatively value the shares at 12x 2011 EPS ($2.31) = $27.69 (119% upside). However, given the heightened anxiety currently surrounding Chinese companies, we apply a 20% discount to our fair value estimate to arrive at a near-term price target of $22.15 (75% above the June 20 closing price) until investors selectively return to the non-fraudulent Chinese companies. At that time, we would expect Spreadtrum shares to trade to our $27.69 price target.
Disclosure: I am long SPRD.