Nokia (NYSE:NOK) recently launched its first and last MeeGo-powered smartphone, the N9. Intended as replacement to the successful but now faltering Symbian platform, MeeGo has since been abandoned in favor of Windows phone on the heels of an announced strategic partnership with Microsoft (NASDAQ:MSFT).
Reviews can be characterized as wistful, with Information Week calling it "gorgeous." The N9 looks like a solid piece of technology that ought to have been a smash hit about two years ago. Nokia has borrowed from competitors designs and tried to do one better, including a 3.9 inch, AMOLED, Gorilla-glass protected touchscreen, penta-band radio (even high-end Android devices are typically only equipped with quad-band) and a high-end camera equipped with low-aperture, Carl Zeiss optics.
But operating systems live and die by way of the software ecosystem they support, and MeeGo looks still-born, with little incentive for developers to sink in the time and effort for a market defined by a single handset. Although responsive and functional, Nokia's former flagship OS looks ill-suited to keep up with an impressive list of hardware specifications and significantly dated to compared to either the elegance of iOS or Android's flexibility and seamless Google (NASDAQ:GOOG) product integration.
For all the respect Nokia garners for its design and ability to execute on hardware, its near-term outlook remains grim.
NOK is trading significantly below 200 and 50-day SMAs, with MACD still flashing sell, below the EMA line. RSI confirms the stock to be heavily oversold since beginning of June.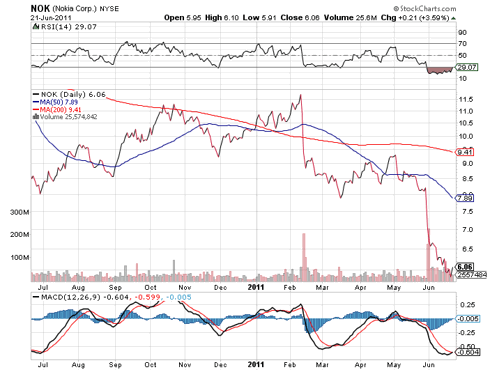 Click to enlarge
(Click to enlarge)
Nokia suffered a recent downgrade in its debt rating by Fitch but still has $16.51B in cash and debt of only $6.7B. The book value per share works out to about $5.45, but investors are clearly expecting revenue and income both to continue falling. Analysts have recently speculated the struggling Finnish giant may fall behind both Samsung (OTC:SSNLF) and Apple (NASDAQ:AAPL) in number of devices shipped by the end of the third quarter.
On a more positive note, Nokia has shown proactive signs of managing operating expenses, announcing plans to layoff as many as 4,000 workers and setting a reduction target for 2013 of $1B. Given current valuation, the market hardly expects the company to still be around for those savings to be achieved.
Strategically, the entire mobility sector seems set for continued growth but is likely to experience margin pressure as the technology becomes commoditized and competition ramps up between different manufacturers and ecosystems. Android phones in particular, subsidized by U.S. carriers for no upfront cost, are already proving to be popular, and there are hints that Apple is planning an entry-level iPhone for markets both domestic and international.
In a recent research note, Credit Suisse downgraded Research In Motion (RIMM) and Motorola Mobility (NYSE:MMI) on concerns that cheap handhelds from HTC, LG (LG) and Samsung will continue to surge in market share. As these devices become widely available, especially overseas where no carrier-subsidy structure exists, there's reason to believe Nokia's meat and potato business -- its entry-level Symbian phones -- will accelerate the rate at which they're losing ground.
Adding to these worries, Nokia's excellent dividend relies on a payout rate of 74% TTM. Future drops in income would not bode well for those interested in holding the equity long-term.
While the company is trading cheaply, the risks associated with pervasive negative sentiment and the uncertainty associated with future Windows phone projects warrants caution. I advise against establishing positions in the equity until better information can be obtained about Nokia's level of execution on its next generation of smart phones, as well as a definitive timeline for their release.
Disclosure: I have no positions in any stocks mentioned, and no plans to initiate any positions within the next 72 hours.