On June 9th, I sent the letter below to Congressman Eric Cantor (R-Va.) and Fed Chairman Bernanke. Did I hear Bernanke correctly, on the subject of distressed sales and housing - and therefore on the whole economy?
Granted, my idea of having Fannie Mae (
OTCQB:FNMA
) and Freddie Mac (
OTCQB:FMCC
) dis-intermediate banks from the mortgage market may be somewhat aggressive. But I do maintain that my suggestion to exclude distressed sales from real estate comps is, as we say, an attractive trade-off. Costs nothing, raises housing prices, stimulates demand, which ultimately moves the only real employment needle, construction. Distressed sales can remain distressed, I don't care.
I'll let you read on:
Thank you for all your efforts. I would like to contribute some thoughts on the economy, job growth and the financial system.
The situation can be summarized with two graphs and a table:
Click to enlarge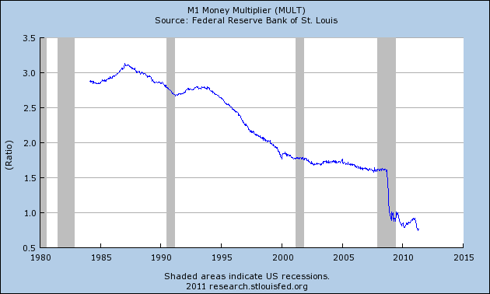 Click to enlarge
Balance Sheet of Households and NonProfit Organizations

$ Trillion, nominal, not seasonally adjusted.

Peak NW

2004

Q3, 2007

Q4, 2008

Q4, 2010

Q1, 2011

Assets

62.9

78.4

65.7

70.7

71.9

of which:

Real Estate

20.2

23.7

20.5

18.2

18.1

Fixed Income

Short Term

5.7

7.1

7.6

7.9

8

Long Term

3.1

3.7

3.9

4.3

4.1

Stocks

22.5

29.4

20.2

27.6

29.2

Liabilities

11

14.1

14.2

13.9

13.9

of which:

Mortgages

7.8

10.4

10.4

10.1

10.0

Consumer Credit

2.2

2.5

2.6

2.4

2.4

Net Worth

51.9

64.3

51.5

56.8

58.0

Debt as % of Net Worth

21.2%

21.9%

27.6%

24.5%

24.0%

Source: Capital Max; federalreserve.gov, Flow of Funds, June 9, 2011.
Banks are not lending, despite the tripling in the Monetary Base, an increase of $1.7 trillion in some three years. This mainly affects the real estate market, as Jamie Dimon (of JPMorgan Chase (NYSE:JPM)) pointed out again yesterday. He also went on to confirm he was not going to hold CMBS under the proposed Fed capital rules.
This brings me to a simple point I raised a couple of years ago in my book "Anatomy of the Meltdown – 1998-2008." We the people do not own the banks, but we do own Fannie and Freddie. If banks do not want to lend, we should allow the GSEs to enter the banking business, at least the part they know best: Real estate. Instead of simply buying the mortgages that banks do not want to keep, they should originate their own – at preferential rates to boot. This would likely induce competition as banks would fear losing market share of this very lucrative market – 3% to 5% spread when funding rates are between zero and 3%.
There would be two additional benefits to this. One, the GSEs would immediately create jobs as this would mean a new business for them. Two, it would diversify their business which would presumably help to take them out of conservatorship when the time comes.
My second point was even simpler, and has become even more obvious since. Appraisers and lenders should take distressed sales out of "comps." The whole purpose of TARP et al. has been to enhance price discovery. Distressed sales do just the contrary. One house can bring down a whole neighborhood, because "comps" include a small sample of three or four. So, as long as the weak asset is included, the average stays down. Not only does this affect the household asset component, but it also affects the amount and availability of the loan.
In 2009, I sold a house. The buyer and I had agreed to $475,000, a very low level. The appraiser came back with $460,000, including in his appraisal a "comp" that did not make sense – a foreclosed home facing a busy road. The lender reduced the amount of the loan. If I had challenged the appraisal method, it would have taken months. To close the deal, I had to bring the price further down and the buyer had to increase his down payment. All the other "comps," though, were priced at the $475,000 level. This defeated the purpose of price discovery.
So these two suggestions are simple – tough to implement, like any reform, but simple and quick. Jamie Dimon may not like them as they won't solve his own problem, but I have to remind him that it is JP Morgan who first issued Credit Default Swaps (CDS) and other OTC derivatives in 1997. And that JP Morgan lobbied hard for the Commodity Futures Modernization Act of 2000, which President Clinton signed in his last days in office and without debate. We all know what happened to CDS – JP Morgan can't always be right. Neither can the Congressmen who sponsored the Act - respectable Republicans, I hate to admit, but with a lot of company. Maybe now is time for your new majority to truly reform in a way everybody understands. By spurring housing, we may not solve Jamie's problem, but we will certainly solve the nation's.
I remain, of course, at your disposal.
Disclosure: I am long TOL, JOE.