E-House China (NYSE:EJ) is a leading real estate service provider in China. When ranked by a number of metrics such as transaction volume and geographic reach, it is the largest real estate and consulting agency in China. In an effort to cool a white hot real estate market that is increasingly lowering housing affordability for the middle class, the Chinese government has taken proactive measures in an attempt to curtail price appreciation. Not only have reserve ratios for commercial banks been raised numerous times in the past couple of years, but more direct actions ranging from increased down payment requirements to the installation of new property taxes have been proposed or implemented. Not surprisingly, such actions have had a negative impact on E-House's operations. Combined with widespread negativity regarding Chinese companies listed in the U.S., EJ's share price has dropped by nearly 50% since the start of 2011.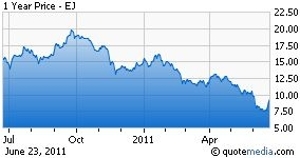 In a not unfamiliar move, E-House Co-Founder and Executive Chairman Mr. Xin Zhou announced a proposed personal $10m share purchase for both EJ and its majority owned online subsidiary China Real Estate Information Corporation (NASDAQ:CRIC). The news wasn't entirely a surprise since Mr. Zhou in the past announced personal purchases during times of weak market sentiment in an effort to instill investor confidence. At least in the chairman's opinion, EJ's recent share price decline has presented a value based opportunity.
As the financial markets unraveled in late 2008 sending most stocks around the world lower, E-House also announced several corporate stock repurchases. The first was a $20m stock repurchase plan made just three weeks prior to the Lehman Brothers bankruptcy in 2008. Just four months later, EJ announced it had already completed this stock repurchase plan and announced yet another $20m additional repurchase plan. More recently, last March the company announced a $50m share repurchase plan as company shares drifted lower.
E-House also initiated cash dividends as an additional effort in creating shareholder value. The first was made during its fourth quarter and full year 2009 earnings report where a .25 per share cash dividend was declared. The same dividend amount was declared earlier this year as EJ reported its 2010 full year earnings. Although not a large sum, .25 per share in annual dividends does represent a yield near 3% based on recent share prices.
Unlike manufacturing companies which require large sums of capital for normal operations and expansion, E-House is a service provider. As a result, the company can generate a fair amount of cash from operations which as detailed have in part been used for share repurchases and dividends. In fact through its Q1 2011 quarter, the company has accumulated from operations as well as financing activities $473m in cash on its balance sheet, coupled with zero offsetting debt. At the end of the first quarter, EJ had a working capital surplus of over $735m of which the majority resided in cash. On a per share basis, the company's net cash position stood at almost 5.80 per share. At recent share price lows, EJ's enterprise value roughly equaled the net income earned over the past two fiscal years.
Needless to say, E-House from an absolute market valuation is extremely low. Prior to this week's share price rally, EJ's stock was only a couple dollars above cash value and over a dollar below the company's tangible book value of roughly 9.20 per share. Since EJ consolidates CRIC into its report, part of the assets have to be factored out. According to the company's 2010 annual report, E-House owns approximately 53% of CRIC while Sina Corporation (NASDAQ:SINA) owns the majority of CRIC's remaining position after the 2009 IPO spin off merger. At CRIC's recent share price, EJ's stake is worth slightly over $400m. In other words, EJ's parts are worth more than its whole as represented by recent stock market valuations.
Unfortunately, government action toward cooling the real estate market has taken its toll on E-House. While business is not bad per say, it's somewhat stagnant. While the company is still growing revenues as represented by a 17% year over year increase in first quarter sales, EJ posted a fractional .01 earnings per share loss in Q1 2011 due to much higher operating expenses. In essence, the company is using this unfavorable policy environment to expand its business by strengthening its product portfolio, brand and national reach similar to corporate strategies used by SINA and Sohu.com (NASDAQ:SOHU) half a decade ago as both companies endured cyclical stagnation periods. More recently, online game operator and developer Perfect World (NASDAQ:PWRD) had also entered into a transitional period of heavy internal investments.
For SOHU, a large branding campaign during the 2008 Olympics increased its national recognition. Significant internal investments made in the middle of the last decade also yielded a very successful online game franchise which the company later spun off as Changyou.com (NASDAQ:CYOU). SINA also took a similar route by promoting FIFA World Cup action while large internal investments made several years ago has most notably yielded Weibo, its microblog phenomenon. PWRD's efforts most recently yielded a surprising reacceleration in revenue growth through successful new game launches.
While it may not seem like EJ has anything in common with SINA, SOHU or PWRD, all four are structurally very similar despite operating in different business segments. These companies are all service providers in one sense or another and have built strong national brand recognition. Each are widely considered among the industry leaders in the sectors they operate. As service providers with national reach, business can scale extremely quickly once product or business cycles return to more favorable conditions.
At this point however, it's uncertain when or if EJ's current initiatives will start to bear fruit. Perhaps the larger factor rests with central government policy than anything else. In this case, E-House may need to continue building its business and brand recognition until China's middle class catches up to the real estate environment the government is currently trying to limit in price appreciation. As seen with SINA and SOHU over the past half decade, there's no overnight remedy. The macro business environment may take years before it returns favorably for E-House. On the other hand, it could cycle back favorably next year as EJ's 2009 business boom during a global economic downturn proved there's no exact formula for forecasting future business cycles.
Until EJ's business cycle returns to more favorable levels, investors have a cushion represented by the company's intrinsic value today. Not only should cash and marketable assets limit further share contraction, but investors would also be receiving a noteworthy dividend yield. After all, E-House is still expected to be profitable in 2011. As estimated by Wall Street, EJ is expected to earn .65 in earnings per share this year which values current shares in the low teens price to earnings multiple.
Finally, unlike many smaller Chinese companies that have caused investor concerns in recent months, E-House is a premier company in China brought public by top tier investment banks, Credit Suisse (NYSE:CS) and Merrill Lynch, and audited by Deloitte Touche. In contrast many of the problematic Chinese companies came about through reverse mergers using lower tier investment firms. In most cases, suspect companies are small in nature and used auditors many levels below the big four firms. While nothing is guaranteed, EJ's corporate accountability is more on par with Western standards than many smaller Chinese counterparts.
Disclosure: I am long EJ, SINA, SOHU, PWRD. No position in CRIC, CYOU.