My article - Note to Apple (NASDAQ:AAPL) Fans: Stop Talking About Value - and my subsequent discussions about making short- and long-term investment decisions generated quite a bit of response, particularly in the comments sections of the articles. Because I do value the debate, and consider it worthy, I want to elaborate on two key components of my position. I believe this exercise provides a service to readers as they evaluate how to select stocks for a trade or investment.

First, if one sentence can sum up the approach I have discussed, this is it: I make primary use of qualitative analysis that focuses on "the story" that underlies a stock to inform trading and investment decisions, rather than quantitative analysis, such as a company's financial metrics.

As a former PhD student, I can tell you that this debate rages not only in investment circles, but, more so, academic research circles, particularly in the social sciences. It's tough to get through graduate school without entering a heated discussion about the worth of the qualitative method versus tried-and-true quantitative analysis. While I believe both contain worth (I have used each method in my own academic research), I tend toward the qualitative approach in relation to research as well as the stock market.

I should point out that I place great emphasis on technical analysis, which I consider heavily quantitative. Realize, however, that emotion ultimately drives what happens on a chart.

That said, considering conference calls and P/E ratios as part of the trade and investment evaluation process provides not only insight into how I operate, but can help you consider or reconsider your own approach.

Earnings Conference Calls: Where 'The Story' Gets Told

Most companies lead off conference calls with the boilerplate warnings about "forward looking statements," followed by the bean counter's (the company CFO) dry read of the company's financial results. Of course, there's value to this portion of the presentation. It is interesting to note, however, that several companies, namely Netflix (NASDAQ:NFLX) and Tesla Motors (NASDAQ:TSLA), have opted to skip the reading of the results in favor of getting right to the heart of the call - the Q&A segment.

The action happens during the Q&A, which is why I have a beef with Netflix's decision to go with pre-selected and pre-screened questions on what amounts to a live conference call that's not really happening in real-time. There's no chance for follow up questions or company executives to get caught off guard by a query.

At times, the CFO's presentation does contain information you can sink your teeth into. I used (technically) quantitative information to make the decision to go bearish on Research in Motion (RIMM) in late March. While what I gleaned from conference calls often involved numbers, it had little to do with hard financial metrics and valuation. I simply compared the differences between RIMM Co-CEO Jim Balsillie's performance on his company's call to Apple (AAPL) CFO Peter Oppenheimer's work on his company's call.

It was not as much about what each man said as it was about how he said it. When you listen to a call, just like when you're reading a great book, you have to be able to pull out a character's underlying qualities and cues, such as confidence and precision. You have to be able to pick up signals that qualitatively support whatever quantitative forecasts a company makes. After all, they are only forecasts - mere projections. Had you put stock in RIMM's projections for FY2012, where would you be now?

First, consider what I said about Balsillie's imprecise performance on RIMM's Q4 conference call: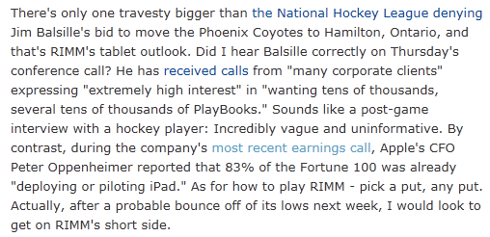 Here's the full view of Oppenheimer's concrete and precise report: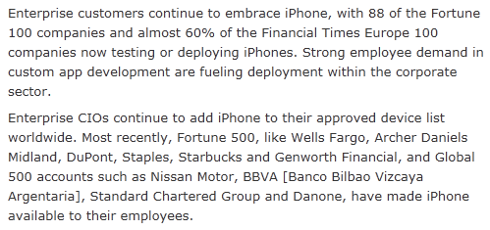 Acting CEO Tim Cook added more color in the Q&A segment of that conference call:
The iPad ... moved to mainstream and enterprise and all the rest in record time ...

We're getting enormous enterprise traction, with 88% of the Fortune 100, which is mind-blowing, I believe. 83% of the Fortune 500, 60% of the FT 100. So the enterprise traction is gaining. We have the highest customer satisfaction ratings in the industry versus Android or RIM ...

I think that the consumerization that you speak of, of the enterprise, is one of the megatrends that are occurring. I think the most forward-looking CIOs are coming to the realization that the productivity of the person, the creativity of the employees is materially more important than everyone using the same thing ... And you can wind up, literally, running your whole business off of an iPad or an iPhone ... The numbers are already incredible. And think about this, the iPad started shipping in April, and we're already up to 80% of the largest companies deploying or piloting the product. This is unheard of, at least, in my dealings with the enterprise over the years. Generally, enterprise is much slower and much more cautious and uses things that have been in the market for a long time. And I think to everyone's credit, they've seen the value of this from a productivity and creativity point of view, and they're really moving fast. And so I think we're just scratching the surface right now ...
If this does not make the reality of what's happening in the enterprise space abundantly clear, I am not sure what does. I do not need to wait for companies or analysts to come late to the party with adjusted quantitative forecasts and projections to make my decision.

Similar examples that have yet to completely play out like the RIMM story did involve my read on recent conferences calls held by Sirius XM (NASDAQ:SIRI) and CBS (NYSE:CBS). In Sirius XM's case, I read between the lines to determine that CEO Mel Karmazin is setting expectations low as the company actually appers primed to over-deliver. And CBS' Les Moonves was one of the first to provide color on the gravity of Netflix's content acquisition spending spree.

Qualitatively Interpreting P/E Ratios

I do not think I have to get too deep into this. The articles I referenced - as well as my comments made after each article - do a pretty good job explaining how I view P/E ratios. I should clarify a couple of points, however.

First, I am not sure many investors actually know what to make of a P/E ratio. Sometimes it make sense to drill it down to the basics and turn to a straightforward source: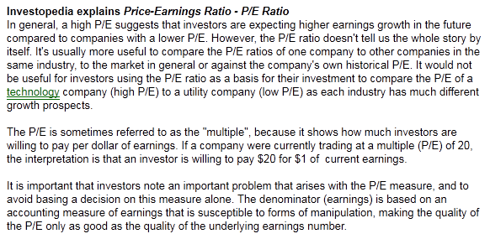 After I see a P/E ratio, I do not dig deeper into a company's books; instead, I dig deeper into its business. I scour conference calls word-for-word looking for the types of signs, signals and cues people like Balsillie, Oppenheimer, Cook, Karmazin and Moonves reveal. I find as many interviews as I can with key executives and I analyze not only what was said, but what I might be able to find between the lines.

Sometimes, as was the case with Sino Clean Energy (SCEI), this process involves financial information, but no matter the company, I always view what they report and project with skepticism. Even the most credible and respected companies routinely play games with numbers. I want to know if the company's story and quality of presentation (or lack thereof) supports the notion that investors expect a company to grow by X, therefore they are willing to pay Y for that anticipated growth today.

Consider Sirius XM. Its stock trades with a P/E ratio of 200, according to Yahoo Finance. It sports a forward P/E of nearly 29. Seeing these numbers scares some investors away. They deem the company "overvalued." I look at them and feel good about loading up a long position. This data, coupled with the qualitative insights I generate from studying the company's business, market and competition as well as the words of its CEO, gives me the confidence that Sirius XM's growth story is intact over the short- and long-term. Although a number might help lead me to it, I do not need one to support my conclusion.

You can call what I do "momentum investing." You can call it unorthodox. Those classifications might be true. What I know is that what I do represents just one way of doing things. Sometimes it works. Sometimes it does not. That, at least, makes it exactly the same as any other approach to investing you can come up with.

Disclosure: I am long TSLA, SIRI.