I first began my research of Avanir Pharmaceuticals (NASDAQ:AVNR) on the advice of a fellow investor early in 2010. Soon after, I had thoroughly convinced myself that the FDA couldn't possibly withhold approval of the company's reworked formulation of dextromethorphan and quinidine sulfate, which was then known as Zenvia (now Nuedexta).
When I placed my first bet on Avanir, I could never have guessed that I would have learned so much about one little bio company in California, its management (former and current), its supporters, its detractors, or its potential to generate revenues while helping to improve the quality of life for patients suffering from a variety of debilitating conditions.
As an Avanir investor I have authored and co-authored multiple bullish Avanir articles here on Seeking Alpha. Another Avanir investor has taken the matter a step further recently by dedicating his time and skills to build a website that some have argued to be more informative than the company's official website. Give yourself a tour: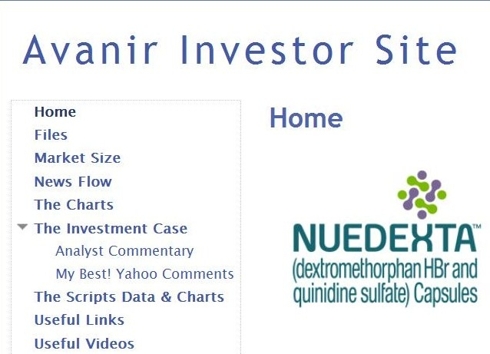 As you can see, it is a fully functional site with plenty of bells and whistles. It covers just about everything Avanir. The designer and author of the site's original content has indicated that he intends to update it regularly.
Is Avanir under attack?
The website's debut is a breath of fresh air, as it came less than a month after Avanir received a letter from Congress requesting public and non-public information for its investigation into the pricing of Avanir's Nuedexta. Many investors have brought into question the author's timing and motivation.
The above referenced Congressional letter came just days before a hedge fund manager took it upon himself to put tremendous focus on just about every scary aspect there is to Avanir as an investment in an article he released on Seeking Alpha. Many investors have brought into question the author's timing and motivation.
The above referenced short thesis article for Avanir came just days before Jefferries released a headline and attention grabbing downward price target revision. Though the analyst cited a $4B potential market opportunity for the company, he reduced his one year target to $3.50. Many investors have brought into question the author's timing and motivation.
Since the news of Congress taking aim on Avanir was released on May 25th, the stock has traded down more than 26% to where shares are currently changing hands at around $3.40. In light of the above, one must consider the possibility that this heavily traded stock with its gargantuan short position might be the subject of some market manipulation.
AVNR 1 Month Chart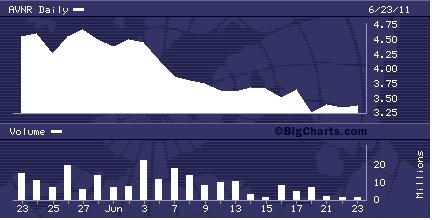 If anything has been certain over the years, it is that Avanir + AVNR investors = seldom a dull moment. All of the distractions and drama aside, it remains clear to me that Avanir has positioned itself quite well for growth as a commercial enterprise and is, at present, tremendously undervalued as a long-term growth prospect.


Disclosure: I am long AVNR.