In the last month, both LinkedIn (NYSE:LNKD) and Pandora (NYSE:P) came to the stock market with an enormous amount of fanfare. Both IPOs held out the promise of a new appreciation for the future of business. And yet, each IPO currently resides below the lowest price on the first day that shares traded.
The low for LNKD on its first day on the big board? 80. Unfortunately, LNKD finished Thursday, 6/23, at 70 - a disappointing -12.5% below its opening day floor price. Pandora (P), the Internet radio company, is off a more bearish -19.3%.
Granted, it would be easy to dismiss these dot-com "darlings" as unprofitable and potentially combustible. However, what can one say about a remarkable winner like Oracle (NASDAQ:ORCL)? The company handily beat its fiscal fourth quarter earnings estimate of $0.71, as well as the analyst consensus "whisper number" of $0.72, with a highly profitable $0.75. What's more, overall sales revenue, licensing revenue, hardware revenue and operating margins all came in better than expected.
So how did after-hours investors greet the news? They sent the stock down between -4% and -7%.
Sure, there are plenty of theories about why Oracle began taking it on the chin after Thursday's bell. Some explained that revenue expectations were only marginally better than anticipated. Others have suggested that high energy prices will adversely affect future IT spending. Still others expressed that, regardless of any optimism in Oracle's guidance, the market has already pre-determined that IT spending will decelerate.
On the other hand, you may want to ignore explanations about the underachievement of LNKD, P, ORCL, or even Cisco (NASDAQ:CSCO) and Microsoft (NASDAQ:MSFT). The truth lies in the public's decade-long distrust of tech.
Consider the 10-year rolling returns for Select Sector SPDRs:
Sector ETFs: 10-Year Rolling Returns
Approx % 6/24/01-6/23/11
Annual %
Energy Select Sector SPDR (NYSEARCA:XLE)
163.8%
16.4%
Materials Select Sector SPDR (NYSEARCA:XLB)
111.8%
11.8%
Consumer Discretion Select SPDR (NYSEARCA:XLY)
53.0%
5.3%
Utilities Select Sector SPDR (NYSEARCA:XLU)
49.7%
5.0%
Consumer Staples Select SPDR (NYSEARCA:XLP)
48.9%
4.9%
Industrials Select Sector SPDR (NYSEARCA:XLI)
42.7%
4.3%
Health Care Select Sector SPDR (NYSEARCA:XLV)
37.3%
3.7%
Technology Select Sector SPDR (NYSEARCA:XLK)
3.6%
0.4%
Financials Select Sector SPDR (NYSEARCA:XLF)
-36.5%
-3.6%
On the surface, one might argue that Financials Select Sector SPDR (XLF) has primarily been obliterated by the systemic collapse of the credit markets and the destruction of the global financial system in 2008. That said, one might not be able to dismiss the tech sector's trauma with a mere recognition of the tech bubble circa 3/2000-9/2002. In fact, the 10-year rolling returns do not include the first 15 months of the bursting balloon (i.e., 3/2000-6/2001).
Nope, the pain still lingers. Investors are wary of tech, even 10 years later, as the previous six months of trading show. The only Sector ETFs to end up in the loss column over the prior half-year? Tech (XLK) and Financials (XLF).
What this tells me is that investors simply aren't ready to ride the technology train. Sure, there are quick-draw traders who will make a killing in the cloud computing hype. Nevertheless, the sector at large may not receive respect until P/Es drop below 10 and/or the dividend yield significantly surpasses the broader S&P 500.
Click to enlarge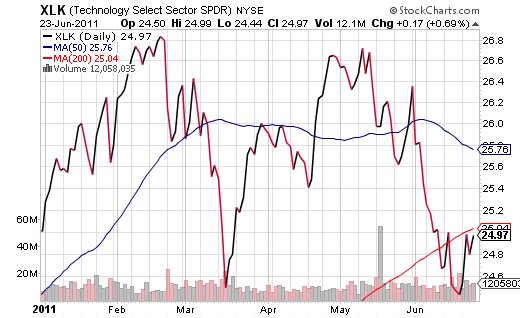 Disclosure: Gary Gordon, MS, CFP is the president of Pacific Park Financial, Inc., a Registered Investment Adviser with the SEC. Gary Gordon, Pacific Park Financial, Inc, and/or its clients may hold positions in the ETFs, mutual funds, and/or any investment asset mentioned above. The commentary does not constitute individualized investment advice. The opinions offered herein are not personalized recommendations to buy, sell or hold securities. At times, issuers of exchange-traded products compensate Pacific Park Financial, Inc. or its subsidiaries for advertising at the ETF Expert web site. ETF Expert content is created independently of any advertising relationships.