Novagold's (NYSEMKT:NG) latest press release updating investors on the status of the upcoming Galore Creek prefeasibility failed to help stem the decline in the company's shares Thursday. As I wrote this, the stock was trading down 5% on the day, more than 20% for the month of June, and 37% year to date. Novagold has far underperformed the rest of the gold mining sector recently. Compared with Novagold's 37% YTD loss, the Market Vectors Gold Miners ETF (NYSEARCA:GDX) is only off 16%, and the Market Vectors Junior Miners ETF (NYSEARCA:GDXJ) has held up even better.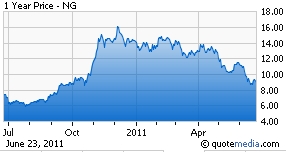 There have been numerous problems for Novagold over the past few months. Some of these have been sector-wide concerns; the prices of metals have started to stall out over the past few months. While gold has remained strong, silver corrected strongly to the downside. More significantly to Novagold, which despite its name is levered greatly to copper, is that the copper trade is starting to break down with prices off 15% from the peak and looking quite bearish as the $4/lb level appears ready to fall.
But Novagold has underperformed the rest of the mining sector due to its own specific issues. In particular, headlines have revolved around the big-name selling in Novagold shares. George Soros recently dumped the majority of his Novagold position. He previously held 12.9 million shares but has reduced this to merely 3.5 million shares.
Jim Cramer added to the negative sentiment. He'd repeatedly stated that Novagold was one of his favorite gold sector plays, however, he reversed this posture earlier this month, saying:
I feel burned on NG. I thought it would trade up along with gold...the gold stocks have been terrible. NG has been worse than terrible...They want gold now in the ground. I bought some and sold some. It is an admission of defeat. This one did not work for me.
In corporate developments, Novagold released a prefeasibility study on its Alaskan copper project, Ambler, that seems to be quite positive for Ambler's valuation. Market chatter indicates that the property may fetch a valuation in the $500-700 million range. However, Novagold stock failed to rally on that report, perhaps questioning the sudden increase in value of a project that Novagold acquired for a scant $29 million just last year.
Looking ahead, Novagold's best opportunity to rebuild investor enthusiasm comes with the upcoming prefeasibility study for Galore Creek. Novagold's previous study, in 2006, found Capex of ~$1.8 billion for the Galore Creek project, however the mine was put on hold during the next year when Capex estimates surged higher. Since the feasibility study was previously bungled (in Novagold's defense, when I spoke with IR, they offered a decent explanation for why this mistake was outside of their control), investors are less than convinced that the company will get it right this time around.
I spoke with Novagold's investment relations in March and they offered a strong case for giving Novagold a second chance. While the company clearly erred in the past, they appear to be taking steps that will ensure a more accurate feasability study this time around. But some skeptics remain unconvinced. The widely-respected mining blog IKN skewered Novagold's press release Thursday, and stated that the Galore Creek mine would never get built.
Given that Novagold shares have slumped dramatically in recent weeks, I no longer think Novagold is the sector's most overvalued stock as I previously argued. But I don't see any compelling reason to get long at these levels either. All the management risk I previously cited still remains, and having lost backers such as George Soros, the company is more vulnerable should the Galore or Donlin studies not live up to the market's expectations.
But I would caution that short sellers might want to cover their bets coming into the Galore Creek prefeasibility news. Since the stock is already down significantly, the risk/reward probably favors long positions in the near-term.
Disclosure: I have no positions in any stocks mentioned, and no plans to initiate any positions within the next 72 hours.