Citron Research is the champion of fraud allegations and has put many Chinese RTOs (reverse takeovers) in the hospital, on life support, and to the morgue. Andrew Left, the face of Citron, has made a lot of money shorting his victims, and enjoys being your friendly neighborhood white collar crime fighter.
If there is any question about whether Citron Research should be labeled the "champion", just take a look at his track record. Back in February, Seeking Alpha writer Ian Bezek produced a scorecard for him. Below I've added some of the recent Citron victims to add to the scorecard.
click to enlarge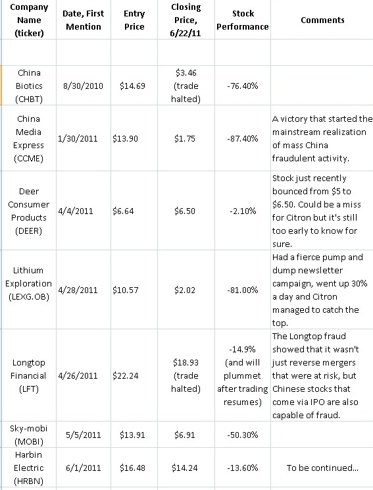 Click to enlarge
Citron's results are nothing short of amazing. He could possibly be the greatest short seller that ever lived, not only in regards to his success/failure ratio, but how most of his successes have yielded returns of well over 50%. And most of them haven't been China companies.
However, he may now be up against a worthy foe in Harbin Electric (NASDAQ:HRBN). Harbin's CEO, Tianfu Yang, is taking major steps toward buying every share in HRBN for $24 cash apiece and taking it private. Citron accuses the company of outright fraud, and alleges that the share price will go to zero.
Mr. Market is split on who to believe. If Yang is right, the stock will reach $24, if Citron is right, it will plummet to the low single digits. As of today, the stock sits right in the middle at $14. If the deal ends up going through, this will be a significant blemish on Citron's record. If Citron is right yet again, this could be the catalyst that puts him into superstardom.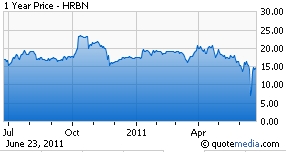 Citron started out the fight by peppering Harbin with little jabs. The company announced progress in its buyout and filed a document noting that it had secured a $400 million signature loan from China Development Bank. Citron claimed it is ridiculous for a bank to loan $400 million to Yang just based on a signature and says a loan of this amount on such loose terms has never been done in the history of business. The stock took a couple hits from $16 to around $14.5, but didn't lose much.
Citron then followed up with a power combination that took Harbin to its knees. Here he states that Yang had proposed to take the company private back in October, and there have been no official takeover bid recorded in an 8-K. He stated Harbin has been lying on their SEC filings as they post more liabilities and lower profits in their China filings. Citron believes there are more undisclosed liabilities and the business isn't as good as they say it is. Finally, Citron represents findings that Yang has a history of fraudulent loan guarantee documents, and recommends that the SEC halt trading.
At this power-packed report, HRBN went down, and hard! Its share price dropped over 50% on June 16th, from $14.30, to $6.98. Shareholders and shorts alike thought it would go to single digits as so many other once respected Chinese RTOs have gone down in shame.
However, HRBN didn't go down for the count, but struck back. Many companies have gone stone silent after allegations are made and the stock drifts down into the pink sheets. However, Yang vociferously refuted the allegations by Citron the very next day. In a nutshell, he said:
The fraud allegations were regarding my brother who has never been a part of Harbin Electric, and I was just helping him financially. There was never any admission of guilt by me or my brother.
PRC accounting standards are strange and much different than US GAAP standards, so the SEC financial numbers are correct.
China Development Bank (CDB) confirmed it will provide the $400 million loan to fund the purchase of all the outstanding shares of HRBN.
After Yang's reply, the stock closed at $8.39 on June 17th, for a 20% gain.
Then on the next trading day, June 20th, Harbin dealt Citron's short position another blow. Yang announced they had reached the definitive agreement stage and will end up executing the buyout in the 4th quarter this year, between October and December 2011. HRBN had three SEC filings on the 20th which wraps everything up for now. Now it's supposedly up to the SEC to verify documents and let HRBN go further with its buyout.
According to the company, the buyout process takes several months because it's a China company on an American exchange and must go through extra protocol and experience further delays than an American company would have. This includes having the shareholders vote on the buyout and have each related party get their finances in order, including the $400 million loan from CDB to Yang and his wife, Luo Qian, to purchase the shares. Abax Capital Management is partnering with Yang to buy out HRBN and they have to get things in order as well.
At this point, it's a waiting game. If Harbin is legitimate, it has everything in order and now they just have to wait for SEC protocol and have the shareholders and board of directors sign off on the buyout. If Citron is correct, and this is all a sham to prop up the share price for some reason, then if a deal isn't done by the end of the year then Mr. Market will assume that there won't be a deal.
Whether you are long or short HRBN, you should really be questioning the situation. Here are some questions I have:
For HRBN shorts:
1. Could this be one of the few times Citron is wrong? Why is there so much smart money buying Harbin now? Why is this one different from the other alleged Chinese RTO scams?
2. Why did Citron say the loan fraud was regarding Harbin's CEO, Tianfu Yang, when it was really regarding his brother, Tianli Yang? Why did Citron say Tianli Yang was a board member of Harbin when he isn't one and is only a VP? Does this confirm that Tianfu Yang has a clear record?
3. Citron wrote that the SEC should halt the security because Harbin hadn't filed any 8-Ks. Well, now that they have, does that change Citron's opinion?
4. Chinese Development Bank is a Chinese government owned bank. They loan to many small businesses to encourage national growth and get a higher return than the 3% they're getting from US treasuries. They have over RMB 5 trillion ($775 billion) in assets, so is it possible they'd support Harbin, a successful company in a growth industry? Also, what is the likelihood that such a big bank would have an employee that would lie about giving Harbin a loan? What's in it for them to lie, is it one big conspiracy?
5. Citron is concerned that Harbin is too dependent on borrowing. Its debt/equity ratio is only about 25% and it has more cash than debt according to its reported balance sheet. That doesn't seem too dependent to me.
For HRBN longs:
1. Why is Harbin management so concerned about keeping the share price up? If they are just going to buy every share for $24, why would they care? In fact, wouldn't Yang want the share price to stay cheap so he and his business contacts can buy up the shares in the open market and make an easy profit once the buyout goes through?
2. Why is it taking until the 4th quarter to get the deal done? For American companies it only takes a month or two to finish the filings and go through the legal process once the negotiations are finished. What exactly are the extra steps a Chinese company traded on a US exchange must go through?
3. Why is Yang doing the extreme step of taking the company private? Why not just do a simple share buyback? It's not like he is getting a super good deal - $24 a share is quite a bit higher than HRBN's 365 day moving average.
4. Would you be content owning the stock at the current share price if there wasn't a buyout? How hot is the electric motors industry right now?
5. Why isn't the whole story told? Why is Yang holding back information? Why has this whole process taken so long? Why did Barings drop out of the deal? How much of the company will Abax get?
I hope the answers will come soon to these questions and more. If you have any more questions that longs and shorts should be asking, please post them in the comments section. Let's try to get to the bottom of this, because this is the kind of situation that if you get on the right side of the trade, you will make a lot, but get on the wrong side, and you will lose a lot.
Disclosure: I have no positions in any stocks mentioned, and no plans to initiate any positions within the next 72 hours.
Additional disclosure: Once I do more due diligence, I may take a position and it could be long or short.