FedEx Corp. (NYSE:FDX) Wednesday reported very strong results for its quarter ended May 31, 2011. In our opinion this is a strongly positive data point auguring for solid 2Q corporate results in general and a sustained market rebound through the second half of the year.
Since the beginning of May, the markets have taken a hit, first perhaps as a result of seasonality, then because of poor readings of economic indicators such as the leading ISM and lagging employment situation report only to be weighed down further by political sentiment in Greece. Since April 29, the S&P 500 (SPX) is down 5.6% but a number of leading "high-quality" companies, especially in the Energy and Materials space, are down substantially more.
It seems the vast majority of strategists and economists have been calling for consensus forecasts to be revised down because consensus forecasts appear too high relative to recently weak economic indicators. We have been consistently arguing the opposite, noting that corporate guidance was more relevant and timely than the economic indicators since companies had plenty of time to incorporate the uncertainty into guidance. In addition, many U.S. based companies generate a large percentage of revenue and profits from overseas, so U.S.-based economic indicators do not capture the full story for corporate health. The weak data points from the economic indicator reports, and the sell-offs they inspired, are in our opinion to a large extent aftershocks from negative data that was already absorbed by the market back in March.
We have also been noting that with revenue estimates still moving higher, it looks increasingly clear to us that the odds of companies further leveraging their operating assets (or net fixed costs) to expand ROIC is increasing. Further, with commodity costs declining, it increasingly appears likely that margins will expand in 2H11 as well. These trends will help drive market multiples and earnings estimates higher, which of course means higher levels in the market indices by year end (e.g., The Sky is Not Falling, Number of High Quality Stocks Augurs Well for 2011 SPX Price Targets).
Today we got a very significant data point confirming our thesis from FedEx, a very economically sensitive company. In our opinion, it cannot be understated how extremely bullish this is for the overall stock market in general, especially from the current, beaten-down levels.
On March 17, a day after the S&P 500 hit its YTD low of 1256.88, FedEx Corp. reported results for its February 28 quarter and provided updated guidance. Guidance called for FQ4 EPS of $1.66-$1.83, noting that "earnings could be affected by the impact of the ongoing political turmoil in the Middle East and North Africa, and the potential near-term impact of the earthquake and tsunami in Japan.
A few days later, on March 19, 2011 FDX F4Q consensus estimates were $10,366m revenue, $891m EBIT and $1.73 EPS. Over the course of the next three months through June 21, 2011, consensus was essentially unchanged with revenue moving $7m higher and EBIT moving $4m lower and EPS staying unchanged.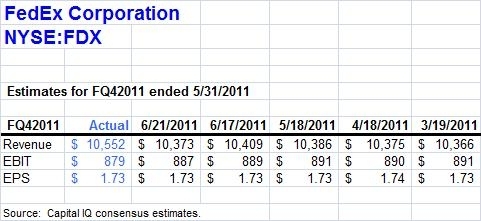 Wednesday Fedex beat the revenue forecast by $179m with EBIT light by $8m and EPS inline.
(Click charts to expand)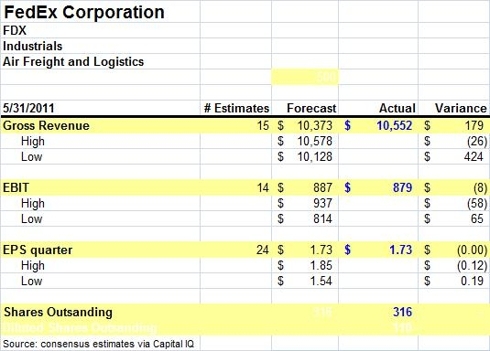 More importantly, ROIC by our measure improved to 9.6% versus 7.3% in the previous quarter and 8.1% last year, driven by the efficient management of working capital and fixed assets, its highest quarterly EBIT reported since May 2007, and its highest 12-month trailing EBIT since November 2008.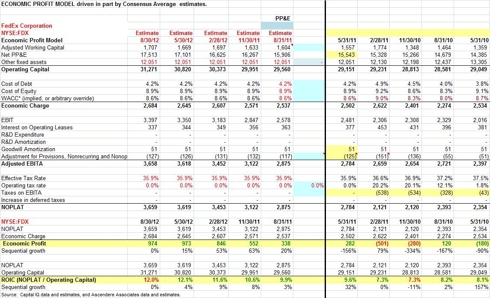 To paraphrase the CFO's statement from the press release, FedEx Ground benefitted from increasing volume, yields and margins, while FedEx Freight returned to profitability. Even with higher planned capital spending in fiscal 2012, margins, cash flows and returns are expected to improve year over year.
FedEx now projects F1Q12 EPS at $1.40-$1.60, and FY2012 EPS at $6.35-$6.85 per diluted share for fiscal 2012. We expect the F1Q12 EPS estimate to be revised up from the current $1.43 to the midpoint of guidance of $1.50, while FY2012 EPS estimate revision will bake in some additional caution, moving to $6.55 from the current $6.51.
The likely cautious increases in analyst revisions for FedEx following its May 31 quarterly report will probably set the stage for substantial estimate beats by the company later in the year.
We believe this augurs extremely positive for the majority of corporations, and we expect to see similar results and guidance actions across multiple companies for this upcoming quarter, setting the stage for a market rally from the current level.
Disclosure: I have no positions in any stocks mentioned, and no plans to initiate any positions within the next 72 hours.