We believe that oil prices are heading lower from here and that prices will be in the low to mid $80s by year's end. While lower oil prices may be good for the consumer (and hopefully the economy), companies that benefit from higher oil prices don't fare so well when prices decline.
We have been warning investors about a breakdown in the energy sector for several months now. Since peaking in May, the sector has been unable to gain any meaningful traction to the upside. As shown in the chart below, the Energy Select Sector SPDR (NYSEARCA:XLE) failed to break through the 50-day moving average on the recent rally and has since violated another key area of support ($73.00 level).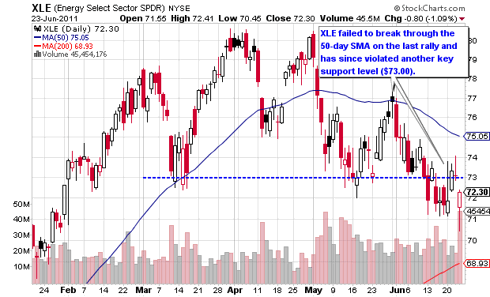 Click to enlarge
(Click to enlarge)
We believe that the energy sector will have a 15%-20% correction from current levels by the end of the year. That said, we encourage investors to be either flat or short the sector until the smoke has cleared.
A Low Risk Way to Take a Short Position and Generate Income
As we discussed in our short selling primer, shorting the market isn't easy and it is important to educate yourself on various shorting techniques before entering a short position.
For those investors that are interested in taking advantage of a decline in oil prices (and energy stocks), we believe that selling bearish call spreads is a great, low-risk way to take a short position in specific energy stocks. This is a great strategy to employ to generate income on a stock that you believe is a good short candidate. Bearish call spreads are typically created by selling a near-the-money call and buying an out-of-the-money call (a few strikes higher than your short strike). By buying the call with a higher strike, you limit your risk to the difference between your long strike and your short strike (less the premium you receive on the credit spread). If the stock stays below your short strike, both options will expire worthless and you get to keep the premium (income). Since you are selling upside volatility with this strategy, it will also perform well if the stock remains flat.
Below are examples of bearish call spreads that we recommend for investors on various energy stocks in the XLE index, including a graph of how the spreads will perform under various pricing scenarios. Note: Clearly, we believe that the stocks below are great short candidates and if you are comfortable entering an outright short position, we encourage you to do so.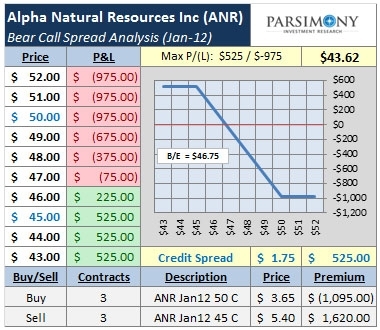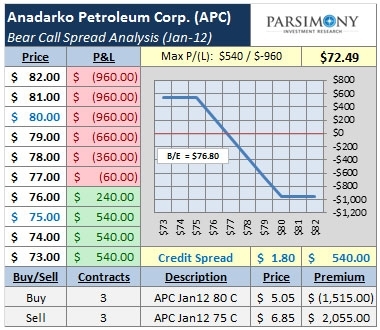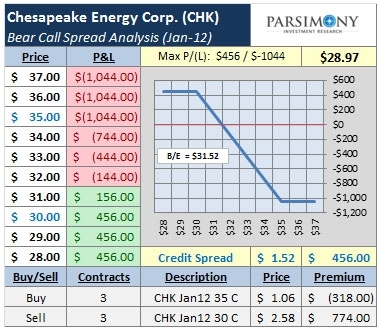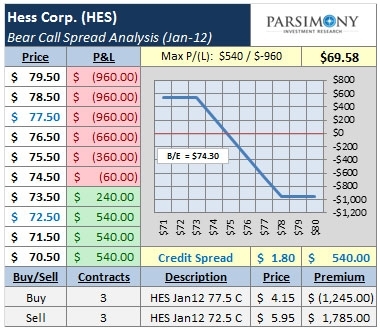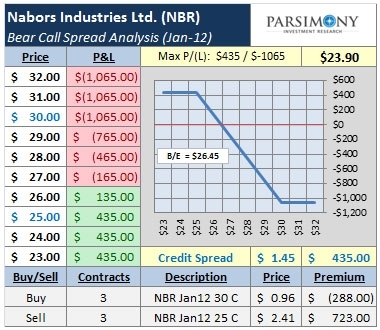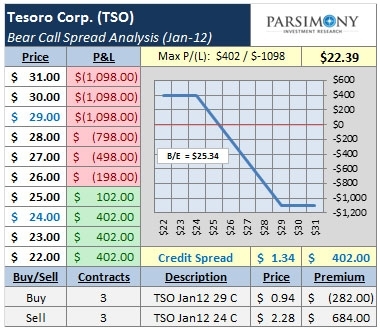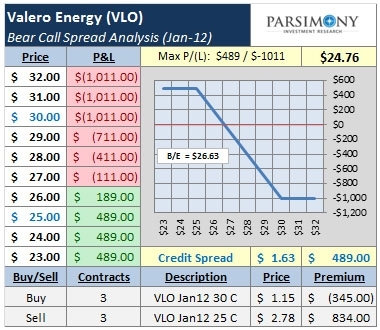 Disclosure: I have no positions in any stocks mentioned, and no plans to initiate any positions within the next 72 hours.