Oil consumer nations announced the release of 60 million barrels of oil from strategic government reserves Thursday. The motive behind the move was to cause a drop in oil prices and buttress the global economy. The International Energy Agency (IEA) plans on releasing 2 million barrels a day over a 30 day period to make up for the lack in Libya's production. The United States will provide the bulk of the supply (approximately 50%) from its vast crude reserves, with Europe supplying 30% in crude and refined products and the remainder to be supplied by Pacific OECD nations. The declaration could be construed as a direct reaction to the Organization of the Petroleum Exporting Countries (OPEC) failure to raise production in a meeting on June 8. (Read about it here) Moreover, guarantees from OPEC's principal producer Saudi Arabia that it would fulfill any request for production fell on deaf ears. Prior to the OPEC gathering Riyadh talked over an exchange with the US where US crude would be supplied to Europe, no arrangement was attained.
Libya, an OPEC member, exported approximately 1.2 million barrels per day prior to the ongoing upheaval that brought Libyan oil production to its knees. The IEA stated
"This supply disruption has been under way for some time and its effect has become more pronounced as it has continued. Libya is likely to remain off the market for the rest of 2011."
the IEA who went on to say
"Greater tightness in the oil market threatens to undermine the fragile global economic recovery."
The IEA was formed in 1974 in reaction to the Arab oil embargo. This is the third emergency release in the 37-year history of the organization. Oil prices traded down $6.17 a barrel regarding benchmark Brent crude, which dropped to just over $108 a barrel. US crude tumbled over four dollars a barrel to approximately $91 a barrel.
Unfortunately this IEA effort is just a drop in the bucket and will have a nominal short term effect on oil prices. The drop in prices today should be seen as a buying opportunity for the non-OPEC integrated players who will benefit from rising prices once the dust settles and everyone realizes the theory of peak oil may soon be proven true.
Joe Terranova of CNBC's Fast Money stated,
"This tells you all you need to know in terms of spare capacity. This tells you that the IEA was not confident at all Saudi Arabia had the bullets to make up for the lost production regarding the type of crude the world desires. They couldn't do it. Lastly, people don't realize 40% of global production is generated by OPEC; the rest comes from non-OPEC providers. Why didn't we go to those non-OPEC producing countries and say, you know what guys, we need more oil immediately. The answer is simple. They don't have it. This tells you everything you need know about spare capacity. If you look out a year from now, you want to own the players that have global prudent reserves and can get the oil from shale and deep waters."
Terranova has a history of being on point in regards to the Global Oil & Gas market. Terranova is best known for his risk management skills, honed while overseeing MBF Clearing Corp's trading operations during some of the most calamitous times for the US markets, including the first Gulf War, the 1997 Asian Financial Crisis, 9/11, and the collapse of Amaranth Advisors. During those times there was never a loss at MBF due to market anomalies. In fact, the firm continued to trade profitably and grow its business. One of Joe's top picks is Exxon mobile (NYSE:XOM). I like the following Oil & Gas integrated players as well; ConocoPhillips (NYSE:COP), Chevron Corporation (NYSE:CVX), Marathon Oil Corporation (NYSE:MRO), Petroleum Energy Corporation (PETD), Provident Energy Corporation (PVX), Questar Corporation (NYSE:STR), and Suncor Energy Inc. (NYSE:SU). Please review the below chart (click to enlarge) detailing summary information regarding these companies followed by a brief description accompanied by a chart depicting the respective company's key statistics.
Company Briefs
Exxon Mobil Corporation engages in the exploration and production of crude oil and natural gas, and manufacture of petroleum products, as well as transportation and sale of crude oil, natural gas and petroleum products.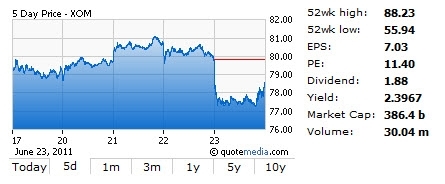 ConocoPhillips operates as an integrated energy company worldwide. The company's Exploration and Production (E&P) segment explores for, produces, transports, and markets crude oil, bitumen, natural gas, liquefied natural gas and natural gas liquids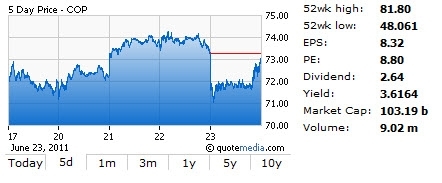 Chevron Corporation, through its subsidiaries, engages in petroleum, chemicals, mining, power generation and energy operations worldwide.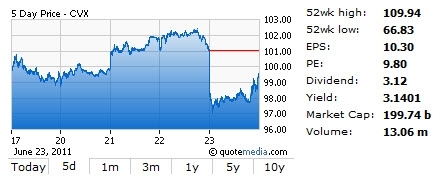 Marathon Oil Corporation, through its subsidiaries, operates as an integrated energy company primarily in North America, Africa and Europe.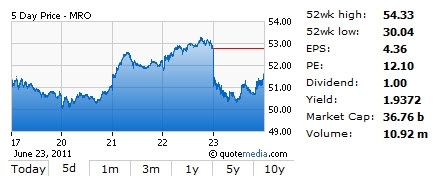 Petroleum Development Corporation, an independent energy company, engages in the exploration for, development, production, and marketing of oil and natural gas.



Provident Energy Ltd. owns and manages a natural gas liquids midstream services and marketing business. The company is involved in the processing, extraction, transportation, loading, storage, and marketing of natural gas liquids in central Canada, and the eastern United States.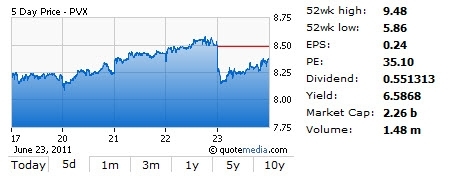 Questar Corporation, a natural gas-focused energy company, through its subsidiaries, engages in the gas and oil exploration and production, midstream field services, energy marketing, interstate gas transportation and retail gas distribution businesses.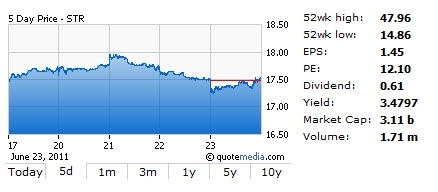 Suncor Energy Inc., together with its subsidiaries, operates as an integrated energy company. The company is involved in the development of petroleum resource basins in Canada's Athabasca oil sands; acquisition, exploration, development, production, and marketing of crude oil and natural gas in Canada and internationally; transportation and refining of crude oil; and marketing of petroleum and petrochemical products primarily in Canada.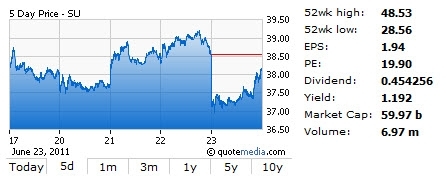 As Warren Buffett famously said, "Look at market fluctuations as your friend rather than your enemy; profit from folly rather than participate in it." By reading between the lines, focusing on the big picture, and paying attention to astute analysts, the proper investment strategy reveals itself and is often counterintuitive. Please use this information as a starting point for your own due diligence.
Information was gathered from CNBC, Yahoo Finance and respective company websites. Based on the current market conditions I would suggest scaling in to any position to reduce risk. I believe these stocks are currently undervalued and provide significant opportunities for long term investors.
Disclosure: I have no positions in any stocks mentioned, but may initiate a long position in XOM, COP, CVX, STR, PETD, PVX, SU, MRO over the next 72 hours.