This morning I was searching on Barchart for stocks that had glowing fundamentals but were selling at a deep discount and noticed Transocean (NYSE:RIG) selling at almost 25% off its recent high. The stock hit 17 new lows and is 24.99% off its three month high.
Click to enlarge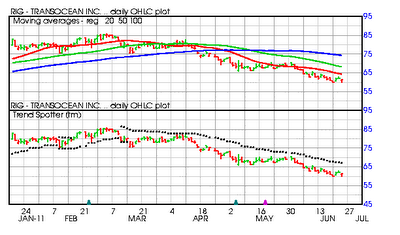 Transocean is an international provider of offshore contract drilling services for oil and gas wells. The company offers deep water and harsh environment drilling, oil and gas drilling management, and drilling engineering and project management services, as well as exploring, developing and producing oil and gas resources. The company is based in Houston, Texas. The company has the largest fleet of offshore drilling rigs in almost every category and literally has rigs floating in all the seven seas.
Factors to Consider
Barchart Technical Indicators
These indicators signal current short term negative price momentum. If the underlying fundamentals are sound, negative price momentum can signal great long term buying opportunities.
72% Barchart technical sell signal
Trend Spotter sell signal
Below its 20, 50 and 100 day moving average
17 new lows and 24.99% off its recent three month high
Relative Strength Index 38.56%
Trades at 61.57 which is below its 50 day moving average of 67.796
This is still a darling with a lot of the Wall Street brokerage analysts with 10 strong buy, 14 buy, 19 hold and only one under perform recommendation currently released for clients.
Sales are projected to only be up .40% this year but should increase by 9.50% next year.
Earnings are expected to be down 27.20% this year but turn around and increase by 45.80% next year and continue at a 5.00% annual rate for the next five years.
The stock also currently pays a 3.3% dividend.
The company is generating an excess cash flow and has indicated that it will use that money to increase dividends and buy back stock to increase stock holder value.
General Investor Sentiment
This is a widely popular stock with the readers of Motley Fool with over 7,753 readers expressing a 98% positive opinion that this is a stock that will beat the market.
CAPS readers vote 5,992 to 134 that the stock will out perform the market.
The more experienced All Stars agree with a 1,600 to 27 vote for the same result.
Summary: Sometimes good things happen to those who wait. And if you play Transocean correctly you could make around 18% -22% total annual return over the next five years. The stock is currently experiencing a negative price momentum and only a fool will try to predict how long that will continue. If you have it hold it, if you don't place a buy stop at the 50 day moving average and reposition that stop lower each week then the negative price continues. When it finally triggers you will have added a stock to your portfolio that both professional and individual investors predict will beat the market and bought it at a steep discount.
Disclosure: I have no positions in any stocks mentioned, and no plans to initiate any positions within the next 72 hours.