Volatility-linked exchange traded funds rallied Friday as signs the European debt crisis is worsening contributed to a nearly 10% rise in the CBOE Volatility Index.
The iPath Long Enhanced S&P 500 VIX Mid-Term Futures ETN (VZZ) rose 7%. Exchange traded notes and products are designed to track VIX futures rather than the spot price, so their performance differs.
The VIX this month has pushed above its 200-day moving average for the first time since the March wipe-out in stocks. The Dow fell more than 100 points on Friday while ETFs tracking Italy and Spain were down sharply on debt concerns.
Over the past week, the VIX itself has been volatile, bouncing in a range between roughly 18 and 25. The "fear index" closed above 21 on Friday.
It seems some options traders have been caught on the wrong foot as the VIX rises.
"When the VIX was still in the 17 range a few weeks back, we saw put buyers in VIX options, basically expressing the sentiment that they believed volatilities in the marketplace would taper off, and these options trades in hindsight were obviously dead wrong after the short and significant spike," said Paul Weisbruch at Street One Financial in a note Friday.

"We will continue to look to the options markets for further indicators of sentiment going into the weekend," he said.
iPath Long Enhanced S&P 500 VIX Mid-Term Futures ETN
Click to enlarge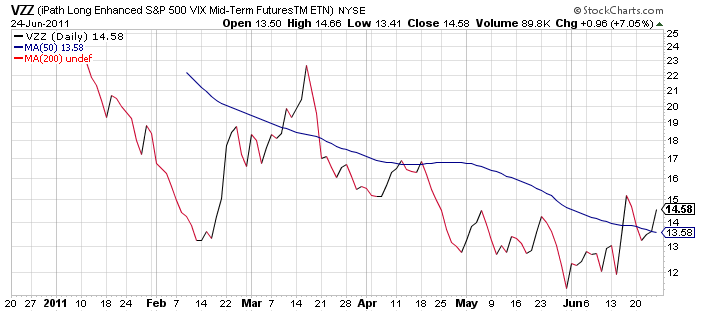 Chart source: StockCharts.com.