A recent article by Seeking Alpha contributor Mayo Welch misses the boat entirely on Advance America Cash Centers (NYSE:AEA), and it is primarily due to the author's misunderstanding of the company, how its products are regulated, and by focusing purely on statistics. After sifting through the facts, investors will find Advance America is a value play.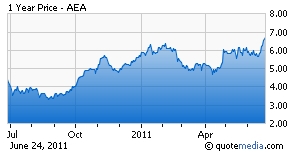 Mr. Welch claims that, "it appears as though the Pay Day Loans are coming to an end". This is patently false. Payday lending is governed under individual state statutes throughout the country. Most states permit payday lending, and certain states that had previously banned them are discovering that consumers are hurt when access to short-term credit is restricted. Some of those states are now considering legislation enabling the return of payday lenders. Meanwhile, Advance America runs over 2,000 stores in the U.S. and shares revenue with Cash America International (NYSE:CSH) by initiating online loans in several states.
Mr. Welch makes the bizarre choice of comparing Advance America's book value to those of a gigantic national bank and an insurer. Huh? He should be comparing it to other monoline operators. In that regard, Advance America has a 1.55 price to book vs. QC Holdings' 0.88. Mr. Welch's price-to-sales metric is not compared to other monoline operators. Dollar Financial (NASDAQ:DLLR) and EZcorp (NASDAQ:EZPW) are diversified across many products, such as pawn and check cashing, and World Acceptance (NASDAQ:WRLD) is an installment lender.
I could go on and on, but readers should get the point: looking strictly at statistics means nothing, and comparing those statistics to companies that that are entirely different is simply misinformation.
As for Advance America, the company is consolidating its stores in states where the market is saturated, continues its lobbying at the state level to bring short-term credit options to those in need in state lacking it, continues to pay down its credit facility, generated $135 million of free cash flow in the TTM, and I believe is starting to hoard cash to make an acquisition. The company is on track to double earnings over this year and next, and yet trades at a p/e of just over 6.
To me, that's a value. Take it from a nationally renowned expert on the payday loan industry.
Disclosure: I am long AEA.