We're following the big money trail again this week, with an eye toward defensive dividend stocks, which leads us to Utilities. The Utility sector is up over 4% for the past 3 months, second only to the Healthcare sector, which is up nearly 7%. We found 5 dividend paying stocks in the Utilities sector, with increasing institutional buying, ROE over 5%, and positive EPS growth this year and projected for next year, among other metrics.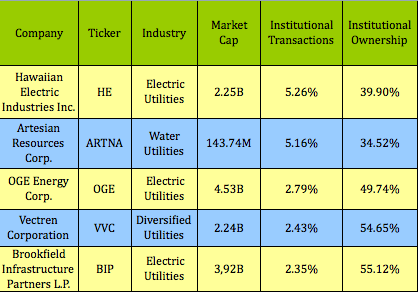 Selected Financials:

We've added 3 of these utility stocks to the Utilities section of our High Dividend Stocks By Sector Tables: HE, VVC, and BIP.
BIP is the only stock in this group that exceeds all of the broad sector avgs., due to its diversification into other higher margin businesses. ARTNA's share count increased nearly 10% from 2007 to 2010 - which accounts somewhat for its lower ROE figures. ARTNA also had heavy capex figures over the past 4 years, which depressed their ROI ratio. (In the heavily regulated water and power utility industries, companies often aren't able to increase prices and profits quickly enough during major capex programs, hence the firms' ROI figures lag other sectors, such as Basic Materials.)
All of these firms have reasonable debt loads, vs. sector avgs., and HE, VVS, and BIP have an above-average dividend yield for their sector.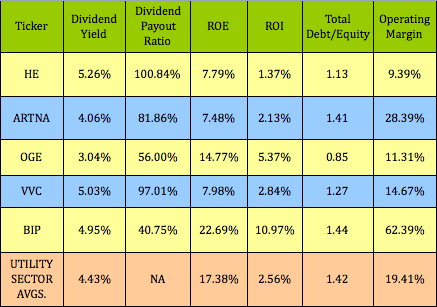 Valuations: Although utilities aren't considered a growth sector, by any means, 2 of these stocks actually look undervalued on a next year PEG basis: BIP and HE. Additionally, BIP's 5-year PEG is only .92. The Price/Book figures for these 2 stocks are also much lower than sector standards, and BIP has a very low Graham P/E x P/Book figure of 4.63.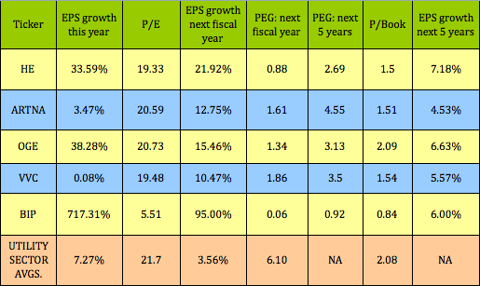 Technical Data: OGE, ARTNA, and VVC have very low beta's, which, in addition to their dividends, attract conservative investors. Performance-wise, only BIP is currently above its 50-day avg., and, with a 61.53 RSI figure, is in the bottom of the very lowest overbought echelon. You might try waiting for a dip, or selling cash secured puts, to gain a lower entry price, (see below for more info.)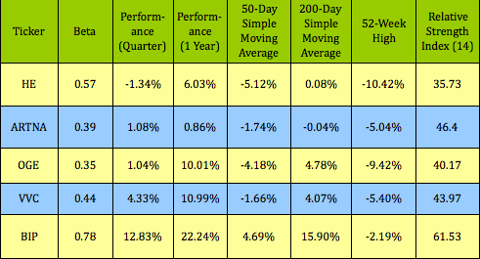 There are covered call and cash secured put options trades available on all of these dividend stocks, except ARTNA. However, only BIP has relatively attractive options yields, which we've listed in our Covered Calls Table and in our Cash Secured Puts Table.
Disclosure: Author is long BIP.
Disclaimer: This article is written for informational purposes only.