The appeal of the stock market is a function of both time and price. In terms of price, this correction is shallow at best, with no capitulation in sight yet. As far as time is concerned, professional and retail investors alike are getting weary of the lousy market action. Stocks have been declining every week for the past two months with the S&P 500 Index losing about 7% from its 52-week high of 1370 that was reached in late April.

While it does not feel that we hit bottom yet (on Thursday, the S&P 500 made an impressive reversal from the 1260 mark but Friday's action was terrible again with the S&P 500 Index losing 1.2%), two very different catalysts have the propensity to propel the market higher for the second half of the year:

1. The macro catalyst. Economic fundamentals will improve:
The negative impact of supply disruptions from the Japanese earthquake will diminish with Japanese firms ramping up production.

The Fed's monetary policy remains accommodative despite the ending of its government bond buying program - the so-called QE2 - and the Fed won't put the breaks on for an extended period of time. It is still watching the economic numbers carefully (especially the unemployment rate and housing numbers) and remains worried about the possibility of Japanese-style deflation.
2. The micro catalyst: Investors go bargain hunting.

At some point, (when is the million-dollar question) investors will decide that there is value in holding stocks. They will start buying shares of companies that have good growth prospects and clean balance sheets but trade at discount multiples.

So today's investment thesis in stocks largely depends on how one answers the following question: How cheap is the market?
On an absolute basis, the market is fairly priced but not cheap. Analysts predict earnings for the S&P 500 Index around $97 which implies a P/E ratio of about 13. The corresponding earnings yield (the inverse of the P/E ratio) is 7.7%.

On a relative basis, you bet that the market is cheap: Corporations are lean and mean with clean balance sheet and steady growth in top and bottom line numbers ("Profits are the mother's milk of stocks" as coined by CNBC commentator Larry Kudlow) and the earnings yield on stocks is much higher compared to the yield on either Treasuries or taxable investment-grade corporate bonds.
Stocks are becoming cheaper and investors should start making a list of stocks they want to buy now and possibly at lower prices. Here is our list which includes selected financials and housing-related stocks.

1. Financial stocks: It is no surprise that a list of cheap stocks includes financial institutions. The sector has been hit hard by the post-crisis regulatory uncertainty (including new capital requirements imposed by Basel III or the implementation of the Dodd-Frank bill), legal action from the government, or lousy demand for housing. As a result, powerhouses like Goldman Sachs (GS), Bank of America (BAC), or Wells Fargo (WFC) trade at depressed levels. Our focus though is not on powerhouses but institutions with market capitalization of less than $50 billion dollars (not in the $100+ billion dollars) and focused business operations. Our four picks are Lazard (LAZ), Bank of New York Mellon (BK), Metlife (MET) and PNC Financial Services Group (PNC).

Lazard Ltd. is an investment boutique with operations in financial advisory and asset management firm. The company provides advice on mergers and acquisitions, strategic matters, restructuring and capital structure, capital raising, and corporate finance, as well as asset management services to corporations, partnerships, institutions, governments, and individuals. It operates from 41 cities across 26 countries in North America, Europe, Asia, Australia, Central America, and South America. The company was founded in 1848 and is based in New York, New York.

Bank of New York Mellon provides a comprehensive array of financial services in more than 100 markets worldwide with specialization in institutional services, private banking and asset management.

MetLife is one of the largest insurance and financial services companies in the U.S with operations in the United States, Latin America, the Asia Pacific, Europe, the Middle East, and India.

Finally, PNC Financial Services Group, Inc. operates as a diversified financial services company. The company offers retail banking, corporate and institutional banking, asset management, and residential mortgage banking services. It primarily operates in more than 14 different states with a strong presence in the Midwest following the acquisition of National City. It also has a 25% investment in Blackrock.

Let's review and compare key financial numbers:
Stocks

Market

Cap


(

in

$

Billions

)

Price

at

Friday's

close

52

-

week

high

52

-

week

low

12

-

Month

Forward

P

/

E

Price

to

Book

Value

Div

.

Yield

Projected

EPS

Growth

LAZ
$

4.4

$

35.73

$

46.54

$

25.70

14.6

6.26

1.44

%

30

%
BK

30.6

24.64

32.50

23.78

10.5

0.95

2.04

13

MET

42.6

40.99

48.72

35.38

7.8

0.87

1.83

16

PNC

30.4

56.61

65.19

49.43

10.6

0.98

2.42

6

Investors should do their own homework and determine whether these four financial institutions are well suited to be included in their portfolio.

The appeal of Lazard is that it is cheap. It trades at slightly lower than 15 while P/E ratio for investment boutique is close to 30. In addition, earnings are expected to grow at 30% as Lazard operates in the right sector at the right time, the advisory sector for merger and acquisitions and restructuring.

The other three picks are larger institutions and trade close to their 52-week low. Not surprisingly, their price-to-book ratio (a timely indicator for when to buy financial institutions) is less than one. They are also cheap with a P/E ratio in the low teens or high single-digit.

2. Housing-related ETFs: Our choice for the second sector is perhaps more controversial as it relates to housing. We feel it is a good pick for patient investors with a 3 to 5 year horizon.

The fundamentals for residential real estate are lousy as measured by any metrics such as permit starts, houses sold, delinquency, you name it. However, we believe that homebuilders could do well for a simple reason: Their performance is evaluated by comparing this year's results with last year's results. And frankly speaking, last year results became horrible once the government home-buyer credit expired at the end of March. This year, homebuilder Lennar's stock gained after the company reported better than expected results on June 23.

We are not ready to recommend individual stocks yet because uncertainty in the sector is great and it is not clear which companies will be able to survive this challenging economic environment. Rather we feel that investing through an ETF is more appropriate as it eliminates idiosyncratic risk.

We propose two ETFs to play the (yet elusive) rebound in housing. The first one is the IShare Dow Jones U.S. Construction Index Fund with ticker ITB. This ETF is a pure play on homebuilders and its individual holdings include NVR (NYSE:NVR), DR Horton (NYSE:DHI), Lennar (NYSE:LEN), Toll Brothers (NYSE:TOL), and Pulte Homes (NYSE:PHM). The fund size is $500 million and daily volume is about 700,000 shares. On Friday, the ETF closed at $12.69. The 52-week high / low are $14.52 and $10.50, respectively.
Technicals for the ETF are as follows. After an inter-generation bottom in March 2009 around $6, the stock has been in an uptrend with resistance in the $14 area and support at the $10.50 level. We believe that over time the ETF will rise, reflecting the improvement in the aggregate performance of homebuilders.
Click to enlarge: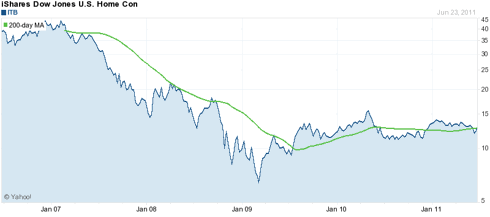 The second ETF is the Spyder Home Builders, XHB. This is a larger fund with $864 million in assets and daily volume is about 5.2 million shares. The fund individual stocks include homebuilders such as Pulte or NVR as well as other housing-related stocks such as Tempur Pedic (NYSE:TPX), Pier 1 Import (NYSE:PIR), Owens Corning (NYSE:OC), and USG (NYSE:USG). In other words, it is more diversified than ITB and is not a pure play on homebuilders. On Friday, the ETF closed at $17.89 and the 52-week high / low are $19.21 and $13.59, respectively.

Technicals for XHB are bullish with a rising 200-day moving average and a golden-cross between the 50- and 200-day moving averages. In addition, the ETF is an upward trend.
Click to enlarge: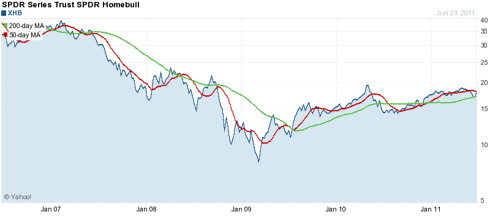 Disclosure: I am long LAZ, BK, PNC, MET, ITB, XHB.