As technology moves forward, nowhere does one find such cutting edge changes as they do in healthcare. Today, technology has brought us to a possible revolution in the way we practice medicine and manage our healthcare systems. With the advent of such technologies as cancer vaccines, the healthcare industry is ripe for change. Leading us to this brink of change is a handful of small companies whose dedication and singular purpose will change the way we all live. Let's focus on a couple of these companies who have some of the greatest potential in relation to these new technologies and for the investors who own the stock.
Dendreon (NASDAQ:DNDN): Dendreon is a biotechnology company focused on cancer treatments using active cellular immunotherapy (ACI) products to stimulate an immune response within a patient. To simplify, Dendreon has the ability to instruct a person's own immune system to combat cancer. Their only drug on the market is Provenge which is the first cellular immunotherapy to receive FDA approval for the treatment of metastatic castrate resistant prostate cancer. Provenge was granted licensure by the U.S. Food and Drug Administration (FDA) on April 29, 2010.
Now, as fantastic as this therapy is, it is no cure for prostate cancer. When one looks at the final studies, Provenge did reduce the risk of death by 22.5%, but the median survival for patients in the study group was 25.8 months compared with 21.7 months for patients in the control group. So DNDN's drug on average helped the group's survival rate last 4 extra months. This is hardly a cure, and some could even argue that there is no real benefit here when one considers the extreme cost of the treatment. But wait, the real issue here is that DNDN proved it could get the immune system to engage the cancer. If perfected, then the use of toxic chemotherapy and radiation may no longer be used on the scale that it is now.
Also, one must consider their other potential product DN24-02 (Neuvenge). In December 2010 DNDN filed an Investigational New Drug application with the FDA for DN24-02 for the treatment of urothelial carcinoma, including bladder cancer, following surgical resection. The overall usage of Neuvenge would be directed against patients with bladder, breast, ovarian and other solid tumors. So, essentially Neuvenge would be the real revenue generator for the company if it every gets placed into service.
Until that time, Provenge is making headway into the cancer market as shown by the company's most recent financial statements. For the first quarter ended March 31, 2011 revenue was $28.1 million compared to $21,000 for the quarter ended March 31, 2010. As of March 31, 2011, Dendreon had a good amount of cash which was approximately $779.0 million in cash, cash equivalents, and short/long-term investment. In addition to the above, the company also provided some highlights of future catalysts that will propel the company to greater heights.
•In addition to the $28.1 million in revenue in the first quarter, sales of PROVENGE® (sipuleucel-T) in April 2011 were approximately $15 million, reflecting increasing demand and increasing utilization of its newly approved capacity. Dendreon continues to expect revenue this year of between $350-400 million with approximately half of that anticipated in the fourth quarter.
•The number of accounts infusing PROVENGE as of March 31, 2011 increased from approximately 50 to approximately 135 and is on track to meet the goal of 225 sites infusing PROVENGE by the end of Q2.
•The U.S. Food and Drug Administration approved the expanded New Jersey manufacturing facility. The 36 additional workstations will come online in a staged approach.
•Dendreon filed for FDA approval of the Los Angeles area manufacturing facility and has an action date of June 30, 2011.
•Dendreon filed for FDA approval of the Atlanta facility on April 28 and expects a decision in late August or early September.
•The Centers for Medicare and Medicaid Services (CMS) issued a proposed decision memo supporting the on-label coverage of PROVENGE.
•Dendreon selected a contract manufacturing organization in Europe and a location for a manufacturing facility outside Frankfurt, Germany.
click to enlarge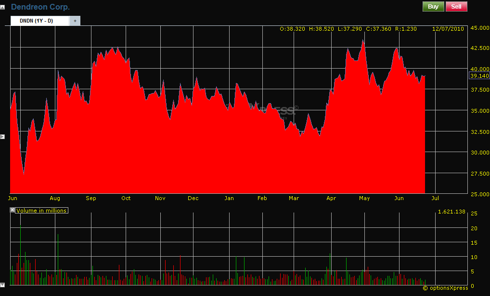 Click to enlarge
Oncothyreon (ONTY): ONTY is a biotechnology company dedicated to the development of oncology products for cancer patients. Often times, one will find this company mentioned in the same breath as DNDN as they both have cancer vaccines in the works. While DNDN is working in the prostate arena, ONTY is focusing on the non-small cell lung cancer vaccine (Stimuvax) which is designed to stimulate an individual's immune system to recognize cancer cells and control the growth and spread in order to increase the survival rates.
ONTY actually has a nice sized pipeline in relation to their size, but the success of Stimuvax will be the major catalyst for the company's future. Success with Stimuvax may even lead to the treatment of other cancers including breast cancer, prostate cancer and colorectal cancer. Stimuvax is being developed by Merck KGaA of Darmstadt, Germany under a license agreement with Oncothyreon. Merck is currently conducting two Phase 3 trials of Stimuvax. Recently, the company raised $43 million to fund their endeavors after closing a public offering of 11.5 million shares of its stock at $4 each.
Since that time the stock has been on quite a run as shown by the chart below. More than doubling in price, the stock is trading in ever higher volume while attracting active option trades. Recent activity for the stock includes an analyst's statements calling for positive results from the late stage study on Stimuvax to be released later this year. The analyst also went on to state that Oncothyreon's stock price could climb as high as $30 following a positive analysis of the early trial data. Now, this is just one analyst's opinion and has to be taken with a grain of salt, but numbers like these are enough to keep the frenzy going for the stock price.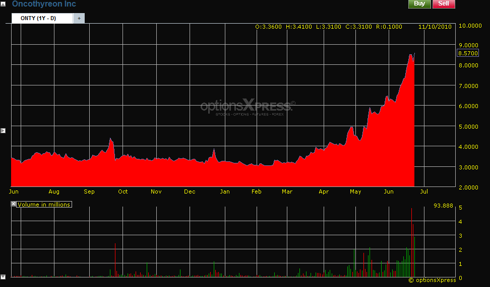 Click to enlarge
In conclusion, there are many other great companies working on innovative game changing technologies in the field of medicine. In the interest of article length and readability we pick these two (DNDN, ONTY) to highlight some of these new and exciting technologies. Let us not forget other great cancer companies with other cancer fighting technologies like Keryx Biopharmaceuticals (NASDAQ:KERX), ImmunoCellular Therapeutics, Ltd. (NYSEMKT:IMUC) and several others who will also change the face of medicine in the future with their products.
Of course, due diligence and detailed research will need to be completed before investing in these companies. Their events are fast moving and the company's fortunes can change at a rapid pace. Some will win and some will fail, but either way, their combine knowledge will change how medicine is practiced and how we will live.