Oplink Communications (NASDAQ:OPLK) is a provider of optical networking components and systems – the routers, switches, and amplifiers that make up global and enterprise networks. Oplink – and fellow networking suppliers Cisco (NASDAQ:CSCO), JDS Uniphase (JDSU), and Oclaro (NASDAQ:OCLR) – have had a volatile 2011, with OPLK in particular opening the year around $18.50, jumping over $28 in February after a late-January earnings beat, and then drifting back toward a 7-month low before finishing the past week up over 11%.
The sector's volatility has come from uncertainty in the telecom supplier sector. To quote The Wall Street Journal:

The investment thesis that drove the stocks higher involved the need to massively expand and upgrade networks to handle the heavy data usage from an expanding world of mobile products, including tablets and smartphones.

That's still true. But the pace of that upgrade has come into question...
Indeed, Finisar (NASDAQ:FNSR), which led the sector downward earlier this month by providing a negative outlook for August earnings, has dropped nearly two-thirds from its February highs. (For its part, on an enterprise valuation, OPLK had dropped nearly as far before this past week's bounce.)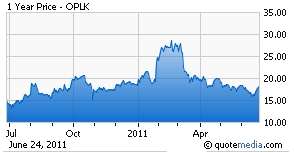 Yet, while there are headwinds facing OPLK in particular, and the sector at large, there is a huge advantage that OPLK has over its competitors: its balance sheet. OPLK has $9.20/share in cash net of liabilities, 56.8% of its market capitalization. OPLK sports an enterprise value of just $144 million, yet has generated free cash flow near $24 million in the first three quarters of fiscal year 2011, with company guidance for a profitable fourth quarter as well. Should OPLK meet fourth quarter guidance (earnings should be released in August), it will easily have generated more than 20% of its enterprise value in cash flow for the fiscal year. OPLK has already generated $40MM the last two years combined, so this year's cash flow, while strong, is not an anomaly.
(Going forward, OPLK's earnings may be a bit tougher to decipher: the three analysts covering the stock, according to Reuters Finance, offer estimates for fiscal year 2012 of .89, 1.41, and 1.78. Quite a range, though it is worth noting that 2 of the 3 are below FY11's estimate of 1.67. All estimates are non-GAAP, and the FY11 estimate is based on reported non-GAAP earnings for the first nine months plus the midpoint of OPLK's fourth quarter guidance given in its most recent earnings report.)
Despite the fact that future revenues – and, in particular, the timing of those revenues – may be unclear, OPLK still looks like an attractive buy at current levels. There is little doubt that a massive network buildout will be needed at some point to support the billions of new smartphones, e-readers, tablets, and portable video game consoles that will require network access. Given that OPLK is comfortably profitable, earning money (enterprise value-to-earnings ratio 5.3, based on the FY11 earnings estimate referenced above), and creating cash flow, investors can be patient with this value stock, with a low-cost option on the chance that it becomes a growth stock.
In the meantime, the increased volatility in the stock has led to some very attractive option plays on OPLK, particularly with hedged bull positions. (OPLK options are thinly traded, and commission always matters for the individual investor, so remember that though buying covered calls and selling cash-secured puts are theoretically identical, the spreads and commissions can change your expected return by a few percentage points. Don't settle for the bid in these cases, and if all else is equal, choose the cash-secured put.) It's also worth noting that the prices of puts dropped dramatically during last week's rally, so any pullback in the stock can offer perhaps more attractive trades. My three favorites:
Selling October 17.5 put at bid of $1.80. Break-even point is $15.70, a 13.2% drop from Friday's close. Maximum profit is reached at $17.50 or higher, a 3.3% decline from current price; return is 11.4% on our risk capital, a 35% gain on an annualized basis. Below $15.70 we own OPLK at an enterprise value of $6.50/share, giving us an EPV/E ratio well below 6 -- not a bad consolation prize.

Selling January 15 put at bid of $1.50. Break-even point is $13.50, a 25.4% drop from Friday's close. Maximum profit is reached at $15 or higher, a 17.1% decline from current price; return is 11.1% on our risk capital, just shy of 20% on an annualized basis. Below $13.50 we own OPLK at an enterprise value of about $4.30/share, again a very tempting valuation.
The third trade does sacrifice potential upside, but with a level of risk that is compelling:
Selling January 12.5 put at .65. Break-even point is $11.85, requiring a 34.5% drop in less than 7 months. Maximum profit is reached at $12.50 or higher, a 31% decline from current price; return is 5.5% on our risk capital, about 10% on an annualized basis. Below 11.85 we own OPLK at an enterprise value of about $2.65 per share, or less than 2/3 of its non-cash book value. In short, we make 5.5% in 7 months if OPLK does not fall 31% over the next 6 months. It should be noted that such a fall would require enterprise value to fall 63 percent in less than seven months, and a loss in this trade would require a fall in enterprise value of 70 percent. Even amidst a market and/or a sector downturn, this trade has tremendous cushion.
In short, despite the headwinds in the sector, OPLK's balance sheet and the implied volatility created by its six-month roller coaster has provided a couple of options for low-risk trades that can still provide solid returns. While a straight stock purchase seems attractive, the option trades available for OPLK seem to provide excellent returns with an extremely tolerable amount of risk.
Disclosure: I have no positions in any stocks mentioned, but may initiate a long position in OPLK over the next 72 hours.