Tower Group, Inc. (NASDAQ:TWGP) is an insurance firm that operates in three major segments: Commercial, Personal and Insurance Services. Tower Group was very busy last year, acquiring OneBeacon Personal Lines Division in July and then acquiring the renewal rights to the commercial automobile liability and physical damage business of AequiCap Program Administrators Inc. (AequiCap II).
The stock tumbled shortly after the Christchurch earthquake in February, but still remains a value at $23.00 a share. Tower Group's quarterly revenue can be seen below.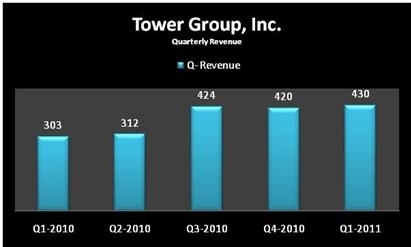 The revenue has steadily been increasing quarterly, and the annual revenue stream reflects a similar picture. However, I feel that looking at a quarterly revenue chart allows investors to identify a particular time period in a given year that may be of interest.
You can see a small dip in quarter 4 of 2010; this was addressed by the CFO, William Hitselberger, who explained that due to the Financial Accounting Standards Board new guidance concerning accounting costs for acquiring or renewing insurance contracts, Tower Group would have to adjust its books accordingly, which did involve a small loss.
The first quarter revenue, although higher than quarter 4, lagged due to the many natural disasters in the first part of the year; the worst of them being the Christchurch earthquakes in late February. The CEO, Michael Lee, has said that due to the catastrophic events in the first quarter of the year reinsurance rates may have upward pressure, and thus could eat into insurance companies' operating margin in future months.
Although the CEO is cautious of reinsurance rates, Tower Group has increased its dividend from $00.50 to $00.75 a year. The dividend appears to be very stable as the trailing twelve month cash flow shows that the company generates $3.74 per share.
Now, before making a purchasing decision we should look at the fundamentals.

You can see that the book value for Tower Group indicates that it is priced at a premium, but the price to sales has the company priced at a discount. The CEO indirectly explained why this ratio seems to be unbalanced, during the first quarter earnings call in May. He stressed that the new business strategy was still taking affect and growth would continue on par in the following months.
A low price to sales normally indicates that the price is low relative to the sales. One way this is achieved is through the acquisition of another profitable firm, and another way is that investor confidence has run dry. Book Value could also be impacted in two ways: Adding new debts to the books, or having investor confidence.
Based on the two assumptions above, we can see that the valuation is heavily influenced by the earlier acquisitions Tower Group had made.

Tower Group earns roughly $00.08 for every dollar spent, and although this is slightly lower than its peers, it will more than likely match or surpass the average as the business strategy matures and growth begins to take place.

Tower Group's management is rock solid. This can be seen from a quick review of the earnings call transcripts, but it can really be seen in the management ratios above. Tower Group earns roughly 1.01% more on its assets and 0.29% more on its equity than the average insurance firm.
We can conclude that the company is trading at a discount to its value. A low price to sales ratio with a growing footprint means higher future profits. The management team is solid, and with a 3.25% yield it is clear to see that the company is undervalued.

Disclosure: I have no positions in any stocks mentioned, and no plans to initiate any positions within the next 72 hours.