Based upon due diligence, I recommend investors avoid purchasing ARMOUR Residential REIT (NYSE:ARR) shares. My advise is to consider selling any existing long ARR positions, or entering a short ARR position. The stock, in my opinion, has warning signs which I will address below. I believe there are adequate agency-MREIT stocks to own without having the potential for capital loss.

MREITs should be purchased when the net spread between borrowing and lending is positive. This positive yield spread, which is then leveraged, provides significant dividend yields during good times. Historically the best time to own agency-MREITs is when rates are low or declining.

Fortunately shareholders have witnessed decreasing U.S. Treasury Bill and Bond rates. When interest rates decline, the agency-MREIT's book value increases as their long-term Treasury Bond valuations increase in an inverse relationship to Treasury rates. Agency MREITs borrow at a lower rate than their lending rate. This difference is the core aspect to their profitability.

ARMOUR Residential REIT (ARR)

ARMOUR has two successful years under its belt. The total annualized rate of return has been 9.6%. ARR is an agency-MREIT. Agency refers to mortgage backed securities (MBS) being guaranteed by a government sponsored entity (GSE). GSEs include Federal National Mortgage Association (Fannie Mae); Federal Home Loan Mortgage Corporation, (Freddie Mac); and Government National Mortgage Administration, (Ginnie Mae).




ARR purchases mortgage securities which possess hybrid adjustable rate, adjustable rate and fixed rate residential mortgage backed securities.


Mr. Jeffrey J. Zimmer is Vice Chairman of the Board, President, Co-Chief Executive Officer and Chief Financial Officer of Armour Residential REIT. Prior to his ARR involvement, Mr. Zimmer started a publicly traded agency-MREIT company: Bimini Capital Management (OTCQB:BMNM). BMNM moved out of agency-MBS to non-agency MBS paper during its formative years. The change in business model caused significant share loss. Currently BMNM is a penny stock but has changed back to an agency-MREIT. BMNM shareholders suffered significant capital losses.
A core issue with agency MREITs is the book value per share. Book value for agency MREITs have been increasing due to the decreasing trend for Treasury Bills and Treasury Bonds. American Capital Agency (NASDAQ:AGNC), for example, has experienced a solid rise in book value per share. Typically agency-MREITs issue secondaries when their stock prices are above book value. ARR, however, issued a significant secondary below book value, which was dilutive to existing shareholders.

The company's book value per share took a significant dive during the 2nd quarter of 2010. Note what ARR management did on June 21st, 2010. Page 28 of the June 20th 10Q highlights the issue (click to enlarge). The company issued 5,110,000 shares which were 21.4% dilutive to the existing shareholders. This is not what agency MREIT shareholders want to see during favorable MREIT market conditions.



I recommend investors wait and see if the ARR book value will trend upward before allocating investment dollars. Investors should also be observant for any potential dilutuve secondaries in the future. Agency MREITs, such as American Capital (AGNC), Annaly (NYSE:NLY) and Hatteras (NYSE:HTS), have historically only issued non-dilutive secondary offerings.

Here is a historical look at ARR's book value per share (click to enlarge):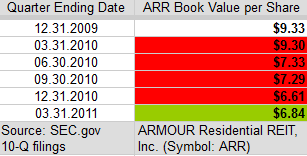 Disclosure: I am long AGNC.