Dell, Inc.
(NASDAQ:
DELL
) is so 20th century. The company was started in 1984 by a 19 year-old upstart, Michael Dell, in a dormitory room with a $1,000. No venture funds here; just a vision to introduce a disruptive business model. Dell succeeded in introducing a business model that was based on just-in-time, customized computers for the mass market. His success depended on selling directly to the end-user over the nascent internet and avoiding the high costs of a brick and mortar infrastructure. Most of his competitors were driven out of business within just a few years. Has Dell eveolved into a slow-growth, mature technology company?
Things are certainly different now for Dell and its remaining competitors. PCs became low margin commodities. Inside a box, there is little difference among the survivors. The chips and other components, themselves commodities, are ubiquitous. Now, only the nameplates differ. To survive, let alone prosper, Dell's business model is changing. Several years ago, Dell started the shift by entering the enterprise market with servers and other data center solutions and services. The company is building out its offerings for services, servers and data management.
Rather than grow organically, Dell made a number of acquisitions to give it a foothold in these new areas. In FY11, Dell acquired Boomi, Exanet, InSite One, KACE, Ocarina Networks and Scalent. New acquisitions include Compellent Technologies, a company that provides a unified architecture that supports multiple drive types all within a single storage system, SecureWorks, a security products company and InSite One, a service provider of cloud-based medical data archiving, storage and disaster-recovery systems to the healthcare industry. In particular, Dell is investing heavily in the healthcare market. Gartner, Inc. rates Dell as the No.1 healthcare IT services provider in the world. Most recently, Dell acquired RNA Networks, a company that specializes in memory virtualization technology.
Dell's enterprise solutions products include servers, networking and storage products. The service side provides transactional, outsourcing and project-based services to a variety of customers in several industries and government entities. On the PC side, the picture is not so rosy. Tablets are taking a bite from the PC market. Dell's own tablet entry, the Streak, is barely noticeable in a market dominated by Apple's (NASDAQ:AAPL) iPad. Worldwide, shipments of PCs from all manufacturers, in the first quarter of 2011, declined compared with the same period in 2010. According to HIS iSuppli, Dell is ranked second by PC shipment market share. It reports that Dell experienced a 7.3% decline in shipments when comparing 1Q11 with 4Q10 and a 1.8% decline annually. Dell's market share of shipments in 1Q11 was 12.9%. Despite the first quarter weakness, PC sales growth should return later in the year. The current HIS iSuppli predicts the global PC market in 2011, will expand by 8% to 373 million units, up from 345 million units in 2010.
Dell's strategy rests on three market segments: PC sales, data center management and services. The PC segment is expected to grow in 2011, as indicated above. S&P projects sales growth to be about 6%. Either way, it is a positive development that will benefit Dell. Also, the growing popularity of mobile devices drives demand for data center products such as servers and internet-based computing solutions. Additionally, demand for data storage solutions is sure to increase as more and more activities move to the cloud. Data storage hardware demand will probably grow faster than either the PC or the server market. S&P identifies the drivers of this demand as business continuity and disaster recovery efforts, compliance and risk management activities, and data mining. They also identify virtualization software as one of the fastest growing sectors.
Dell appears to have a strategy for moving forward and has acquired products to support this effort. Does the company have the wherewithal to execute?

To begin with Dell has a very robust cash return on invested capital. At 24.14%, the CFROI is three times the industry median and twice as high as the industry average. Similarly, ROE is very strong and reflects the company's profitability and reasonable levels of debt. The current ratio is adequate but not exemplary. Though not shown here, times interest earned is about 20X and long-term debt is about 66% of working capital. Cash and short-term investments are about $14,479 million whereas long-term debt is $6,794 million. The balance sheet, if not rock solid, is adequate.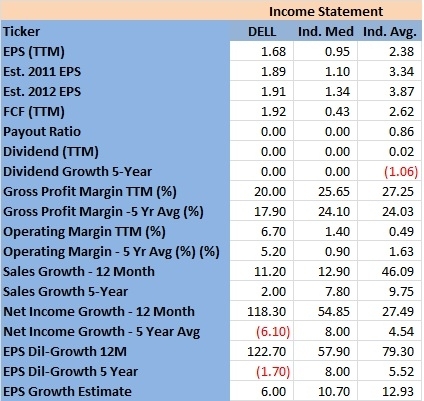 Sales reported for 4/11 are $15,017 million compared with $14,874 million or about 1.0% higher than the comparable year-ago quarter. For the TTM ending 4/11, sales are $61,637 million as compared with $55,434 million in the year-ago period; 11.2% higher. EPS for the 4/11 quarter leapt 188% to $0.49 per share from $0.17 in the prior year period. On a TTM basis, EPS grew 123% to $1.67 from $0.75. As seen above, analyst estimate continued EPS growth in 2011 and 2012.
In the past twelve months, gross margins expanded to 20.0%, above Dell's five year average of 17.9%. Dell's gross margins have persistently lagged the industry median and the industry average. Operating margins, at 6.7% for the TTM is also above the company's historic average and well above industry median and average benchmarks. Operating margins are the highest they have been for Dell in any year since 2007.
Sales have returned to levels comparable to FY2009 and FY2008. The effects of the global recession in 2009 are reflected in FY2010's sales. EPS growth rates incorporate the dramatic drop in earnings in 2009 and the rapid ramp-up in 2010. These do not represent stable growth rates.
Dell is a profitable, free-cash flow positive company with a decent balance sheet and cash adequate to make further acquisitions. The question now is how attractive is the company at its current price?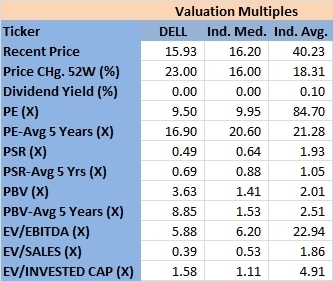 Dell has had a good run up in price over the past 52 weeks. Its price has appreciated more than the industry median or the industry average. We view this as a positive and include price momentum in our selection criteria. On a PE basis, the company looks cheap. It is selling at a big discount to its five year average PE and to the industry median. The same can be said for its price/sales ratio. The company is selling at a discount to its five year PBV ratio but well ahead of its industry peers. By using the Enterprise Value to EBITDA metric, we can take into consideration net debt. On this basis, DELL looks to be undervalued.
Dell is a profitable company with positive free cash flow selling at a low EV/EBITDA multiple. We have some concerns about its level of debt (short-term and long-term) but overall have confidence that Dell can stay the course.
Disclosure: I have no positions in any stocks mentioned, and no plans to initiate any positions within the next 72 hours.