Sunday's
New York Times
editorial on "
Tapping the Oil Reserve
" suggests that releasing strategic petroleum reserves "makes sense."
It should provide a modest boost to the American economy. It will help consumers at the pump as they head into the summer vacation season. And it sends an important message to the Organization of the Petroleum Exporting Countries that the United States is capable of protecting its domestic market, at least in the short term, even when those countries refuse to increase production.
I doubt the boost to the US economy will amount to much, but I don't think that was the intent. What was interesting about this decision is that it was not a unilateral move, but a coordinated effort by the International Energy Agency. Do they really care so much about US gas prices?
I think the real goal was to take some of the froth out of the more global market for Brent crude as opposed to the US-centric WTI crude oil.
Did it work? Well it certainly took some air out of the backwardation in Brent crude that I wrote about on June 20. Back then, WTI crude was in contango while Brent oil was in backwardation. Now the picture is a bit different.
Here's a look at the contango/backwardation for both forms of oil back on June 17, and as of July 24. The charts show the premium for futures contracts out to December 2012.
The WTI contango has expanded considerably as you can see here: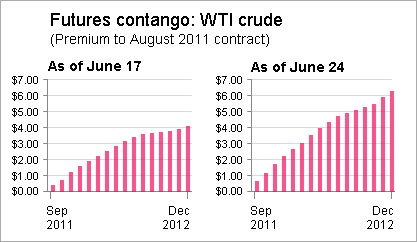 As for Brent, the backwardation seems to have vanished, although the contango is mild and relatively flat in the later months.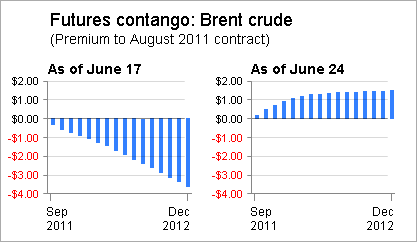 There's an ETF that tracks Brent crude oil (NYSEARCA:
BNO
) futures contracts and one for WTI (NYSEARCA:
USO
).
Each generally performs better when the contracts they track are in backwardation than they do during contango markets. That's probably why BNO is up about 11 percent year to date while USO is down nearly 9%.
However, if the Brent market moves into a steeper contango, BNO isn't likely to deliver the same outperformance as it has so far this year.
Disclosure: I have no positions in any stocks mentioned, and no plans to initiate any positions within the next 72 hours.