Los Arcos Dorados Holdings (NYSE:ARCO) honestly hasn't done much for investors since it first came out. Instead, it ran up right away when it came out and since it's just been in a trading range that has failed to break higher or lower. In our view, if the company were truly overvalued, it would have dropped like a rocket given current market conditions, which is what we saw happen with Pandora Media (NYSE:P) most recently.
Our interest in the company has been peaked for a few different reasons, but the main themes deal with McDonald's (NYSE:MCD) proven business model and Brazil. On a high level we know that not only has McDonald's developed a highly successful business model in the US but one that it can successfully export abroad as well. In relation to Brazil, we have found key trends that should allow ARCO to perform extremely well moving forward. We aren't going to say it's the cheapest stock out there, but after you review our points we think you'll understand why we rate ARCO a BUY.
What We Are Really Buying: McDonald's
In our opinion buying ARCO isn't really buying ARCO. What is being bought is McDonald's with exclusive geographic exposure to Latin America, with a large focus on Brazil. Now the reasoning is pretty straightforward so follow our logic. McDonald's has a very strong chain of command between itself and its franchisees. This means that it would be impossible for a firm such as ARCO to become the largest independent owner of McDonald's if it didn't exemplify every single standard that McDonald's demands of every franchise owner. After all it's McDonald's food, McDonald's innovation, McDonald's protocol, and everything else that encompasses McDonald's. It's even run by an ex-McDonald's CEO.
We all know that McDonald's is an American success story and now we know that ARCO for all intents and purposes is McDonald's. When we look at ARCO, all we see is McDonald's residing on a different continent and really nothing beyond that.
Rolling the Dice on Brazil
When looking at ARCO, we understand the firm has geographic exposure all over Latin America but the bulk of its operations are in Brazil. We don't see this as a problem because it makes it easier to analyze ARCO as a firm, so no sweat off our back here. At the same time though, this also means Brazil is the place that will either make or break this company's bottom line. Not to worry though because we found some very encouraging demographic trends that make us even more bullish on ARCO as a great emerging market play.
(Click charts to expand)
Click to enlarge
When looking at a country like Brazil and thinking about investing in a company such as ARCO, nothing is more important than the unemployment rate. From what we can see in the chart, not only has unemployment substantially improved but it has remained under control even after the global recession and the commodity bubble popped. For a company like ARCO operating in an emerging market, having a low unemployment rate is a must.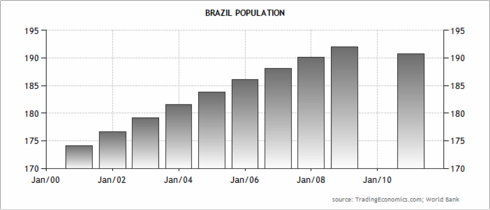 Click to enlarge
When people think of Japan's economy, often one of the biggest concerns is its aging population and low birth rate. For Brazil this just isn't an issue as we see that Brazil's population has expanded rapidly and that as of 2009 the average birth rate per female was roughly 2. A young and growing population in Brazil means plenty of business potential for ARCO.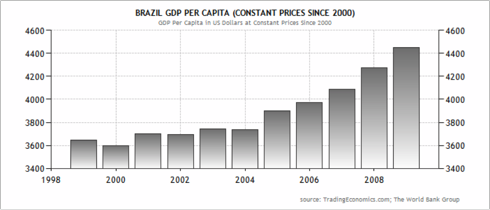 Click to enlarge
Here we see that GDP per capita income for Brazilians has been steadily increasing. A large young population in our opinion is meaningless without seeing positive trends such as GDP per capita.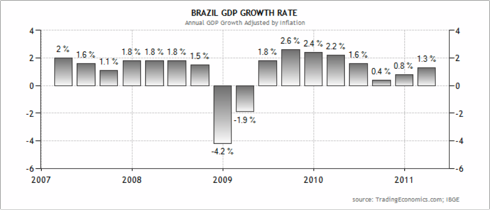 Click to enlarge

We see that Brazil slowed down in 2010 but has already begun to pick up. Given the fast urbanization of Brazil and the improving global economy, we feel that ARCO is poised to be in the center of a population that will feel will see substantial growth in every way possible.

Conclusion

ARCO at first may not seem too appetizing but it should. The firm for all intents and purposes is still McDonald's at heart. When looking at the growth prospects relative to Brazil, they look extremely compelling. We see no reason why ARCO moving forward shouldn't be posting strong numbers and pleasing shareholders.

Disclosure: I have no positions in any stocks mentioned, and no plans to initiate any positions within the next 72 hours.