Small-cap performances' message to the market may not be cheery with regards to future economic growth prospects and possibly for the general equity markets. Alternatively, it just may be the sound of a death knell for small-cap growth stocks this cycle. Such stocks appear to be relatively overvalued having been fanned by a tech bubble echo on the back of social media enthusiasm.
Point of Comparison: The chart below illustrates a comparison of small cap growth stocks' performance of the iShares Russell 2000 Growth Index (NYSEARCA:IWO) ETF versus the SPDR's S&P 500 ETF (NYSEARCA:SPY) share prices on a weekly basis. Both stock prices were indexed late 2000 near the peak of the "tech wreck" (October '02).
[Click to enlarge]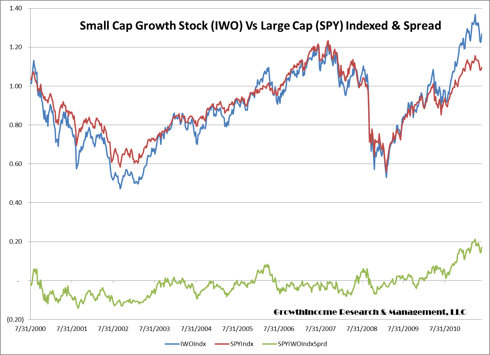 Uneven Performance: As would be anticipated, small-cap growth stocks suffered during that subsequent cyclical slide into the trough of late '02. Coming out of that trough, small-cap stocks outperformed their larger-cap brethren as a result of the depth of that decline. Subsequently, small-caps tracked larger-cap stocks after that initial catch-up period.
In Reverse: During this current stock market cycle, the reverse has occurred. Small-cap stocks came out of the trough (March '09) in tandem with large cap stocks. However, when the stocks pulled back in a correction in early 2010, small-cap stocks significantly began to outperform large-cap stocks by a material margin. The spread between the two (see chart) recently peaked.

Vulnerable: Small-cap stocks seemed extended and may be ready for a retrenchment. They are vulnerable to slowdown in economic growth as well as a rise in interest rates. Investors considering the potential vulnerability of small cap growth stocks might consider ProShares UltraShort Russell2000 Growth (NYSEARCA:SKK). It is a 2x inverse bet against the IWO and may be something to consider for those who are adventurists with a similar point of view.

As a cautionary note, this brand of investment tactic is not for the faint of heart nor the squeamish. Make sure to have a stop loss at a level that would be consider comfortable.
Disclosure: I have no positions in any stocks mentioned, but may initiate a long position in SKK over the next 72 hours.