SSN added 20,000 net acres on the Fort Peck Indian Reservation in Roosevelt County, Montana, as part of a three tranche deal. The purchase price was not disclosed, but my best guess would be they paid between $500 and $750 per acre, although management won't comment as they are still looking to potentially lease another 70,000 acres in the area. The acreage is contiguous and SSN will have a minimum of a 53% NRI here. Aside from the Bakken they think there is likely Red River potential here, but will need to shoot in 3D to confirm. The area is yellow and labeled FPEC on the map below.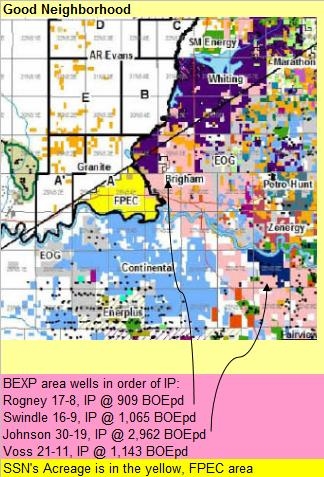 Celebrity Neighbors. Note that they are surrounded by a who's who list of Williston Basin players and that BEXP, CLR, OAS, WLL, EOG and a number of private players who you normally read about in North Dakota are rapidly delineating the boundaries of the east Montana play after a somewhat slow start in 2010. Note also that BEXP has started to walk up IPs here and that they are close to calling a big slug of their East Montana position derisked.
Initial Two Well East Montana Program Beginning ASAP, On The Heels of Two Goshen Niobrara Tests

SSN will drill its first Niobrara test, the Defender, a 100% HAL carried well, on or about July 19th. This will be followed by a second well, Spirit of America, then SSN will ship the rig to Montana while studying the data from these two wells and picking the next location for another Goshen Wyoming spud.




SSN then plans to fund and drill two short lateral wells as part of a drilling obligation on the first tranche of East Montana acreage. HAL will design, drilling and completing the wells. Guesstimate, (now confirmed by management) on total completed well costs for the two wells is $12 mm ($6 mm each). The first well, the Australia II, should spud September 1 on the south east corner of the yellow blob (closer to some of the bigger wells in this part of the play). A second well, the Gretel II, will be located on the western edge of the prospect area near the river and will follow immediately on the heels of the first well.

Having HAL in all stages of the well operation should ensure a timely frac as well. SSN commented that they did a lot of geologic and engineering work to pick locations for these first two wells. They have been working on this deal for some time now. Again,

SSN plans to have at least a 66.6% working interest in the first unit, which boils down to a 53% NRI with Montana having royalties similar to North Dakota.
Planning To Bulk Up Here. The second tranche is an option to take leases on an additional 20,000 net acres, also in the yellow blob area above. I would put strong odds on SSN taking at least the second tranche. Tranche 3 is an option to acquire up to an additional 50,000 net acres in an AMI with the Fort Peck Energy Company.
Nutshell: Nice to see them come out swinging with some acreage with running room. Also nice to see the timeline on drilling, which could result in sizable growth, begin to compress both here and in their Niobrara play. Stay tuned. I continue to own the common in the ZLT.