It's been some time now since the Gulf of Mexico oil fiasco but that doesn't mean that Transocean (NYSE:RIG) hasn't been taking it on the chin in one form or another since then. For a while it finally seemed like it might reach a more respectable price level, but then in this year in March it entered the free fall zone again. Given that oil prices have come down below $100 a barrel, we think RIG is an interesting name to look at moving forward.

While many people are probably wondering why we would even talk about this stock, the reason is simple. Every investor wants to buy low and sell high. Well, when it comes to RIG now might finally be the time to go for it given that oil prices have gone into full retreat. At this point RIG still looks beat up but the prospects seem to be improving for the firm, making us rate it a BUY given that it remains an industry leader, the financials are strong, and oil prices have weakened.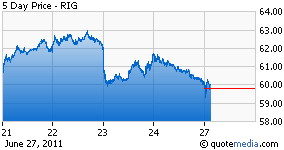 1. Leader of the Pack
When it comes to deep sea drilling RIG is still the industry leader. The expertise, experience, and breakthrough technologies it develops cannot be easily replicated or substituted by anyone else. Further, the firm has the largest fleet - meaning that it has more individual pricing power over the whole market than any other firm. It doesn't sound fair to whoever needs the services but that's why we love the situation. We aren't looking for companies that play fair; we're looking for companies that generate top dollar.

Given the recent oil finds off the coast of Brazil, we expect the market supply of deep-sea drillers to remain relatively tight. This should be a bright spot for the firm given this is where it excels the most and the fact that shallow and mid-water exploration pricing remains weaker and the market is more volatile. With RIG holding the dominant position in deep sea drilling, the prospects for the firm look great even with oil prices remaining weak in the short term.

Some analysts are concerned that Brazil may try to do all its deep sea exploration in- house with domestic firms, but we don't see this as being realistic. Should the job be poorly executed on top of the risk of having another deep sea oil fiasco, the reserve could vastly underperform in terms of production potential. We doubt that the Brazilian government would risk killing its latest golden goose just to give its fledgling oil exploration company some experience.

2. Strong Financials and Arbitrage Opportunities
Yes, there is still the slight possibility that RIG could somehow become partially liable for the incident in the Gulf of Mexico. No one will know for sure until the end of July when the U.S. Coast Guard/Interior Department panel releases its report. Regardless, after reviewing the internal report from Transocean it looks like the firm should be in the clear even though the report could obviously be biased toward the firm.
RIG currently holds a backlog of roughly $25B, which stretches beyond 2012. To say the least, this will provide some stability for the firm. As well, when reviewing the financials we see that the firm holds a current ratio of 1.8 and a quick ratio of 1.56, which illustrates it shouldn't have any issue paying its short-term obligations. The operating margin was substantially lower for 2010 and we think this should improve with time. In the mean time, the firm was still able to generate $1.34B in free cash flow over the last 12 trailing months.

Perhaps the most interesting thing deals with the fact that the firm is trading well under book value. In our opinion, book value is roughly $73. Based on the closing price at 06/23/2011, the firm is currently trading at a discount of 18.3%. Assuming that the firm doesn't have any unexpected liabilities in relation to the Gulf of Mexico incident, this is an easy arbitrage opportunity to take advantage of.

3. Low Oil Prices

While it may not seem too keen to buy a company like RIG currently because of oil prices, that is exactly why we think now is the time to buy. Investors have been taking money off of oil for some time and in our view, as long as the company is still fundamentally sound and its long term prospects intact, this is perfect time to buy. Buy when no one else is interested and then wait for the hype of oil to come back around to let the stock price rise so it can be cashed out for a fast profit. It's funny that people often don't really grasp that in order to consistently buy low and sell high, one must often invest in things that are out of favor with the market. Then again, how else could you buy something low and then sell it for a higher price unless you are a momentum trader who hopes there is a dope willing to pay a higher price then you did.

Conclusion

With RIG holding a strong backlog of roughly $25B, trading below book value by a good margin, strong free cash flow, and firm financials, the firm may be out of favor but that doesn't mean it's a poor stock to buy. This could easily be a waiting game given oil's recent downward trend but when we look at any company we are usually interested to see where it will be a year out from today, not where it will be next weekend.
Disclosure: I am long RIG.