In the most recent 13F filings, a number of activist and "catalyst-focused" hedge funds have reported taking a stake in an interesting company: Family Dollar Stores, Inc. (NYSE:FDO). Family Dollar was founded in 1959 by Leon Levine, the 22 year old son of Russian immigrants, who had reportedly become fascinated with the "dollar store" concept after seeing another retailer with everything priced below $2 (close enough apparently).
Family Dollar has come a long way since then and in 2010, it fell into the sights of famous activist Nelson Peltz, who started amassing a large position stating that shares of FDO were "undervalued" (then in the high $30s). Then, on Feb 15 of this year, Nelson Peltz made a bid for the company of about $7BN ($55-$60 a share) representing approximately a 25% premium to the stock's price of $43. On March 3, FDO rejected the offer, stating that it "substantially undervalued" the discount retailer. CEO Howard Levine (Leon's son) said "We feel that a sale isn't in the best interests of the company" and cited a business plan crafted the previous year that focused on renovating existing stores and opening new ones as the best way to create shareholder value. Regardless, Peltz's bid helped to immediately lift the stock (click charts to expand):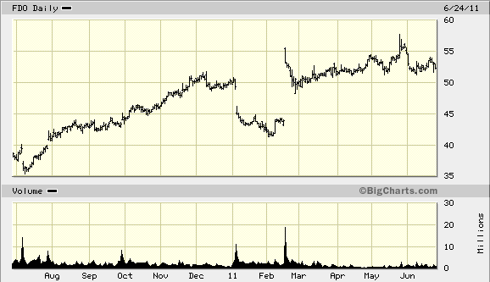 Click to enlarge
What's interesting is to take a look at which hedge funds took positions in FDO in Q1 2011:
Click to enlarge
Trian Fund Management (Nelson Peltz's investment vehicle) and Lone Pine Capital started similar positions around the same time. Paulson established a position early in 2010 (likely as part of his 'recovery' theme) but had exited by Q4 2010….only to get back in recently. What's interesting, however, is the interest that Peltz's takeover bid generated among some of the biggest hedge funds such as Eton Park and York Capital (both with an 'event' focus)…. and most notably, Bill Ackman's Pershing Square.
Curiously, on Pershing Square's original
Q1 13F filing
(which was filed May 16), FDO was nowhere to be found. However, an
amended 13F
(filed May 26) showed a large $295M position in FDO followed by a
13G filing
(on June 9) disclosing 10.8M shares in FDO for an approximate 8.9% stake. This makes Pershing Square the largest shareholder in the N.C.- based discount retailer…and one with a very successful activist history. Ackman clearly took measures to acquire his stake in FDO as quietly as possible. Ackman has since publicly praised Family Dollar's outlook at the Ira Sohn conference last month and the Value Investing conference last week, citing strong fundamentals and a successful business model that "continues to take share."
Given the huge increase in interest among activist/event-oriented hedge funds (and its
strong fundamentals
) Family Dollar shares could represent a lot of upside.
Disclosure: I have no positions in any stocks mentioned, and no plans to initiate any positions within the next 72 hours.