Perhaps nothing is more important in portfolio management than adaptation. Things change and your portfolio needs to reflect it. Companies that were once titans can shrivel over time as conditions change. Bloomberg Businessweek has an excellent article on a former titan, now fallen from grace:
At its December 2008 peak, Myspace attracted 75.9 million monthly unique visitors in the U.S., according to ComScore (SCOR). By May of this year that number had dropped to 34.8 million. Over the past two years, Myspace has lost, on average, more than a million U.S. users a month. Because Myspace makes nearly all its money from advertising, the exodus has a direct correlation to its revenue. In 2009 the site brought in $470 million in advertising dollars, according to EMarketer. In 2011, it's projected to generate $184 million.

In February, News Corp. (NWS), which bought Myspace and its parent company, Intermix, in 2005 for $580 million, started officially looking for a potential buyer at an asking price of $100 million, according to a person familiar with the sale process. Yet even in the midst of a frenzy for social media that has seen LinkedIn (LNKD) valued at $6.4 billion and Groupon rebuff a $6 billion takeover offer from Google (GOOG), barely anyone wants to buy Myspace.
Is the valuation of Myspace accurate or fair? Who knows and who cares? That's the nature of supply and demand—an asset is only worth what it can be sold for. In the case of Myspace, the decline has been rapid. In less dynamic industries perhaps the decline would take longer, but it might ultimately be no less damaging to your capital. Rupert Murdoch might be able to afford to lose $480 million, but I'm sure even he's not too happy about it.
Don't think it can't happen to you, Mr. Blue Chip Buy-and-Hold Investor. There are plenty of historical examples like Eastman Kodak (EK) (once over $90 in the 1990s, now available in the bargain bin for less than a latte at $3), but every decade contains a few falls from grace. Even the massive General Electric (GE) may be turn out to be, in hindsight, a victim of history.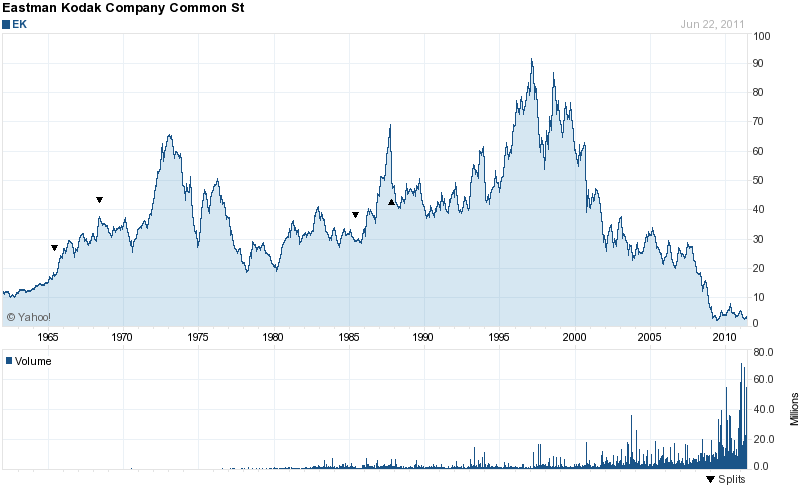 EK stayed wrong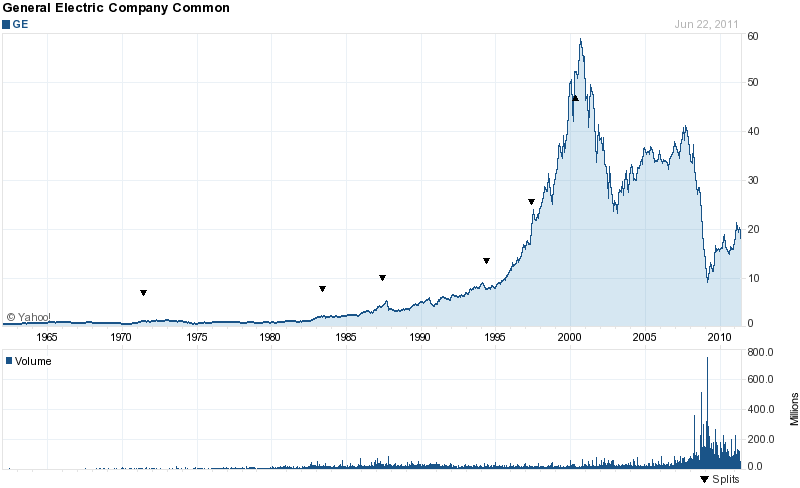 GE: the next victim of history?
Source: Yahoo! Finance
What will you give up? Well, you will give up the dubious pleasure of buying something on the scrap heap that turns into gold. This could cost you valuable cocktail party fodder, but the retail investors who boast of their stock market conquests rarely mention the dozens of counter-examples—the companies they bought on the scrap heap that stayed there.
Relative strength is the only investment process I know of that is likely to keep the investor out of stocks in permanent decline. If you are constantly rotating into strong securities and out of weak ones, you won't get stuck in things that ultimately fail. Sure, you might own them at the beginning of the decline, but you're not likely to get trapped in a loser forever. As Tom Dorsey says, "It's ok to be wrong, but it's not ok to stay wrong."